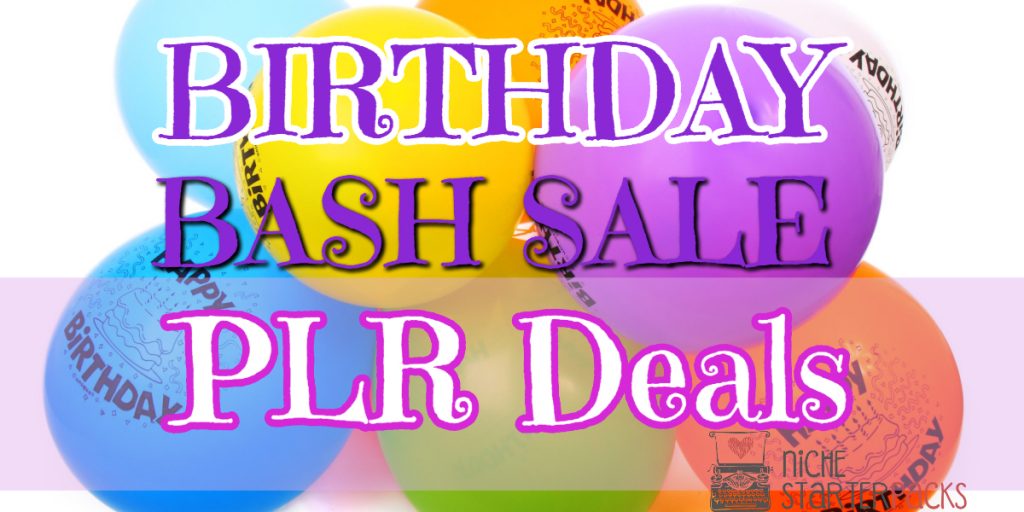 In June you can save 47% off a different pack every single day.  You'll find a wide variety of topics.
There are thousands of searches for related keywords and the popular marketplaces have many bestselling products for these topics.
These are DEFINITELY winning niches… and they're big enough for you to get a slice of the pie!
You can use these packs in multiple different ways.
Schedule blog posts on your site
Create products for your store
Use these as opt-ins to get more subscribers
Take a look at the topics and days you can use the coupon.
Coupon Code: BDAYBASH
June 1st –  Smoothie Bowl & Edible Flowers
June 2nd – Essential Oils & Growth Mindset
June 3rd –  Protein Bundle & SEO
June 4th –  Alternative Therapies & Top Kitchen Organization
June 5th –  Plant-Based Smoothies & Bullet Journaling
June 6th –  Stress & Anxiety & Social Media Network
June 7th –  Skin Care & Stress
June 8th –  Brandable Herb Content Bundle  & Climate Friendly Gardens
June 9th –  Food & Diet Mindset & Web Design PLR
June 10th – Camping & Family Planning Bundle  & Vacation Spending
June 11th – Depression  & Frugal Living
June 12th – Build Authority
June 13th – Lawn & Garden eCourse & Recycled Garden Ideas Report   & Self Help PLR Articles
June 14th – Ready-Made Nutrition PLR Content Bundle
June 15th – Pre-Written Save Money & Parenting Boys
June 16th – Snoring & Journaling For Creativity
June 17th – Energizing Yourself Report & eCourse
June 18th – Pre-Written Probiotics Content Bundle
June 19th – Vegan Living & Investing
June 20th – Clean Eating 
June 21st – Sugar Report & GDPR: 5 Important Things You Need to Know
June 22nd – Organization PLR
June 23rd – Turmeric PLR & Work at Home
June 24th – Meditation PLR, Summer Vacation, & Kids and Science PLR Bundle
June 25th – Paleo Meal Idea PLR & Podcasting
June 26th – Kombucha PLR & Healthy Superfood Smoothies
June 27th – Sustainable Living
June 28th – Anti-Aging PLR
June 29th – Edible Landscaping & Big DFY Travel Content Bundle
June 30th – Benefits of Journaling
As a niche content creator, I know just how difficult and time-consuming creating good content and all the related components can be.
That's why I created these awesome PLR packages just to help you build an authority site.
Finally, you'll have content that you can cross-promote products to boost your online income.
Join the newsletter
Subscribe to get our latest content by email.