Procrastination Journal With Writing Prompts (Commercial Use).
Help people who procrastinate. This can be very frustrating when you want to get something done. These writing prompts will guide them through why they don't take action.
This entire journal bundle was created with ease of use in mind. You can easily personalize, edit, brand, and change the colors throughout.
The Powerpoint has a specific color theme throughout so that you can easily go in and change the colors to match your brand.
What's include:
One-A-Day Journal with 2 eCover Design Options in Powerpoint & Canva

10-Page Prompt Printable in Powerpoint & Canva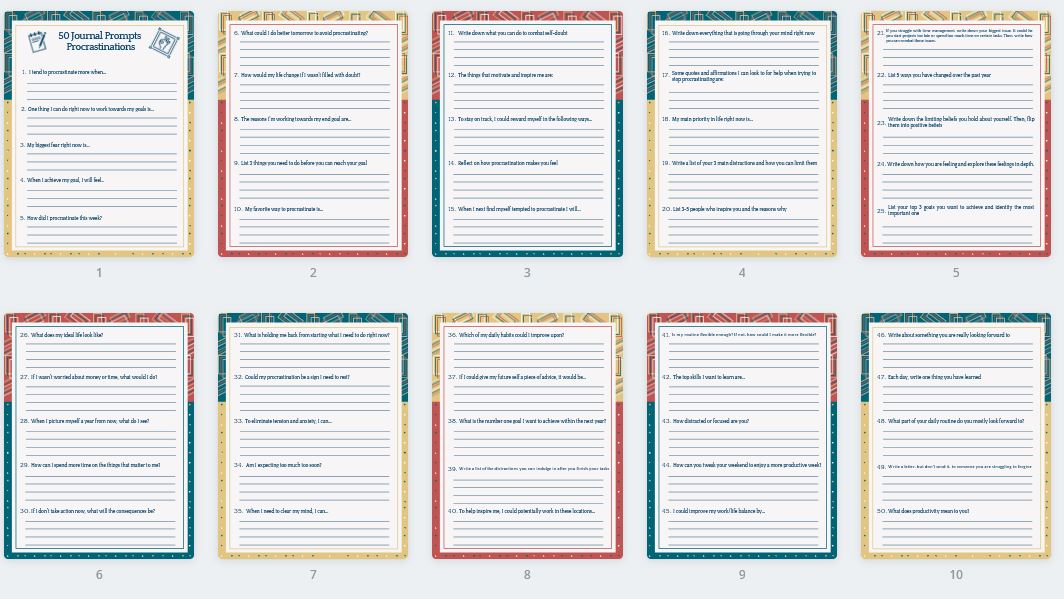 50 Writing Prompts in Word Format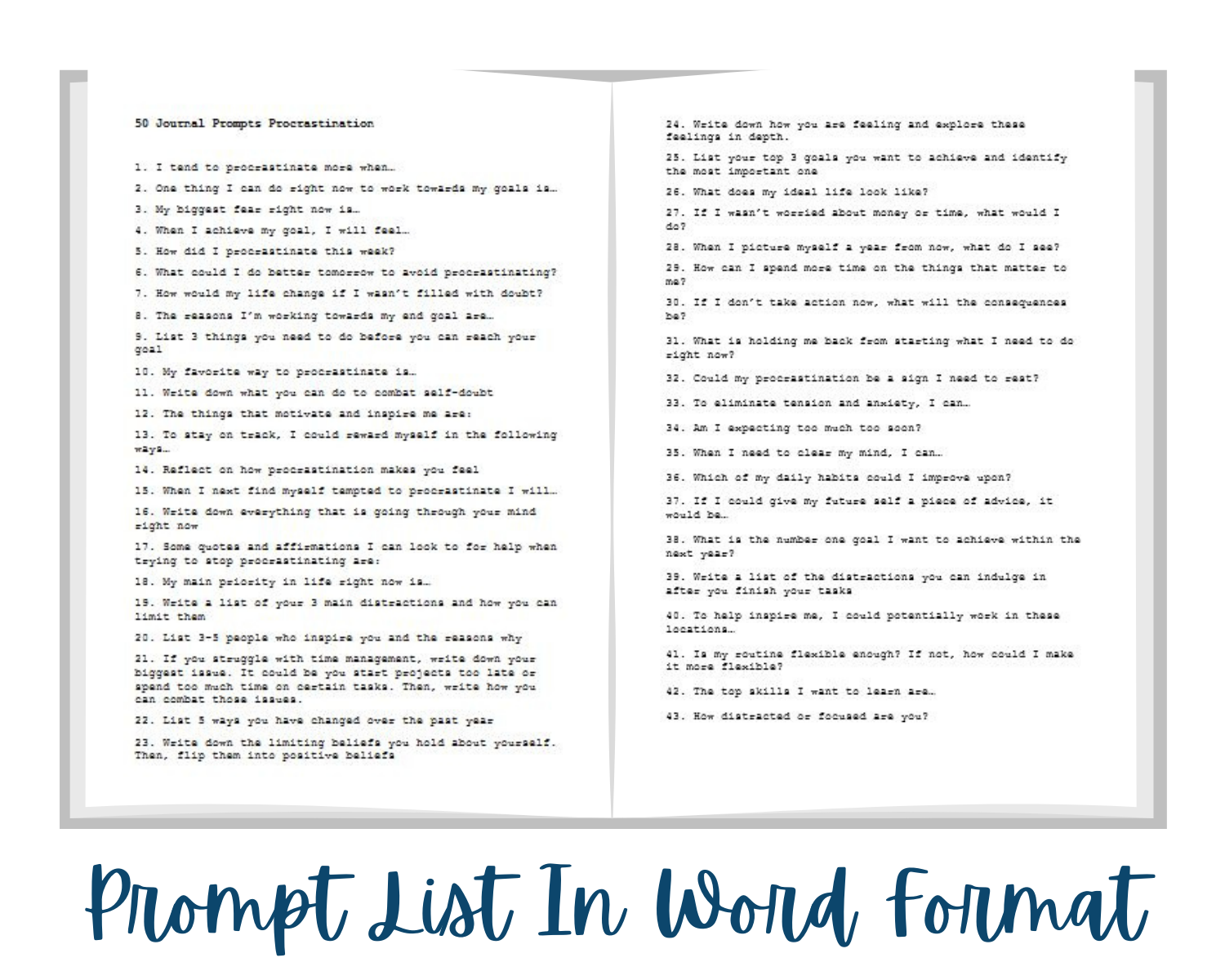 Using journals in your business is very profitable.
14 Ways To Use Journaling Prompts & Planners
Use them during mastermind, brainstorming or coaching calls. Incorporate them into the call and give them to your clients for them to be able to work through their blocks, challenges, and issues that they're experiencing.
Send them to your coaching clients. One of the coaches that I have sends a Monday morning check-in email. You could easily do something similar and include the writing prompt of the week.
Create a blog post. When you purchase journaling prompts you normally get a set of 10, 20, 50, etc. Take them and post them on your blog. To do that you'll want to write a short intro, add the prompts, and then include a conclusion.
Set up a single prompt as a printable and use it as a content upgrade to a blog post.
Sell done-for-you journals with prompts. Use sites such as SendOwl or Gumroad to sell to your customers.
Publish a printed journal. Go to Lulu.com and set it up so that your customers can get a printed copy of the journal.
Offer a digital journal. This goes hand in hand with the printed journal. You already have it created, so offer it as a digital product as well, then upsell the printed journal or the monthly subscription box (see below!)
Design a subscription box for monthly printed journals with prompts. These can be sent to your clients or as an income stream in your business.
Build an app with daily writing prompts sent to the user. This can be used as another income stream. You can promote ads, charge a fee to purchase or advertise your own products on the app.
Publish YouTube Videos. Take each prompt, record yourself reading the prompt, and then give them examples of what they could write or why they want to write on this topic. As they work through your journaling prompts they'll start to see results and then they'll see you as an expert and want to work with you.
Add as a bonus to another product. Create more value in another product by adding journaling prompts as a bonus. This could be a product, service or coaching. Part of the done-for-you printables kit offers prompts, so you could include the journaling prompts as a bonus to it.
Combine them with different PLR journaling prompts for a 365 journal volume. People love these types of products.
Add subscribers to your list with a nurture sequence. You could offer to send daily journaling prompts for the next 10, 20 or 30 days. Each day you send a couple of sentences with the journaling prompt. In the P.S. section, you can include an affiliate link to a product that will help them or let them know about a product or service you offer.
Engage your audience with a challenge. Challenges will allow you to help your audience and produce results for them. Set up the journaling prompts to go out daily. Don't overcomplicate it. The challenge could be journaling for 30 days with these prompts.