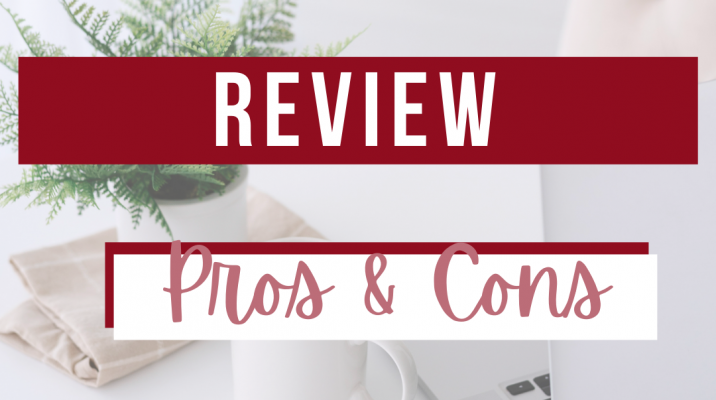 ConvertKit Review
There's absolutely no denying the fact that if you wish to be highly profitable online, you MUST build an email list. Selling to warm leads and existing customers is far easier than trying to convert cold visitors (prospects).
This is why you see marketers constantly parroting the quote, "The money is in the list!"
That's definitely true. However, let's not forget a crucial component in all of this. The money may be in the list – but where you keep the list matters greatly too.
The best way to build your list will be to use a reputable autoresponder. Since this is a very profitable online business model, there are many large companies offering email marketing services.
So which will you choose?
They're all not made equal. Some are infinitely better than others. So you have to pick an autoresponder carefully.
Do NOT do this!
Avoid using self-hosted autoresponders! They're usually created by 'smaller' marketers and lack the features and automation that the managed services provider.
Very often, the self-hosted autoresponders only have one thing going for them – a low one-time fee. But you always get what you pay for. If you have deliverability issues, etc. you'll have to sort them out yourself.
Not to mention, most self-hosted autoresponders do not have as many integrations and customization features as the 'big guns'. So it's best to pick a managed solution even if it means forking out a monthly or yearly fee.
Mention autoresponders and you'll always see a few big names being mentioned.
Very often, the name ConvertKit will make an appearance and you'll see marketers raving about it. But does it live up to the hype?
Let's look at the pros and cons of ConvertKit…
The Pros
Visual automations
There is no doubt that this feature in ConvertKit made it popular with the masses. It's extremely easy to segment list subscribers based on their actions. You can specify exactly where you want the subscriber moved based on a 'trigger' action they take.
It's all neatly laid out for you to see in the visual automation. ConvertKit was probably one of the first autoresponders to have a tag-based subscriber system where the subscribers could be tagged based on a click or an action.
Easy to use
The ConvertKit interface is clean and easy to use. Most beginners to email marketing will love the intuitive layout in this email marketing tool. You could be up and running in 30 minutes or less. It's really that easy!
Landing page builder
If you're on a tight budget and don't wish to get a page builder such as OptimizePress, you can still create basic landing pages within ConvertKit. They'll get the job done even without the bells and whistles you'd find in page builders like Leadpages.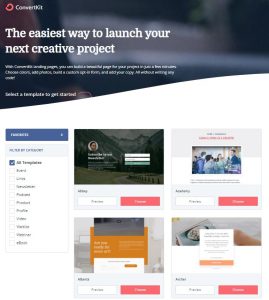 Once you're making sales and have a sizeable list in your ConvertKit account, you can invest in a page builder. Until then, you can use the landing pages here.
Beautiful emails
There's not much customization available in ConvertKit. The templates are mostly text-based and marketers in the eCommerce scene may balk at this.
However, if you're an affiliate marketer, blogger, etc. ConvertKit's emails are actually better because of their simplicity. The emails that you create on this platform will look like emails that a friend or family member may send. Mostly text.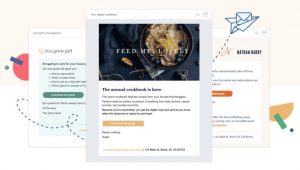 Email service providers will be less likely to flag your emails and send them to the SPAM or promotions folder. Which brings us to the next point…
Email deliverability
This is a CRUCIAL factor and ConvertKit scores very well here. There's no point in sending emails if they don't land in the subscribers' inboxes.
Your emails from ConvertKit will (in most cases) show up in the subscriber's inbox and they'll read it. This point alone should make you choose ConvertKit because it's that important.
Free trial
ConvertKit offers a free trial for you to test it out. Give it a try. You'll not look back.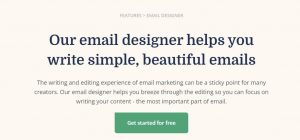 Double opt in feature
This is probably one of the most useful features in ConvertKit. Generally, with autoresponders such as AWeber, when someone subscribes to your list, they'll be sent a confirmation email. Only when they click on the confirmation email link will they be added to your list.
This 2-step cha-cha action will cost you many subscribers who don't follow through. ConvertKit, however, has a brilliant solution to this problem.
When someone signs up to get your freebie, your first email will have the download link for them to access the lead magnet. The moment they click on it – not only will they get their freebie, but ConvertKit registers the action as a double opt-in.
Isn't that fantastic?
That's 2 birds with one stone. Or in this case… one email.
Excellent support
There is 24/7 support and you can reach them via live chat from your profile tab (once you're logged in). So if you have any problems with your emails, etc. you can easily get help.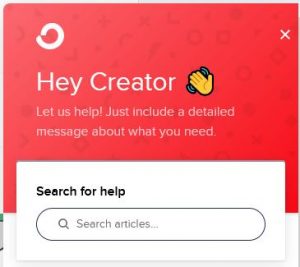 No double pricing
Many autoresponder companies charge you based on the number of emails in all your lists (including the unsubscribe lists). So if one subscriber is on 3 of your lists, they'll be counted as 3 subscribers and you'll be paying more.
ConvertKit doesn't work like that. It doesn't double count or even triple count email addresses. Each subscriber is only counted once and you pay only for the subscribers you have and not more. That's awesome.
Variety of forms
If you wish to embed sign-up forms on your blog, etc. ConvertKit has quite a variety of attractive forms you can use.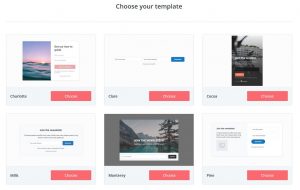 The Cons
ConvertKit is slightly more expensive than the other brands such as GetResponse, etc. However, it's still worth paying for. Marketers on a tighter budget may be reluctant to pay for ConvertKit because it costs a bit more – but they should, because it's worth every cent.
Limited A/B Testing Feature
There is an A/B testing feature in ConvertKit, but it's quite limited when compared to the other brands. But if you're not doing heavy split testing, you really don't need this feature.

Analytics Aren't As Detailed As Others
The data provided in ConvertKit is quite basic too. Some autoresponders such as Active Campaign have very detailed analytics. There's a reason for this – ConvertKit is more for bloggers and marketers who are running small businesses and need a clean tight email marketing tool to help them.
They don't need email marketing software that's bloated with features and intimidating to them. That's why they love ConvertKit. It's lean and effective – and most importantly, simple to use while getting the job done.
Should You Get It?
If you're looking for an email marketing tool that's intuitive and effective, ConvertKit has your name written all over it.
Test out the free trial and you'll understand why despite being the new kid on the block, ConvertKit can still hold its own against competitors who have been in the business for decades.
This tool is only getting better… so you want to get in on it now. It's an awesome autoresponder.
>>> Click Here To Get ConvertKit <<<
This is one of my favorite email autoresponders. They're very user-friendly.
Have a great and productive day!
-April
GET MY DAILY PLR DEALS
(PLUS TIPS, TRICKS & TECHNIQUES TO USE PLR)
Business Tools & Resources, How To Use PLRPosted in 0 comments