Depression PLR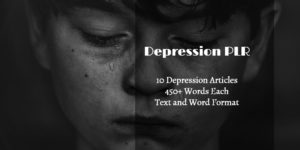 Depression is a huge issue and helping your audience is important. Talking about it on your website will make people realize they are not alone.


You'll get this PLR bundle for only $10.95!

---
Check Out What You'll Get: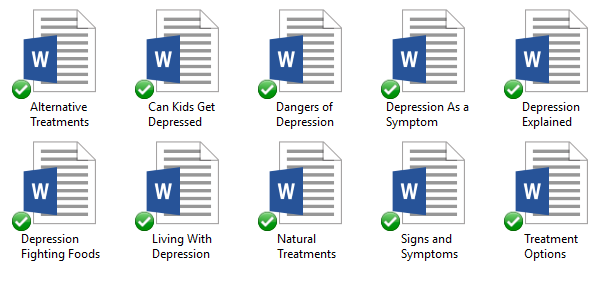 1. Alternative Treatments (469 words)
2. Can Kids Get Depressed (495 words)
3. Dangers of Depression (458 words)
4. Depression As a Symptom (488 words)
5. Depression Explained (467 words)
6. Depression Fighting Foods (627 words)
7. Living With Depression (497 words)
8. Natural Treatments (517 words)
9. Signs and Symptoms (521 words)
10. Treatment Options (508 words)
Get in both Text and Word Format 
---
You'll get this PLR bundle for only $10.95!
After you purchase this bundle – you will get to immediately download all of your content!

All PLR Products that you purchase from me are non refundable.
PLR Rights Terms:
1. Don't pass on PLR rights to anyone, so your customers only get personal use rights.
2. Do not put my name on it.
 Please note – this is PLR that I have bought a special license to sell. But rest assured It is high quality content. I provide it because I want to make sure my customers get the opportunity to purchase what they need, when they need it. Make sure you don't own this already. I will always let you know if a pack is under special license or not.
GET MY DAILY PLR DEALS
(PLUS TIPS, TRICKS & TECHNIQUES TO USE PLR)