Earth Conscious eCourse PLR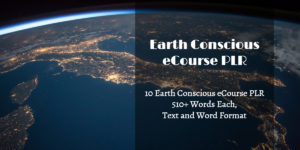 We aware and sensitive towards environmental issues. Learn more on earth consciousness here!


You'll get this PLR bundle for only $10.95!

Check Out What You'll Get: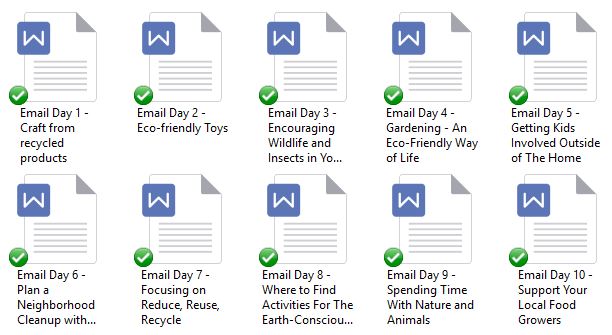 Email Day 1 – Craft from recycled products (607 words)
Email Day 2 – Eco-friendly Toys (595 words)
Email Day 3 – Encouraging Wildlife and Insects in Your Garden (607 words)
Email Day 4 – Gardening – An Eco-Friendly Way of Life (579 words)
Email Day 5 – Getting Kids Involved Outside of The Home (538 words)
Email Day 6 – Plan a Neighborhood Cleanup with After-Cleanup Activities (615 words)
Email Day 7 – Focusing on "Reduce, Reuse, Recycle" (561 words)
Email Day 8 – Where to Find Activities For The Earth-Conscious Family (579 words)
Email Day 9 – Spending Time With Nature and Animals (587 words)
Email Day 10 – Support Your Local Food Growers (603 words)
Get in both Text and Word Format 
---
You'll get this PLR bundle for only $10.95!
After you purchase this bundle – you will get to immediately download all of your content!

All PLR Products that you purchase from me are non refundable.
PLR Rights Terms:
1. Don't pass on PLR rights to anyone, so your customers only get personal use rights.
2. Do not put my name on it.
 Please note – this is PLR that I have bought a special license to sell. But rest assured It is high quality content. I provide it because I want to make sure my customers get the opportunity to purchase what they need, when they need it. Make sure you don't own this already. I will always let you know if a pack is under special license or not.
GET MY DAILY PLR DEALS
(PLUS TIPS, TRICKS & TECHNIQUES TO USE PLR)