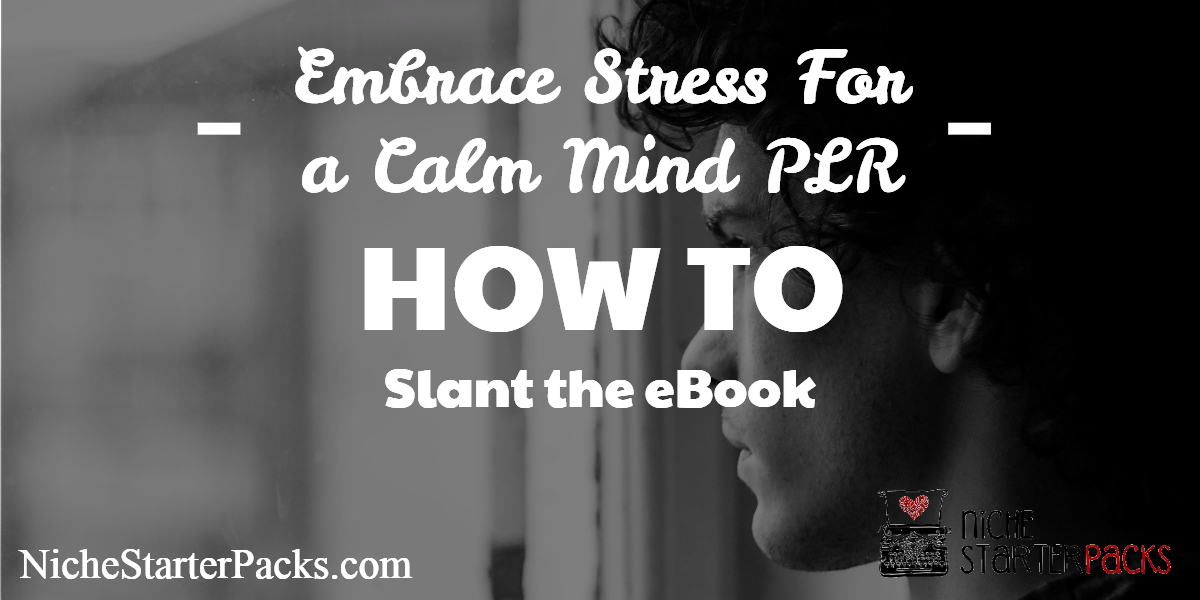 Yesterday my brother and his girlfriend were able to get the keys to their new house.  They have been working with a realtor and finally found one that they liked and made an offer.  All the inspections and paperwork are done now after over a month and they picked up the keys last night.
They have been working hard to get to the point of purchasing a house and I am super excited for them.  It is amazing how much has changed in their lives over the last three years.  In three years they have had two children, bought a house and my brother has become an apprentice in his job.
But none of these just happened.  The house and apprenticeship was a goal and they worked towards them until they reached them.  I'm proud of them.
What's Happening in the PLR World Today
In my email from yesterday I talked about stress and I'm going to talk about it some more.  When you're talking about stress you can offer so many tangible products on your site to help your customers.
They have aromatherapy lotions, stress relief tablets, coloring books, candles and vitamins.  There is so much that you can do with this niche.  You could offer your own coloring journals on your site, product reviews to any of the products above or your own digital product.  They all have profit potential.
Below are some PLR products that will allow you teach your audience how to deal with and relieve stress in their life:
Yesterday I talked about using PLR on your blog.  After you've uploaded the Stress PLR pack from Niche Starter Packs onto your blog, you'll want to create a product.  You could take Carol's Embrace Stress For a Calm Mind eBook and make one specific to the topic of stress.  You can slant this so many ways.
I did some research and  here are specific slants that people are searching for:
stress relief for college students
bath and body works stress relief
stress relief for adults
stress relief for cancer patients
stress relief for caregivers
stress relief for children
stress relief for couples
stress relief for teachers
stress relief for anxiety
stress relief for christians
stress relief for elderly
stress relief for guys
I would take this product and then go to Pixabay.com and get images that work with the content.  Then go through the eBook and format it with subheadings and bolding throughout the book.  After you're done with that add tips and personal stories, as well as the slant that you want to take with the eBook.  To do that add information that is only relevant to that group.
For instance teachers are stressed from dealing with rules of the school and laws from the state.  As well as parents who either think they give too much homework or not enough.  Or the children that have behavioral problems.
Then after you've added tips you'll add your information, as well as a table of contents at the beginning of the eBook.
You could have a product up and running within hours of purchasing this.  Then add the WooCommerce plugin to your site to make sales.
Here are the topics you'll get with this eBook:
What Does Embracing Stress Mean
How to Develop a Mindset To Embrace Stress
Quiet your Mind
Change Your Attitude
Change your Sleeping Habits
Use Stress to Motivate Yourself
Choose to Embrace Happiness over Anxiety
Part II Ways to Reduce Stress and Relax
Find Peace and Calm
Prioritize and Organize
Take Time for You
Strategies to Reduce Stress over Time
Set Goals to Manage Stress
Final Reflections on Embracing Stress
Plus in her OTO you'll get the following:
5 page Guidebook for Discovering How you React to Stress
15 Articles/blog posts with affiliate product suggestions including:
20-Domain names: Available at time of launch
3-niche traffic starter outlines for a 5 page report and 20 article/blog post titles for 3 separate niches -Financial Niche -Parenting Niche -Older Adults
5-social media graphics
30 Tweets
Common Signs and Symptoms of Stress Handysheet
10 Product reviews
After you purchase the OTO you could use the guidebook as an opt in and then create a 5 or 7 day series with the articles included in this bundle.  When you're done with that start talking about the new Ebook you created.
You could take each section of the Ebook and create an video for each.  You could make a PowerPoint slide with all the main tips.  As you go through the eBook read it word for word and record as you do it.  You can use the Windows Live Movie Maker, Camtasia or Screencast-o-matic.com.
Today I am watching my nephews, so that my brother can start moving into his new house.  I haven't even had a chance to see it.
Have a great and productive day!
April
P.S. Alice & Ron with DFY Templates has a really amazing template pack out right now.  It is on affiliate marketing.  You'll get so many great fill in the blank templates, checklists, resources, charts and  so much more.  Check it out https://nichestarterpacks.com/AffiliateMarketingTemplates
Don't Forget These Amazing PLR Packs & Deals:
Join the newsletter
Subscribe to get our latest content by email.