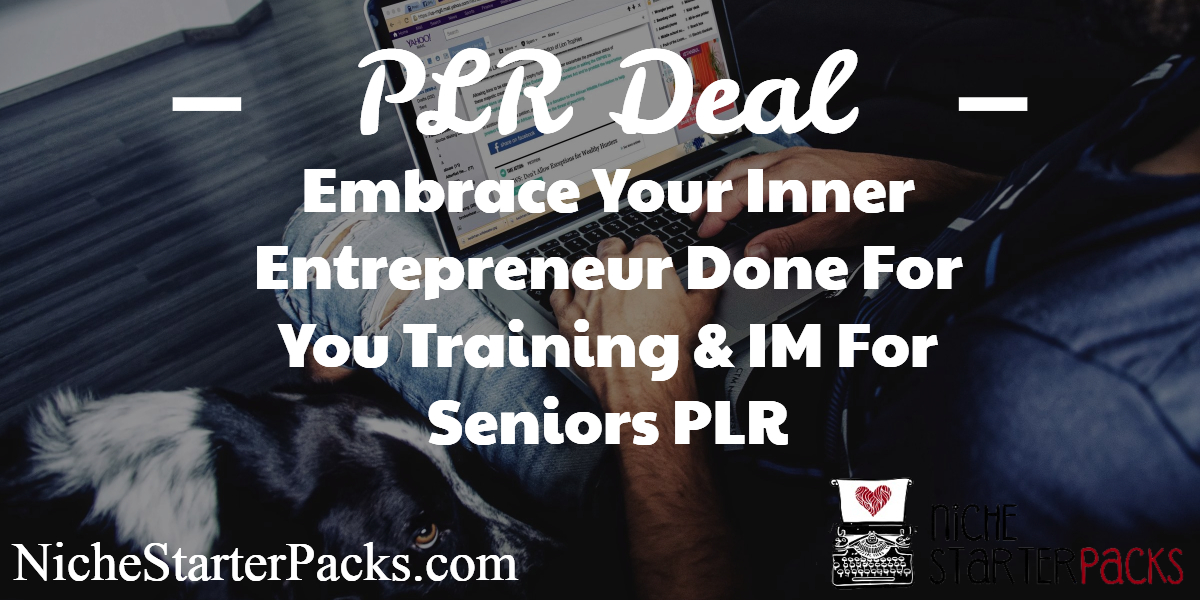 A few days ago I did something to my back and yesterday it was hurting, so I didn't do much.  Today it seems to be doing much better.  I've never experienced any type of back issues before, but it wasn't any fun!
I'll definitely be playing catch up from all of my business tasks that didn't get done yesterday.
What's Happening in the PLR World Today:

Embrace Your Inner Entrepreneur Done For You Training
Sharyn Sheldon has a new done for you training called Embrace Your Inner Entrepreneur and goes over so much valuable information.  This pack will help your audience shift their mindset.
For the next 5 days you can get it for $47 (Save $30!)
Here's What You'll Get:
Embrace Your Inner Entrepreneur – Course Book (6,701 words, 45 pages) Contains all the information your customers need for learning how to shift their mindset from limiting to growth-oriented (Value $997)
Workbook (1104 words, 18 pages) – To use alongside the activities outlined in the Course Book
Fixed vs. Growth Mindset Assessment Spreadsheet – An Excel spreadsheet for assessing current mindsets, so that your clients can see where they stand now and what they need to work on (auto-calculates results)
Summary Checklist (1441 words, 7 pages) – An outline of all the key points, which acts as a great cheat sheet reference for people to remember what they learned
Graphics from Course Book  (6 Graphics in .jpg & .ppt) – Great visual representations of key concepts from the course, which visual learners love (great as handouts too)
2 Infographics – Best Practices and Mistakes to Avoid (.jpg & .ppt) – More great visuals of key concepts from the course, so your customers have a handy reminder every day of what they learned
List of Tools – A list of tools that can help your customers with working on their mindsets
Slideshow (84 Slides) – Ready to fire up your recording software or share on webinars, Hangouts, and live presentations or workshops (Takes at least a day to create or $300 to outsource)
Speaker Notes (in Slide Notes below slides) – Use the script under the slides (in the ppt) to guide your presentations and recording. Ready to customize for your language
Top Ways to Deliver Your Training Program – Use our tips for picking the best way to deliver your course, based on your audience and your own skills
Tweets (10 Tips for sharing on social media) – Not just for Twitter! Use these to get more traffic to your content
Editable eCover Templates (10 Designs in 2D psd) – Ready to convert to your own branded eCovers
Instructions for using your new content – Step-by-step tips for getting started, customizing, and repurposing your content
You can easily add a slant to this to work for your niche.  This would work for bloggers, online entrepreneurs, personal fitness trainers, mortgage brokers, real estate agents and coaches.  Getting past limiting beliefs goes across many niches.
Get the Embrace Your Inner Entrepreneur Training Ready Made Training Today
Internet Marketing For Seniors PLR
Tiffany Lambert has just launched a 1 week PLR sale that targets this exact demographic, and it's called Internet Marketing for Seniors.  I know that there are some people who are interested in this particular niche.  When I conducted my survey some people asked about it.
More and more seniors and retirees are launching a second career with an Internet biz, and they're looking for someone who can guide them.
The bundle is the perfect starter kit for reaching this growing customer base, and includes 15 articles and a report that you can use to grow your list.
It includes:
Forced Retirement Doesn't Mean the End of Your Career – 432 words
Saving Money Versus Supplementing Your Income – 437 words
Seniors Facing Financial Insecurity Turn to the 'Net for Stability – 434 words
Baby Boomers Love the Freedom That Comes with Being an Online Entrepreneur – 401 words
Part Time Work for Full Time Pay Helps Seniors Make Ends Meet – 408 words
What Seniors Need to Know About Working on a Computer from Home – 468 words
Embracing a Can Do Mindset as a Senior Entrepreneur – 433 words
How to Avoid Getting Scammed as You Learn – 418 words
Internet Marketing Helps Seniors Socialize on a Global Scale – 452 words
Common Obstacles for Senior Entrepreneurs – 426 words
Online Marketing Is Perfect for Seniors with Disabilities – 452 words
Looking for Something to Fill Your Time? Try Online Marketing! – 425 words
Finding Your Niche as a Senior Entrepreneur – 426 words
How Internet Marketing Gives You a Career Edge Over Offline Jobs – 440 words
How Senior Couples Can Embark on a Family Business After Retirement – 445 words
Get the IM For Seniors PLR Today
Check it out here before it shoots up to full price.
Today is the last day to get the special rate for the Email Follow Up Planner.
Have a great and productive day!
April
New &  Awesome PLR Deals Going On Right Now
This is a list of the New PLR and deals that you can find going on right now.
Join the newsletter
Subscribe to get our latest content by email.