Do you like to provide people by telling them
what's the health benefits can pets give?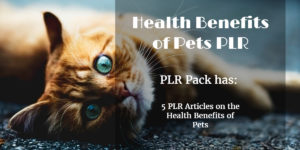 This PLR pack is all about the health benefits of having pets in the home. It discusses the fact that not only do pets provide entertainment and enjoyment, but they can actually help with a person's physical and emotional health. They help reduce stress and anxiety, reduce the risk of heart disease, and can even boost a person's immunity and lower cholesterol.
The Health Benefits of Pets PLR pack is a great way to add more content to a pet blog, health blog, parenting blog, or family blog. It is also good for promoting pet supplies, which is a really great niche to get into.
You'll get this PLR bundle for only

$5.95

!

---

Check Out What You'll Get:

1. How to Reduce Stress and Anxiety With a Pet (455 words)
2. Become More Physically Healthy With a Dog (413 words)
3. Improve Your Cardiovascular Health by Getting a Pet (427 words)
4. Why Children Should Have a Pet (415 words)
5. How Pets Can Help With Allergies and Immunity (419 words)
Get in both Text and Word Format
---

You'll get this PLR bundle for only $5.95!
After you purchase this bundle – you will get to immediately download all of your content!

All PLR Products that you purchase from me are non refundable.
PLR Rights Terms:
1. Don't pass on PLR rights to anyone, so your customers only get personal use rights.
2. Do not put my name on it.
GET MY DAILY PLR DEALS
(PLUS TIPS, TRICKS & TECHNIQUES TO USE PLR)