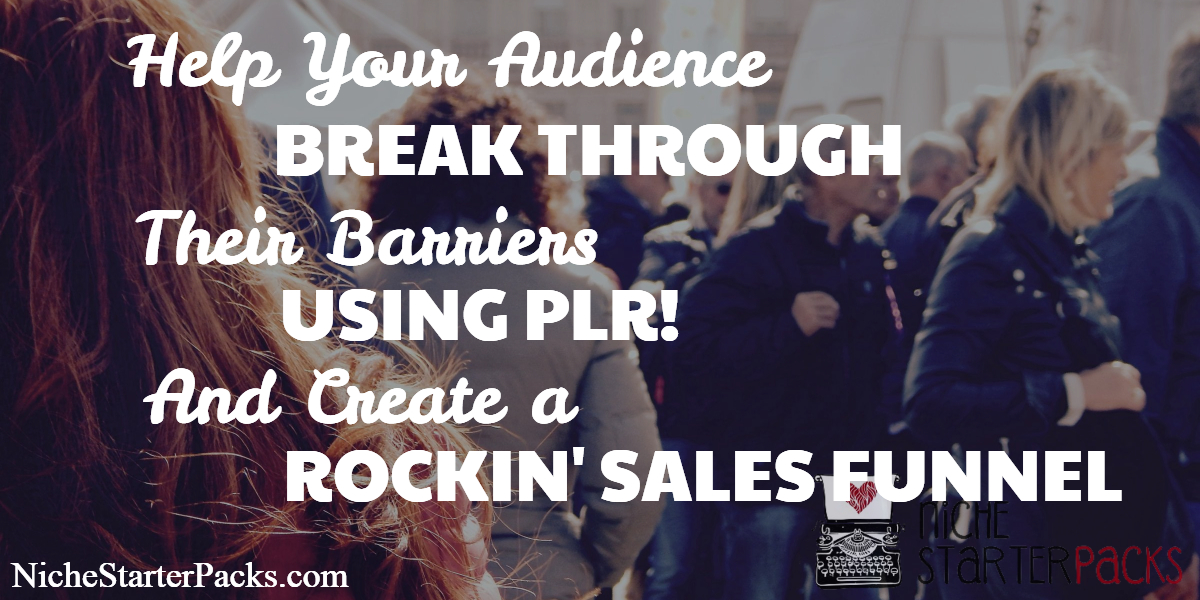 Today there were quite a few PLR packs that have been released or put on sale for really great prices. I was having a hard figuring out how to send all of the great deals without making it seem too salesy.  I wanted them to be aware of them, but wasn't sure how.  Since few of them are what I'd call business done for you content such as worksheets and training. Then there are a couple of self help PLR packs that were at a great discount (at time of writing) I thought I'd think outside the box and show everyone how to use the content all together.  Plus I added one into the equation because it pulled everything together so nicely and made it even better.
Not all of these are on sale (most right now though!) and this is a blog post, so by the time you've landed on it the sales might be over. That doesn't mean the content isn't top notch and if you follow the formula below you could be making money quickly. This all depends on how much you hustle and get everything done.
Here are the packs I'm using and what I'd do to use it right away:
CoachGlue – Weekly Newsletter Planner Coupon Code:  PLANHALF
ContentSparks – Strategic Content Curation
Tools For Motivation – Breaking the Rules Save 88% Until Monday!
Content Shortcut – How to Stop Procrastinating
Tiffany Lambert's – Rule Breaker's Entrepreneurial Success
When you're starting out you'll need to create a plan. What are you going to use each of these PLR packs for and how can you mix them together to provide an even better experience for your audience.  Well I've brainstormed and figured out a great way to combine the packs and bring all the content together.
I've given suggestions on blog posts, an opt in, autoresponder emails, social media, a front end offer, an upsell or one time offer and then the downsell offer.  These PLR packs combined create an awesome sales funnel that you would be proud to offer to your audience.
Know Who Your Audience Is & What They Need
When you first look at these topics you might thinkt that this product funnel doesn't really match the topic.  But for the right people it does.  You don't want to sell to everyone, but to a specific set.  There are people who are trying to get past self limiting beliefs and start up a blog.
So first you're going to help them get past the hurdles of self doubt, build up confidence, let them know it is okay to break the rules of society and in general be their go to for cheering them on.  After that time you'll offer them a course that will help them use their new mindset to build a thriving blog online!
As you can see these topics go together beautifully.
What Audience This Would Benefit the Most
I look at these topics and see that these could work well with an audience that is just starting to break through their limiting self beliefs. They need guidance and support during this time. They're not sure what they are capable of themselves and then they need to read encouraging and helpful articles, blog posts, reports and emails that will reach out to them and they can identify based on where they are at today.
These are some of the problems and challenges this group of people have:
Fear – they don't have the right skills
Not wanting to fail
Scared of failing at what they do try
Overwhelmed and then do nothing
Procrastinate because they don't know what to do
They are frustrated and want to focus or stop procrastinating. Sometimes they need someone else to tell them to break free of the rules of our society and be who they are. Helping them see that and then providing a blueprint to get a blog up will help them.
What You Can Do For The Blog Posts
First you'll need blog posts that wil help them with these feelings. I would get Tiffany Lambert's Rule Breaker's Entrepreneurial Success PLR and load the articles up into your blog calendar.
She goes over:
Mindset
Learning
Planning
Networking
Completion
Positioning
She has structured this eBook (now articles) in such a way that they are in the order people achieve success. So schedule them as she has them listed and your audience will appreciate it and get more value.
Take the Lead Gen report that is from the Breaking the Rules PLR (Tools For Motivation) and add that as an opt in on your website.
I would take the 10 articles that are provided in the Breaking the Rules PLR (TFM), personalized them, load them up into your blog, format with images and then schedule them out. There are also article slide provided for these, so make videos and get them on YouTube. You could even hire a voice over actor off from Fivver if you don't want to do it yourself.
Now It's Time For The Email Auto Responder
Then load up some email autoreponders. You could tweak the ones that Tools For Motivation has in their PLR or you could purchase Tiffany's upsell that has TONS of articles.
Print off a calendar or just get a piece of paper and go through those articles.  Find ones that will go nice with the topics that you are covering.  They don't have to be exact matches.  Pick ones that talk about self limiting beliefs, gaining confidence, how to be your own boss and focusing on tasks.  Those are going to be of interest to this audience.  You'll use the titles that you've made note of to create your autoresponder.
As a side note – she also has an eBook in the upsell that you could easily offer your audience as part of your products for sale.  Have a cover created, turn it into a PDF and get it up for sale.
Rockin' Sales Funnel Ahead…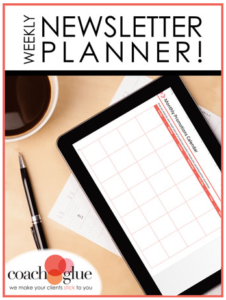 At this point I would start creating your sales funnel.
Use Ruth's How To Stop Procrastinating Report as the front end or entry level priced product. Depending on your audience you could charge $7, $17 or $27 dollars for it.
Next you'll need a one time offer or upsell. What I'd do is combine CoachGlue's Weekly Newsletter Planner and Content Sparks Strategic Content Curation. This is a comprehensive course with two modules.
One where you teach your audience to build their blog with a newsletter based off from the Weekly Newsletter Planner.  With this guide you'll teach them all the fundamentals it takes to create a blogging strategy that works, then the second module you'll get into how to use other people's content. You'll explain you can't just steal from others, there is an art and etiquette that they'll need to use.
Look What All the Weekly Newsletter Planner Has In It: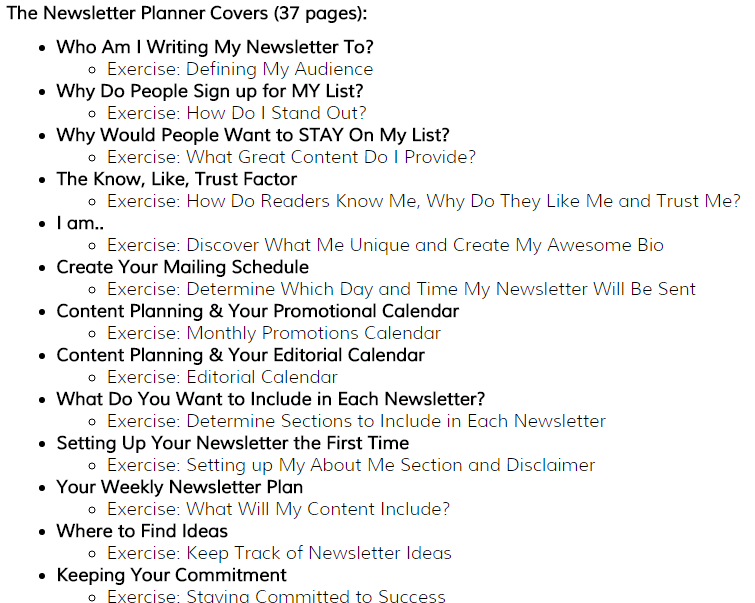 And Then Add the Strategic Content Curation: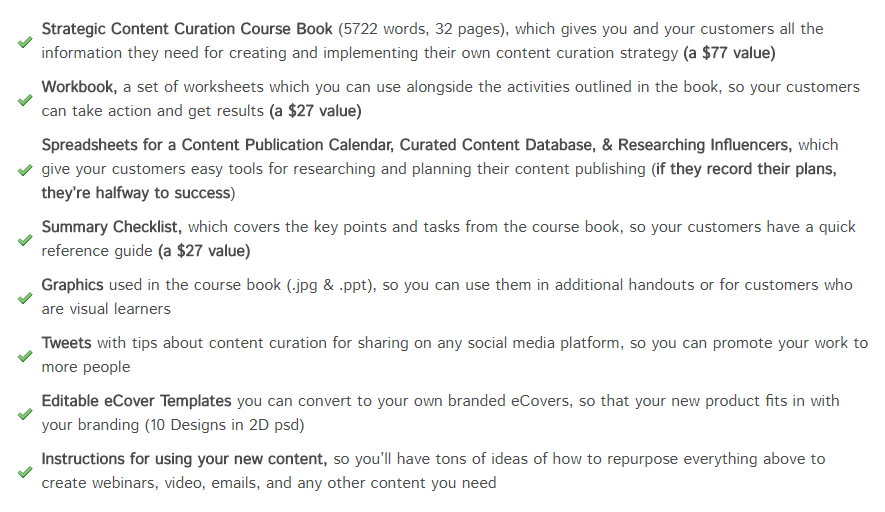 Topics Included:
Introduction to Content Curation
Set Your Content Curation Goals
Where to Find the Best Content for Your Audience
How to Curate Content in a Unique Way
Create Your Content Curation Calendar
Conclusion and Next Steps
By providing both of these in one course you could have a powerful course that teaches everything your customers need to know to create a successful blogging strategy.  The topics of both of these compliment each other very nicely.
You could set the product up as a membership site and they can only access information on certain days. Or give them access to the whole information at once.
You can also record each of the lesson and then send them the exercises that go along with the lesson. Then include group coaching calls or a hangout time to answer questions they might have from the weekly assignment.
A course like this could easily go from $47 to $97 (or more) dollars. Depending on how you set it up.
But if your customers aren't ready for the ultimate course you can use the eBook from Breaking the Rules PLR (Tools For Motivation) as a downsell. For a price of $17 to $27. Take the slide deck they provide and create training video's for a higher end product.
Both How To Stop Procrastinating and Breaking the Rules provide graphics. Use those to post on your social media account to engage with your customers. They also have tweets – so you won't even have to worry about what to say to get interest.
All of these packs are from quality PLR providers and can be used separately.  But by combining them you are setting yourself apart from others who have bought the packs and you are providing value to your customers in multiple different ways.
So next time you look at your PLR – think outside the box and make a plan on how to use it!
GET MY DAILY PLR DEALS
(PLUS TIPS, TRICKS & TECHNIQUES TO USE PLR)