High-Quality Emotional Over Eating Pre-Written Content Bundle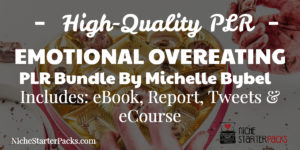 Michelle Bybel released a PLR called Emotional Overeating in May 2017.  If you have been struggling to come up with content and programs to launch your business, this PLR pack is the answer to your problems.  The content is extremely high quality and can get you up and running with a weight loss program within minutes of purchasing.
Get here Emotional Over Eating PLR Bundle HERE
What she is offering in her entire sales funnel is amazing.
Take a look at what you'll get:
E-book: End Emotional Eating: How To Heal With Awareness, Mindfulness and Other Holistic Techniques – 5602 words, 19 pages
Report:  The Top Holistic Methods for Healing Emotional Eating  2045 words, 5 pages
Tweets: 15 Tweets  257 words
E-Course: Understanding and Healing Emotional Eating 10 Day E-Course, 6272 words
Check out the eCourse:
Day 1: Are You Eating Your Emotions?  662 words
Day 2: Emotional Eating: Is it Really a Problem?  791 words
Day 3: The Physical and Emotional Consequences of Emotional Eating  552 words
Day 4: Are You More Emotionally Connected To Food Than People?  590 words
Day 5: What Are Your Emotional Eating Triggers?  589 words
Day 6: How To Stop Feeding Your Feelings   650 words
Day 7: How to Soothe Yourself and Handle Your Emotions Without Eating   672 words
Day 8: Mindfulness: Your Best Ally Against Emotional Eating   582 words
Day 9: Cleansing: Your Secret Weapon To Ending Emotional Eating   584 words
Day 10: Make Smart Food Choices To Beat Emotional Eating   600 words
Plus I've included a bonus if you buy the first part of her package – you'll get 10 articles on emotional eating.  You'll find these on JVZoo in your customer portal on the same page you would download
MY BONUS for the FE:
Alternative Therapies for Emotional Overeating- (482 words)
Could You Have an Eating Disorder- (413 words)
Could Your Weight Gain Be the Result of Emotional Overeating?- (420 words)
Emotional Overeating: Knowing Where to Turn- (482 words)
How to Eat to Stop Emotional Overeating- (513 words)
Lifestyle Choices: Learn to Overcome Emotional Overeating- (359 words)
Nutritional Treatments for Emotional Overeating- (462 words)
Tips on Overcoming Emotional Overeating- (469 words)
Weight Loss Surgery: Can It Help with Emotional Overeating- (493 words)
What Causes Emotional Overeating Disorder- (421 words)
You'll also get an opportunity to get more PLR that can be used to create more products.  I love her stuff because she is a licensed clinical social worker and health coach.
Get here Emotional Over Eating PLR Bundle HERE
You'll get the following in the OTO:
End Emotional Eating First Aid Kit: The Best Holistic Tools For Healing
E-Book: End Emotional Eating: Make-Over Your Meals 30-Day Plan 22,029 words, 70+ recipes, 125 pages
Opt-in Report:  Mindfulness and Emotional Eating 2230 words, 6 pages
Bonus Report #1: The Biology Behind Emotional Eating: The Role of Chemical Imbalances in Creating Emotional States That Lead to Unhealthy Eating Habits  2223 words, 6 pages
Bonus Report #2: Intuitive Eating: An Important First Step To Creating a Healthy Relationship with Food   1647 words, 4 pages
Bonus Report #3:  Take Control of Your Emotions and Life: The Keys to Building Self-Esteem and Self-Confidence  2403, 6 pages
Bonus Report #4: Using EFT to Heal Emotional Eating
Bonus EFT Infographics: 2 EFT Infographics to highlight the tapping points (Male/Female)
Coloring Book:  I Am…Color Your Way To Self-Empowerment Custom Made Coloring Book, 10 Coloring Pages Plus Color Cover
Journal: Food N Mood Journal Fillable PDF
Worksheet: Identify Your Triggers Worksheet Fillable PDF
Guidebook: Using and Analyzing The Identify Your Triggers Worksheet, 1422 words, 12 pages
Mp3: End Emotional Eating Meditation 29 minutes
Mp3: 5-Minute Emotional Eating "Tough Love" Intervention/Pattern Interruption
Mp3:  5-Minute Deep Breathing Exercise for Stress Reduction
Keyword Research
Tweets: 40 tweets, 737 words
You'll also get another chance to get even more high-quality PLR from her after you purchase the OTO.
Check out what is in the OTO2:
End Emotional Eating Boot Camp Plus
E-Book: 8-Week End Emotional Eating Boot Camp 11791 words, 38  pages
E-Book: Reboot and Rebalance 7-Day Cleanse  6296 words, 44 pages
Bonus Report: Love Your Body Now: How to Develop a Healthy Body Image Using Mindfulness
Bonus Mp3:  Positive Body Image  15 Minute Meditation
Get here Emotional Over Eating PLR Bundle HERE
You can do so much with this content – create a signature course, boost your traffic or engage your audience.  The sky is the limit with this bundle.
~April
Join the newsletter
Subscribe to get our latest content by email.