Massage Articles PLR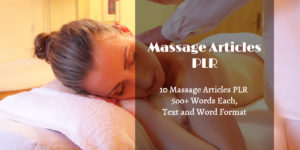 Learn more of the benefits massage can give you and how to perform it properly.


You'll get this PLR bundle for only $10.95!

Check Out What You'll Get: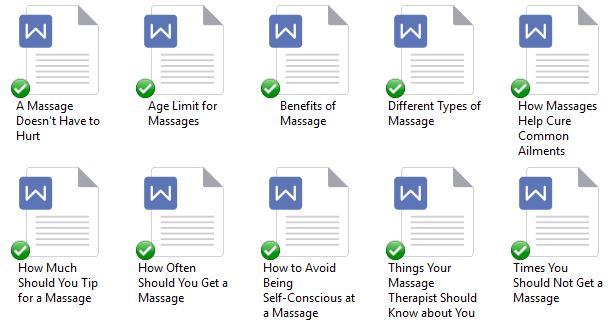 1.) A Massage Doesn't Have to Hurt (511 words)
2.) Age Limit for Massages (500 words)
3.) Benefits of Massage (524 words)
4.) Different Types of Massage (542 words)
5.) How Massages Help Cure Common Ailments (503 words)
6.) How Much Should You Tip for a Massage? (537 words)
7.) How Often Should You Get a Massage? (588 words)
8.) How to Avoid Being Self-Conscious at a Massage (520 words)
9.) Things Your Massage Therapist Should Know about You (533 words)
10.) Times You Should Not Get a Massage (518 words)
Get in both Text and Word Format 
---
You'll get this PLR bundle for only $10.95!
After you purchase this bundle – you will get to immediately download all of your content!

All PLR Products that you purchase from me are non refundable.
PLR Rights Terms:
1. Don't pass on PLR rights to anyone, so your customers only get personal use rights.
2. Do not put my name on it.
 Please note – this is PLR that I have bought a special license to sell. But rest assured It is high quality content. I provide it because I want to make sure my customers get the opportunity to purchase what they need, when they need it. Make sure you don't own this already. I will always let you know if a pack is under special license or not.
GET MY DAILY PLR DEALS
(PLUS TIPS, TRICKS & TECHNIQUES TO USE PLR)