Muscle Articles PLR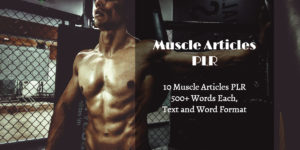 Muscles are the "engine" that your body uses to propel itself. Although they work differently than a car engine or an electric motor. Learnmore of how to build your and take good care of them here.
You'll get this PLR bundle for only $10.95!

---
Check Out What You'll Get: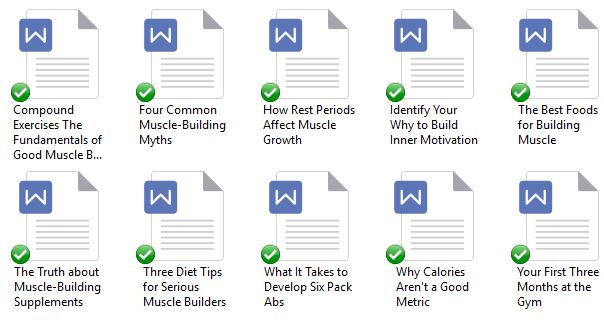 1.) Compound Exercises: The Fundamentals of Good Muscle Building (464 words)
2.) Four Common Muscle-Building Myths (516 words)
3.) How Rest Periods Affect Muscle Growth (466 words)
4.) Identify Your Why to Build Inner Motivation (461 words)
5.) The Best Foods for Building Muscle (478 words)
6.) The Truth about Muscle-Building Supplements (494 words)
7.) Three Diet Tips for Serious Muscle Builders (463 words)
8.) What It Takes to Develop Six Pack Abs (501 words)
9.) Why Calories Aren't a Good Metric (502 words)
10.) Your First Three Months at the Gym (474 words)
Get in both Text and Word Format 
---
You'll get this PLR bundle for only $10.95!
After you purchase this bundle – you will get to immediately download all of your content!

All PLR Products that you purchase from me are non refundable.
PLR Rights Terms:
1. Don't pass on PLR rights to anyone, so your customers only get personal use rights.
2. Do not put my name on it.
 Please note – this is PLR that I have bought a special license to sell. But rest assured It is high quality content. I provide it because I want to make sure my customers get the opportunity to purchase what they need, when they need it. Make sure you don't own this already. I will always let you know if a pack is under special license or not.
GET MY DAILY PLR DEALS
(PLUS TIPS, TRICKS & TECHNIQUES TO USE PLR)