New Vegetarian Menu Plan PLR
Trish Lindemood at Kitchen Bloggers has created an amazing "4-Week Vegetarian Menu Plan" PLR pack.  It includes 43 recipes divided into 4 weekly menu plans with detailed, customized shopping lists. You'll also get two blank printable shopping lists that can be used as opt-in freebies or bonus giveaways.
Until Monday, April 24th you'll get all of this for only $19 — then the price goes up to $27!
Check out what is in Week 1 (9 recipes):
Healthy Mexican Zucchini Boats
Mexican Quinoa
Garden Vegetable Pie
Moroccan Cauliflower Chickpea Pitas with Tzatziki Sauce
Corn, Avocado, & Black Bean Salad
Vegetable Spaghetti Alfredo
Veggie Tacos with Avocado Cream Sauce
Mexican Rice with Cantina Beans
Simple Broccoli Quiche
Frozen Blueberry Yogurt Bars
The great thing about this PLR Bundle – it can be used "as is" as a done-for-you, ready-to-sell product, as part of a larger collection of meatless recipes, or as blog, eNewsletter, or social media content.
April's Advice:
I would use this as an upsell to a Vegetarian eBook.  JR Lang has a HUGE Vegetarian Lifestyle: Health And Wellness With A Plant Based Diet PLR Bundle.  You'll get over 200 pieces of content in this pack.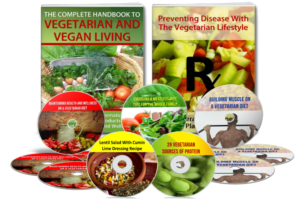 I would take The Complete Handbook To Vegetarian And Vegan Living eBook and put it up for sale.  It has 8 editable covers that were created in Powerpoint, plus an HTML Salespage and Download page.  People will get this eBook and want to change, but won't know exactly where to start.  That is where the Vegetarian Menu Plan comes in.  You could either give it away as a bonus to help them or use it as an upsell / cross sell for the eBook.
If you want to put a little more effort into it – try something like this Clean Eating Challenge.
She holds these challenges every two or three months and charges $97 each time she does it.
She offers:
A 4 Week Recipe Guide: You will have recipes that are created with a focus on decreasing inflammation, decreasing cravings and keeping you satisfied.
Shopping Lists for the 30 Day Challenge & BEYOND!
Clean Snack Recipes for in between meals.
A guide to "Good Foods" & "Foods to Avoid."
Plus a few other products.  She has found her niche and so can you.  One easy way to add an extra to your offer would be to take the menu plan and create a shopping list from it.  You can do a monthly, as well as weekly ones.  I would also go onto a site like the PDF Calendar and create a menu calendar for them to use for the entire month.  Trish has the recipes broken down into weeks – so you can either add the recipes like she has them or you can put them on the calendar however you'd like them to be.
You can easily create an amazing product to share with your audience with these PLR packs:
Vegetarian Menu Plan PLR
Vegetarian Lifestyle: Health And Wellness With A Plant Based Diet
MY BONUS:
I've also included a bonus on the Vegetarian Lifestyle from JR.  You'll get it as soon as you purchase the product.  It'll be in the bonus area.  This is a new PLR pack that I haven't had time to add to my store yet.  My goal is to add it next week.
I'll also give it as a bonus for the Vegetarian Menu Plan PLR from Kitchen Bloggers.  You'll have to contact me with your email address and let me know you bought it.  I will then either send you the zip files or give you access to aMember.  Giving you access will depend if I have time to add it to the shopping cart.  🙂
Check out the Smoothies For a Plant-Based Diet Article Topics:
1. Benefits of Smoothies For a Plant-Based Diet (470 words)
2. Main Components to Change For a Plant-Based Smoothie (476 words)
3. How to Make a Plant-Based Protein Smoothie (447 words)
4. Ways to Add More Protein to Your Smoothies (443 words)
5. Ingredients For a Green Plant-Based Smoothie (446 words)
6. Nutrient-Packed Vegan Smoothie Recipes (405 words)
7. 5 Simple Make-Ahead Smoothie Packs (468 words)
8. Basic Vegan Smoothies Without Using Soy (408 words)
9. How to Prepare a Plant-Based Smoothie Bowl (417 words)
10. Plant-Based Smoothies For the Morning (405 words)
I've also added a bonus to the OTO!  It is surprise bonus that I think you'll really love.  If you purchase the Vegetarian Menu Plans and JR's FE and OTO — I will also give you $75 worth of content in my store.  All you have to do is let me know what was included as the OTO bonus and tell me you bought from Kitchen Blogger so that I can check.
Also if you purchase JR's Vegetarian and Kitchen Blogger, but not JR's OTO — I will let you pick one pack from my PLR store of your choice.  That way you can get two bonuses!
Have a great and productive day!
April
How would you use this PLR bundle?  Please share in the comments below.
Join the newsletter
Subscribe to get our latest content by email.