Pre-Written Osteoporosis Content Bundle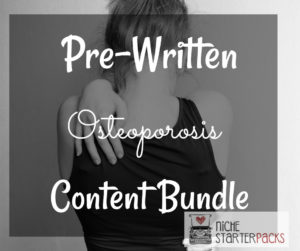 In this Pre-Written Buying A Home Content bundle – articles, a report compiled of the articles, keywords, and royalty free images, you'll be able to teach your audience what causes osteoporosis, how to prevent it, and also how to seek treatment if you have osteoporosis.
It is estimated that about 75 million people are affected osteoporosis in Europe, USA and Japan. And this article will help the audience to have an sense awareness of what is osteoporosis and how to prevent it.
Pre-Written Buying A Osteoporosis Content bundle that will help you bring in a traffic and readers to your blog because you'll be talking about topics that people are searching for – what is osteoporosis and how to prevent it.
They need a site that will advise them about the best way to avoid osteoporosis. And also who to ask for help if they have osteoporosis. It will also be talking topics about the causes and the symptoms of  osteoporosis
They can use this information to really understand how to do this.
The Pre-Written Buying A Osteoporosis Content bundle will help you teach your audience about important topics that they desperately need because of the wide range of topics in this bundle.


You'll get this PLR bundle for only $17.00!

Check Out What You'll Get:
1.) Bone Density Tests – Risk Detectors for Osteoporosis (548 words)
2.) Forteo Osteoporosis Treatment – The Pros And Cons (492 words)
3.) Managing Chronic Pain in Osteoporosis (885 words)
4.) Osteoporosis Causes the Bones in The Body to Become Brittle (496 words)
5.) Osteoporosis Effects on The Body (544 words)
6.) Osteoporosis Exercises to Keep You Limber (495 words)
7.) Osteoporosis Guidelines – What Your Doctor Should Be Doing (514 words)
8.) Osteoporosis Medicine – The Types Of Treatments For The Condition (474 words)
9.) Osteoporosis Symptoms – What to Know About The Silent Epidemic (341 words)
10.) Osteoporosis – Bone Health for This Condition (505 words)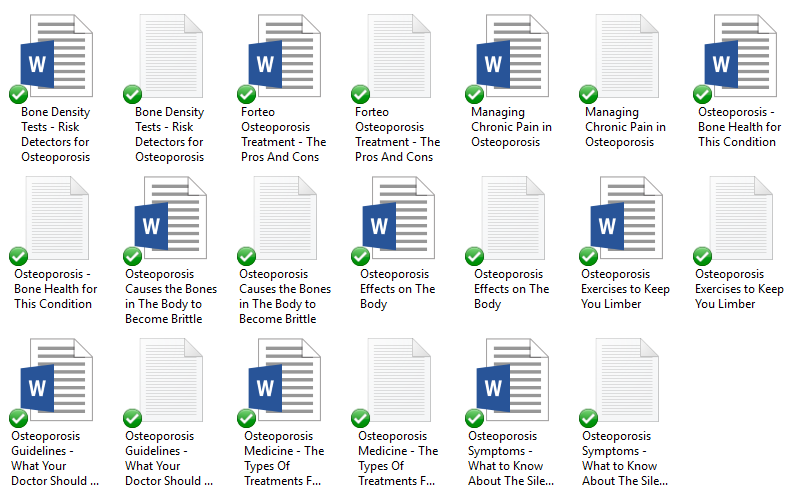 Get in both Text and Word Format 
Royalty Free Images
Images are expensive to purchase, so I've found royalty free images that you can use with the articles or inside the report.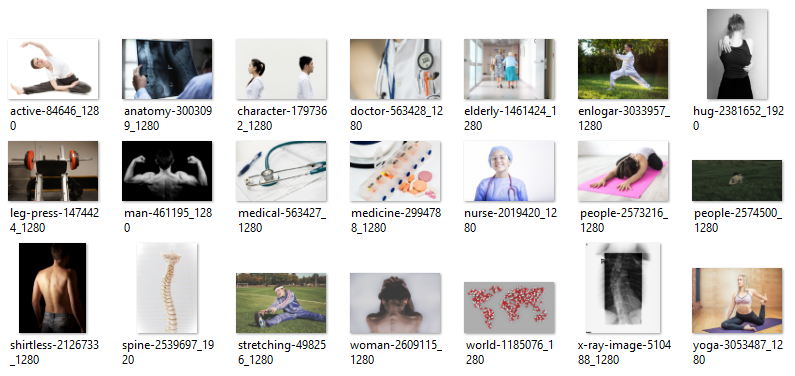 Keyword Research
I've come up with 200 long tail keywords all related to osteoporosis. You'll find some of these are what people like to call low-hanging fruit keywords while others have more searches.
But these are all high-targeted keywords that have the potential to easily get on the first page of search engines with. Search engine optimizing is important, so get a head start with this list.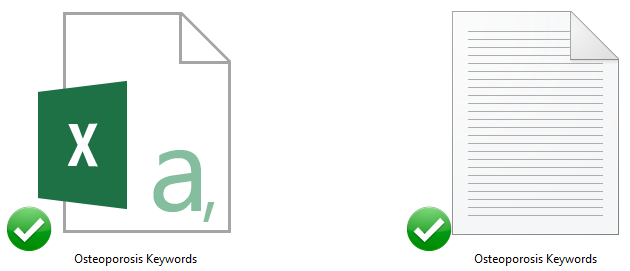 You'll get this PLR bundle for only $17.00!
After you purchase this bundle – you will get to immediately download all of your content!

All PLR Products that you purchase from me are non refundable.
PLR Rights Terms:
1. Don't pass on PLR rights to anyone, so your customers only get personal use rights.
2. Do not put my name on it.
 Please note – this is PLR that I have bought a special license to sell. But rest assured It is high quality content. I provide it because I want to make sure my customers get the opportunity to purchase what they need, when they need it. Make sure you don't own this already. I will always let you know if a pack is under special license or not.
GET MY DAILY PLR DEALS
(PLUS TIPS, TRICKS & TECHNIQUES TO USE PLR)