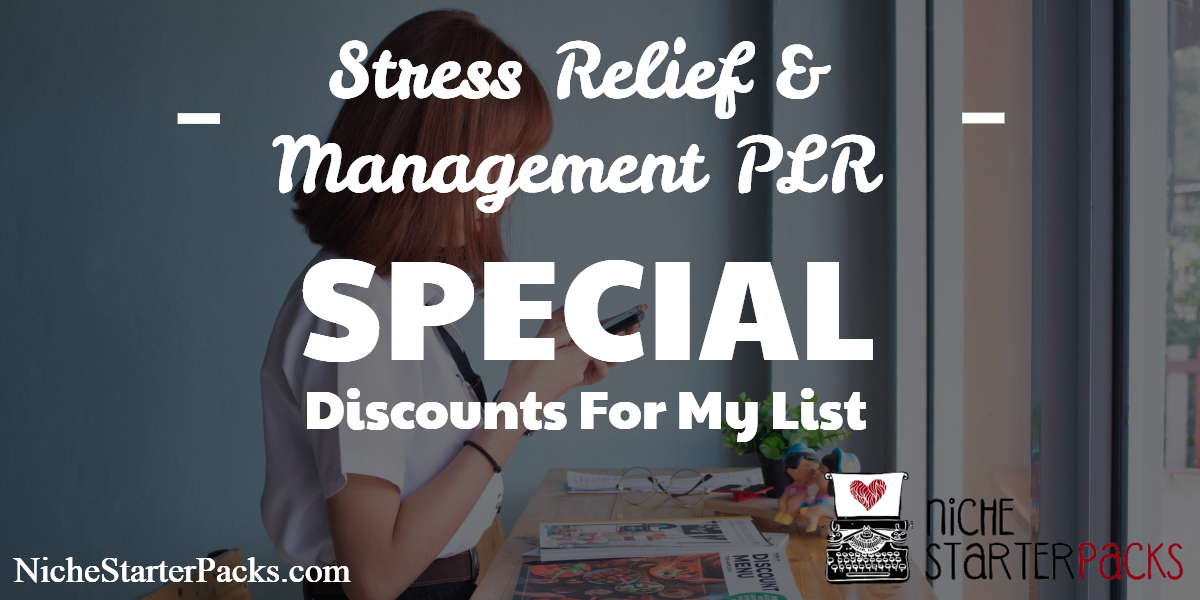 Today I'm still trying to figure out what I want to do with DMan and his schooling this year.  I think I'll let him go to a homeschool co-op two times a week.  He'll get the social interaction with kids which will be great for him.
What's Happening in the PLR World Today
School is starting around the United States and other countries.  Soon parents are going to be even more stressed with the added responsibilities.  It is going to be harder to get errands done, cook meals and stay on top of all of the other activities that goes with being a parent with kids in school.
Parents are going to need help dealing with the stress.  The thing with stress is that it goes across so many different niches.  Some of these niches include health, parenting, work at home moms, coaches and internet marketing.  Why?  Because everyone faces stress and they face it in so many different aspects of their life.  Not only that, but you can use so many different types of PLR content to help you that include the topic of stress, but also time management, exercise, eating right, journaling, coloring and so many other topics.
I mentioned above that I'm still trying to decide what I plan to do this year with DMan and his schooling.  When I think of that I have to take into account the time it takes to run the household (errands, chores, cooking, etc), exercising and making sure we are healthy, working at home (with a child around all day…or not), making time to homeschool which include planning and take field trips, plus the many other moving parts of life.
It can be stressful, so being able to go to a trusted friend (or blog) is essential.  You can help so many people by providing information on how to deal with stress.
Below are some PLR products that will allow you teach your audience how to deal with and relieve stress in their life:
Combining several packs together helps you teach your audience not just one method to help with stress relief, but several.  Not everyone is the same and so they'll need different options.
Take the Stress PLR pack at Niche Starter Packs for example.  You'll get the following articles:
Understanding the Different Types of Stress (433 words)
Physical and Mental Signs of Stress (426 words)
How to Practice Yoga For Stress Relief (477 words)
How Regular Exercise Helps With Stress (428 words)
Food and Nutrition For Natural Stress Relief (429 words)
Easy Ways to Relieve Stress at Home (439 words)
Identifying Stress Triggers (417 words)
How to Get Rid of People Causing Your Stress (437 words)
Healthy Lifestyle Changes For Stress Management (429 words)
The Physical Impact of Stress (411 words)
When to Get Professional Help For Your Stress (452 words)
How Pets Can Help With Stress (464 words)
Tips For Putting a Stop to Work Stress (481 words)
Journal Writing For Stress Relief (448 words)
Tips For Using Meditation to Relieve Stress (482 words)
You'll get several articles that help people learn ways to relieve stress like having a pet, journaling, exercise and nutrition.  To expand further on journaling you could buy PLR on bullet journaling to teach them how to use it effectively.  You can find PLR for this topic at Niche Starter Packs  and Piggy Makes Bank .
Once people have landed on your site they are going to want more information on how to deal with stress.  Carol's Embracing Stress Bundle includes a 25 page, 9,900 word eBook.  Offer that for sale for anyone that is interested in learning stress management.
Today I'm waiting for a call from the homeschooling co-op.  Hopefully they'll call later.
Have a great and productive day!
April
Don't Forget These Amazing PLR Packs & Deals:
Join the newsletter
Subscribe to get our latest content by email.