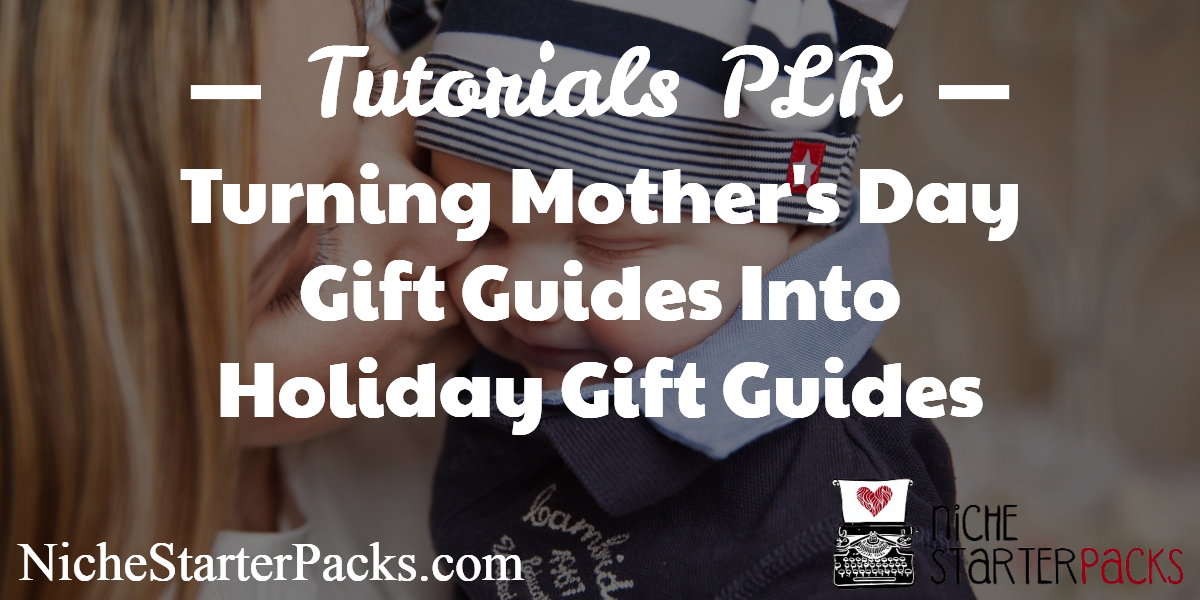 Gift guides are a good way to help your audience find gift ideas that people in their life want.  Sometimes they're just not sure what to buy.
I have a PLR bundle for 10 Gift Guides all on Mother's Day.  I know it isn't Mother's Day anymore, but I have recorded a tutorial on how to change a seasonal gift guide into a Holiday Gift Guide.
Plus I've given you a few ideas on how to expand on the guide to make it even better.
You can buy these guides on JVZoo here – Mother's Day Gift Guides on JVZoo
Below is a tutorial you can watch to help you slant these particular PLR Gift Guides into more generic holiday ones.
You can also take all of these gift guides and use them for multiple holidays.
Here are some ideas:
Mother's Day (these are already done)
Valentine's Day
Christmas Gifts
Fourth of July Gift Ideas
Memorial Day Gift Ideas
Labor Day Gift Ideas
Just a Gift Guide For Ideas (you can use this one most of the time)
All you have to do is change the wording to fit the right holiday.  Then you'll change the eCover to be more festive for each holiday.  For example, you could create the Valentine's Day gift ideas with a pink eCover and the Christmas one could be Red and Green.
Keep these gift guides in a folder that is handy, so that you can switch them up whenever you need to.
Ways to Repurpose the Gift Guides:
Create an ultimate gift idea blog post for each of the holidays.
Make a Pin-worthy image for each one so that you can pin it.
Do a Facebook Live or a video explaining what each gift idea is and why it would be good.  (NINJA TIP).
Once you've done the video, upload to your blog and your YouTube channel (another NINJA TIP).
Once you're done with the eCover – you'll want to make a 3D eCover so that you can use it in the widget area of your blog.
I use eCover Authority to do this with all of my report and eBook covers.  I love it because it is easy to use and it keeps all of my past eCovers in one place and I can download them again or edit them for another purpose or mockup that I'm working on.
Here is the video tutorial:
When you first start you should read your gift guide.  You want to know what the guide says and how it flows.  Does it sound like you?  If not then change it to reflect your voice.
Then you'll want to take all the references to Mother's Day out of your gift guide.  Do do this you can search and replace.  The command is Ctrl + F.  You'll get a box that comes up and then you'll type in Mother's Day.  It will then show you how many times that word was used.
There are 10 suggestion for each guide and there are 10 guides, so you'll have a total of 100 gift ideas for your blog
Check out the video to see what my suggestions are to make this guide even better.  They are pretty good if I do say so myself!  :0)
What do you plan to do with these gift guides?  I'd love to hear all about it.
~April
GET MY DAILY PLR DEALS
(PLUS TIPS, TRICKS & TECHNIQUES TO USE PLR)