Build a Simple Funnel From PLR Products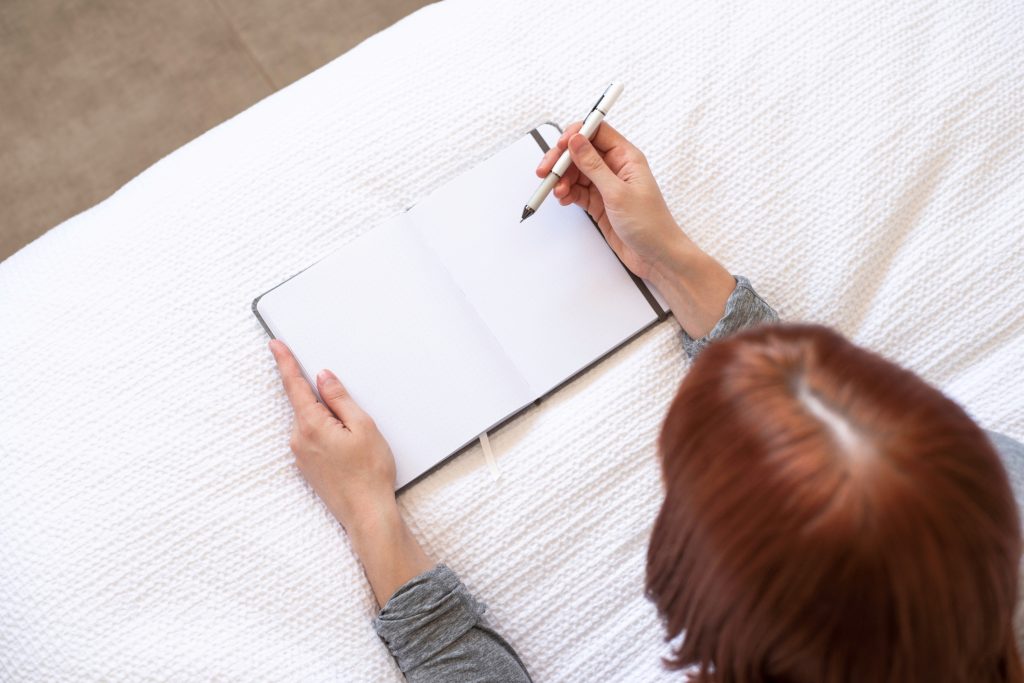 One way to use PLR is to build funnels. I love funnels. Why? Because they help your audience with their next step, and they'll add revenue in your business.

Just be careful that you don't get stuck on needing an entire funnel before you release anything. I've done that before. It is okay to slowly grow your funnels out.

I love that you can use PLR to build a simple opt-in funnel. I'm going to go through the process so you can see how simple it is to do using private label rights content.

Before I do that I wanted to show you what a simple funnel would look like and what goes into one.
To create a simple opt-in funnel, you need:
A Problem-Solving Lead Magnet
A Few Subject Matter Blog Posts
A Landing Page with Sign Up Form
A Thank You / Download Page
An Autoresponder with Follow Up Messages
The Main Product to Promote
Each of these parts of the funnel requires that you know who your audience is and what your ultimate goal is. Besides them downloading the lead magnet and getting on your list. Think about what type of product/service you'll be offering. This could be through sharing what you love with affiliate offers or creating and selling your own products.
If you write down what you're creating, you can shop for and buy the right private label content to use during every step of the process, including making your lead magnet, blog posts, landing page, download page, product, and email messages.
Ninja Tip To Building Funnels
One way to start is at the end. Why? Because sometimes it can be much easier to start with the main signature product you want to promote. This could be yours or someone else's, so don't let not having one stand in your way. Think about what you want to help your audience with and then find or create a product that matches that goal.
A Problem-Solving Lead Magnet
If this is too overwhelming – start smaller. You can start by using PLR to create your lead magnet and build your email list. Recently I've started creating what I call List Building Starter Packs.
The reason I do this is that they're ready to be put up and start building your list. The content has been written and the opt-in has been designed in Canva. I've even provided a PDF version so that you can download and get started right away. I would highly recommend at least putting your domain name in the Canva template and downloading it, but you don't have to.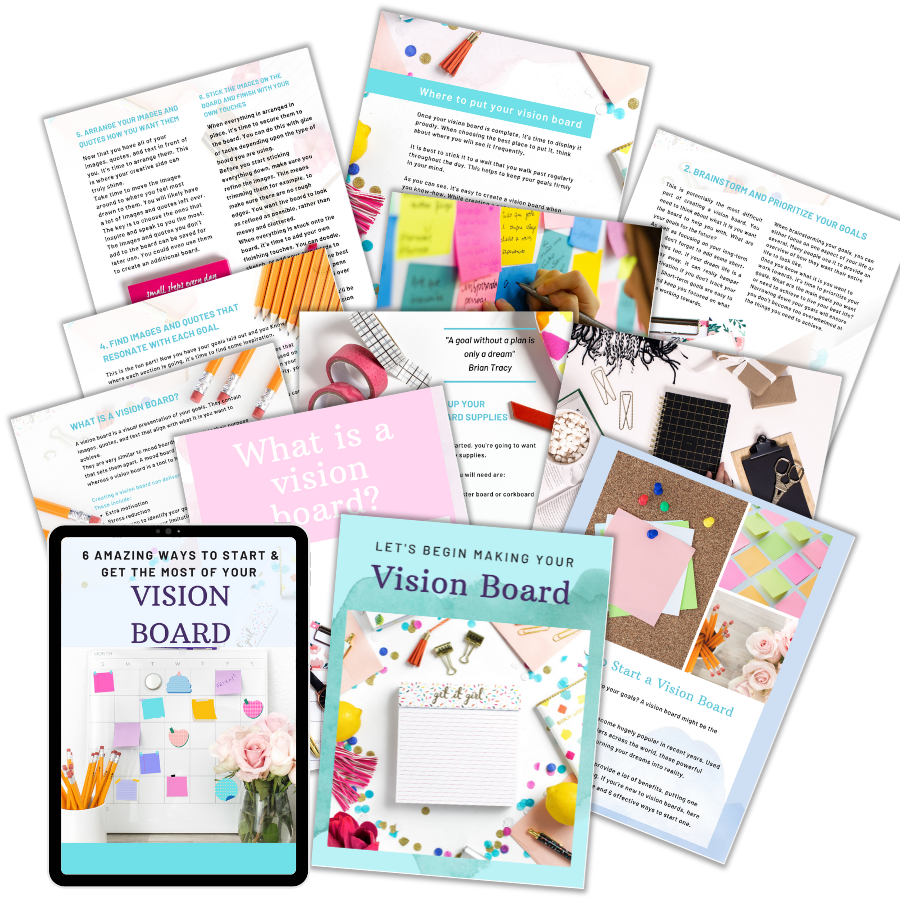 So far here are the products I've created:
What I love about these is how quickly they can be used and once you start promoting them you'll start turning readers into a part of your community. I've done the hard work of starting from scratch so that you don't have to – this is my job. Your job is to focus on your business by building an audience through traffic, getting them on your list, engaging with them, and then creating products they love.​
I read somewhere that you need at least 12 different opt-ins or ways that people can sign up to be on your list. You can use these for one of those. You can set these up as an opt-in with a landing page, but you can also use the blog post and add these as content upgrades.
One Small Problem Only Freebies
To make a lead magnet you'll choose the place your audience is in during their buyer's journey that you want to attract and find one small problem you can solve for them using purchased private label content.
Vision Board Example
For example, if you are building a Life Coaching business and want to help people visualize and work towards their goals. You would want to search for content related to visualization and vision boards. Such as the 6 Ways to Start & Get More Out of a Vision Board above or the Vision Board For a New You Product.
To create the freebie you'll want to think about downloading multiple forms of content such as eBooks, reports, blog posts, articles, planners, affirmation graphics, and journals to help you create the freebie.
You can use the content as is or mishmash it together to come up with something completely unique.
The key to a good freebie is it should be short, actionable, and the customer should be able to consume the content fast and implement the instructions fast.
My new List Building Starter Packs provide this.
Use Related Blog Posts To Market Your Freebie
As you search for the content, you'll want to use some of the content to create the lead magnet, but you're also going to want general vision board content that hints at the solution but doesn't offer one unless they download the freebie.
Usually, three to five blog posts that talk about the topic will work.
Remember, the CTA for the blog posts will be to download the 6 Ways To Start & Get More Out of A Vision Board or something similar. In this pack, I've also provided Swipe Files: Headline & Topic Titles. These can easily be tweaked to come up with a call to action.
You can also add the blog post throughout in a text link like I did above or do something like:

RESOURCE BLOG POST: How To Create an Avatar For Your Business
This specific topic works better further up in this blog post, but I wanted to give you an example.
A Landing Page With Sign Up Form
When you're done with the freebie it will be time to set it up so you'll be creating a landing page. You can do this on your website or you can use a software-specific or this task such as an email provider opt-in page.
You're going to need some way to send the freebie to them and that means you'll need an email autoresponder software to create at least the sign-up form.
I love and use ConvertKit. It's super-fast to build landing pages with their templates because all you have to do is fill in the blanks with your own information.
If you currently don't have email software, take a look at ConvertKit – they let you build the landing pages for free. They'll start charging when you build automation which would be the follow-up sequences.
Here is an example landing page that I created: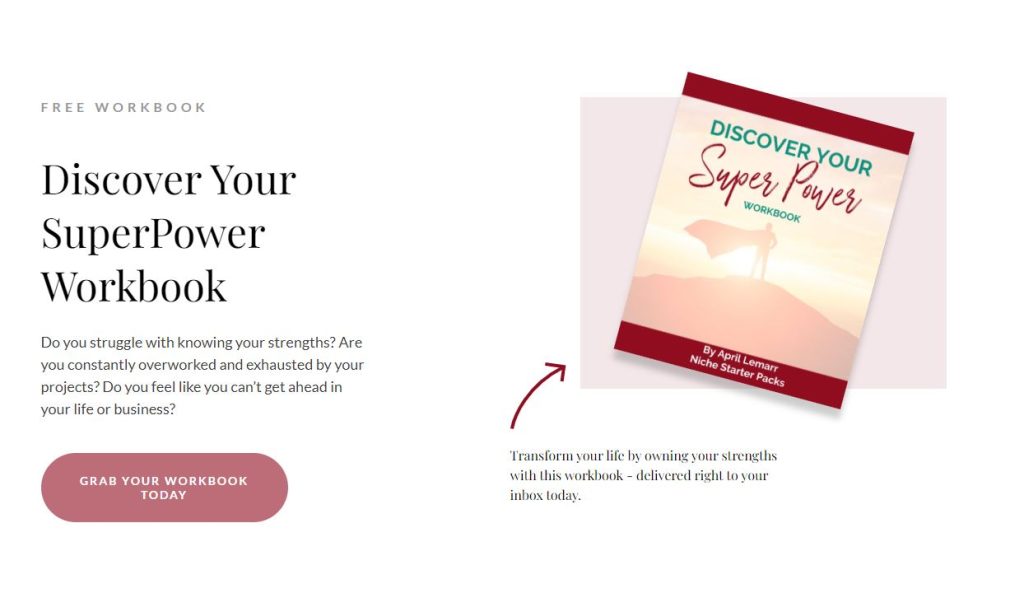 When you're creating the landing page – make sure to come up with the benefits of why they need your product. How is it going to help them? Make sure they can visualize it. Come up with 3 to 5 different ones.
You'll want to make sure that you take some time coming up with them because this is going to be what will make people sign up for the freebie.
I like to go to other people's sites to see how they're doing it. Find the benefits and see if it makes me want to click and sign up. If it does I see if it is relatable to what I'm offering and then I take inspiration from what they did. I do NOT copy. Mostly I write down action words that I like and apply them to my products.
Thank You / Download Page Increase Profits If Used Right
You can send the PDF freebie to their email, but the best way is to use a download or tripwire page. A tripwire page says something like –
Loading… (with the percentage bar)
You'll get your download in a few minutes, but here is something you might be interested in.
Another option would be to send a link to the download / thank you page. Then use the Thank You Page to provide additional information or products you offer besides just the freebie downloadable.
You'll want to do this because this is prime real estate on your website that is going to be visited by everyone who wants the freebie, and you may as well use it to promote something else too that is related.
Here is an example of one of my download pages: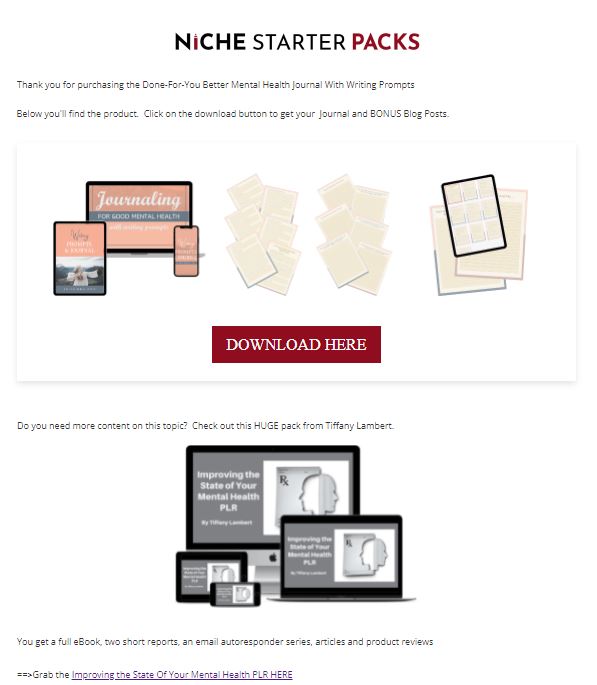 I didn't use my own product on this download page but I wanted to show you how you could. The download page can also be used to promote other people's products. I wouldn't use a thank you page because then it could take them off your page before they've gone to the next step in your process.
Don't Skip This Easy, But Effective Step – A Nurture Sequence
After the landing page, you're going to want to create a nurture sequence for your audience. You can use it for follow-up messages after the user signs up and downloads their freebie, but you'll also want to let them get to know you.
In the sequence, you'll tell them more about what you offer and the main product you think they should purchase in order for them to make their next year the best with a vision board
For every freebie and product, you create you'll want to make a goal to have three to five emails. It is easiest to do them when you first start because sometimes you think you'll get to them and it never happens.
Your follow-up should consist of a welcome and thank you message with the link to download, then point them to other content on your blog that is relevant, and if you have a signature or main product you want them to buy start talking about it in the first email, but also do it throughout. Then make sure to spotlight it in at least one email.
These don't have to belong and you can use the done-for-you content that you've already purchased or rounded up when you decided to create a funnel. It can even be from one of the blog posts. A blurb that really spoke to you and thinks it'll speak to your audience as well.
Another way to create sequences is to buy email templates. My favorite is from Sean McElhone called Email Carte (use coupon code: AprilsFriends to save money).
Design the Main Product in Your Funnel
While it does help to create the main product first so that you know what type of lead magnet to create to promote it, you can also make the product later.
There are a couple of ways to make your main product. The first would be to look to see what you have in something you've already bought.
For example, the Vision Board Mega Kit from Niche Starter Packs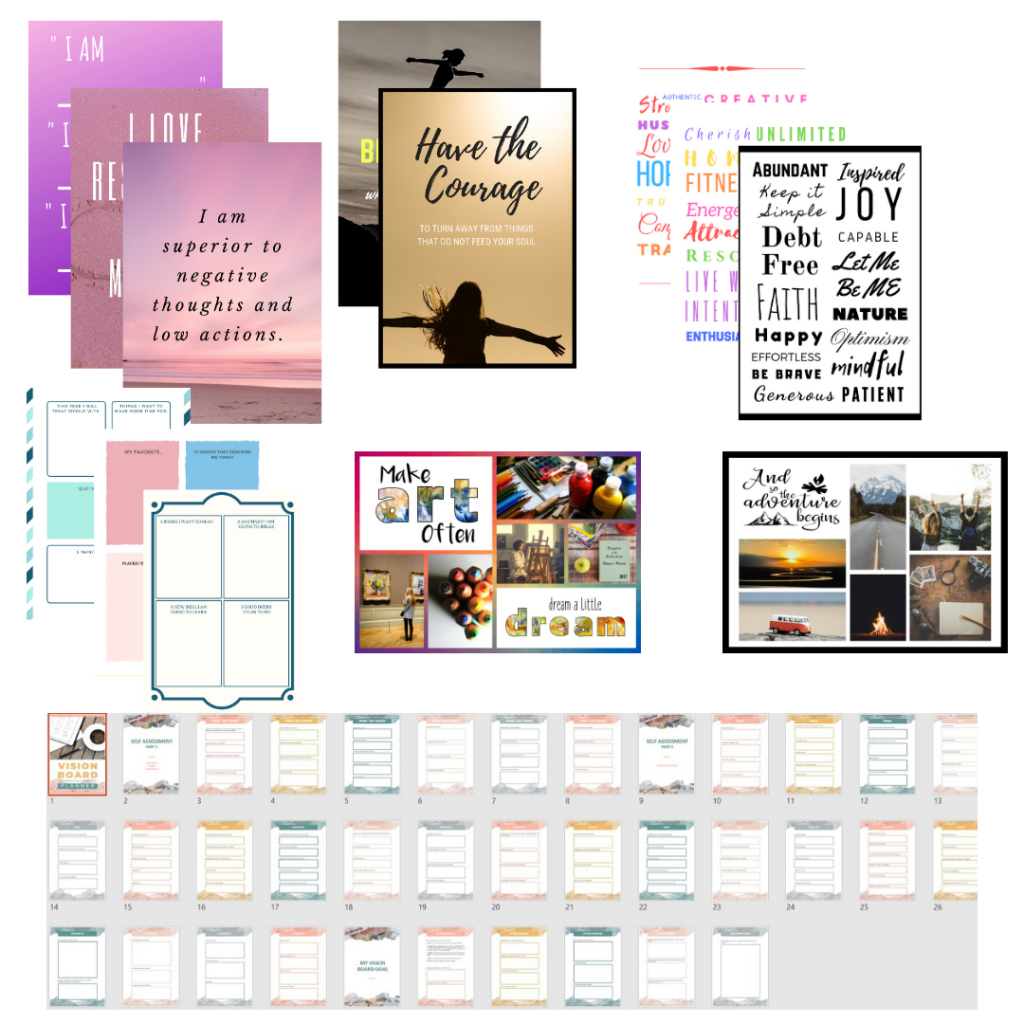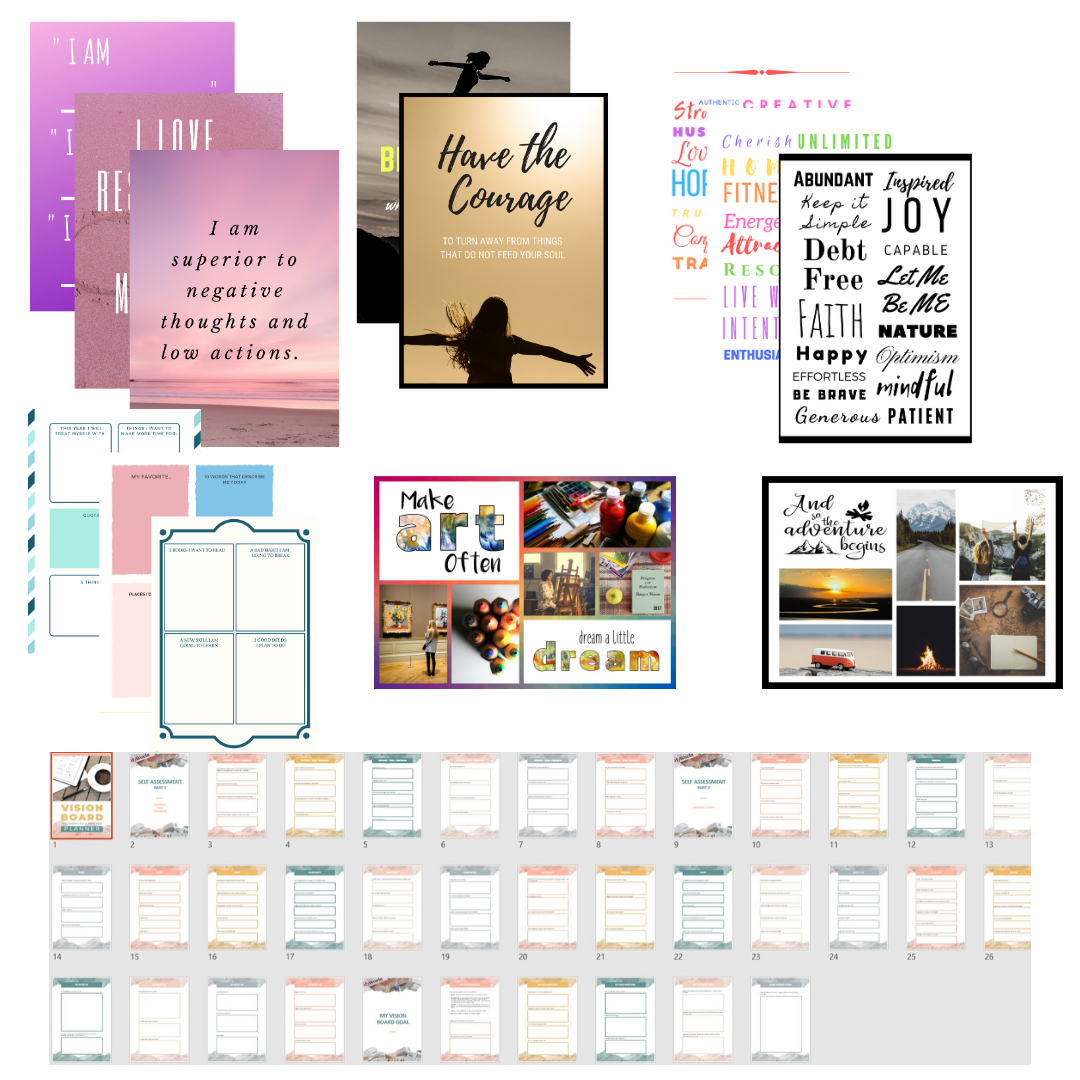 The MEGA Kit Includes:
5 Blog Posts
5 Intro Emails
25-Page Report "Vision Boards: Inspiration For a New You"
Canva eCover Template
50 Social Media Posts
Keyword Research
50 Beautifully Designed Canva Templates
Canva Templates: 10 Vision Board
Canva Templates: 5 Pages Power Words
Canva Templates: 10 Quotes
Canva Templates: 10 Affirmations
Canva Templates: 10 Vision Board Worksheet
36-Page Planner
Canva Planner eCover
BONUS Royalty Free Images
So what would I use for a product?
I'd use the planner and all the Canva Templates and combine them into a DIY Vision Board Kit. I saw something similar on Amazon. You could charge $37, $47 or more.
If you want to you can add videos showing them how to create a vision board and use the kit or you could offer a workshop as an upsell.
The second is to piece together all the products from different PLR sellers. Anyone who has Vision Board content. Then combine it into a program that is worth selling and running.
This might be a group coaching option, a one-on-one coaching option, or something else entirely, it's up to you and your audience. You can use PLR to compile the information. Edit it and make it look attractive, adding extras to it like checklists, cheat sheets, and charts that are useful to them.
Here are more PLR sellers who provide vision board PLR:
Health & Wellness PLR
Coach Glue
Content Sparks
Strategic PLR (Chad Eljisr & James W Brown)
Either one of these options will help you create a simple funnel from PLR.
Take Action To Create Your Simple Funnel
Make a list of what you need, shop for it, edit it and combine it into a unique product or service for your audience and you're in business.
Don't forget to follow up with quality content and let them know where else they can find you. So you'll want to cross-promote your social networks, groups, and events too.
Have a great and productive day!
~April
GET MY DAILY PLR DEALS
(PLUS TIPS, TRICKS & TECHNIQUES TO USE PLR)