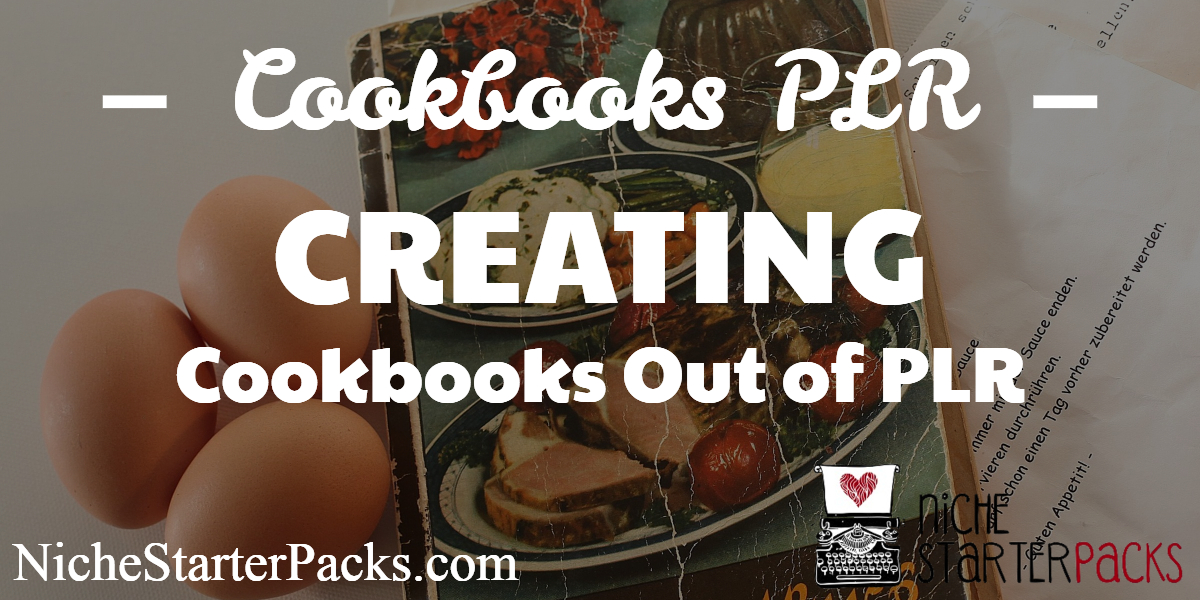 I was on Facebook yesterday and noticed this at home workout video. The video itself was really great, but then I noticed it was made by Six Sisters. They have a recipe blog that I get tons of meal ideas from. I went to their new fitness website expecting the same type of help and it was completely different. Take a look www.sixsistersstrong.com – they are mostly selling products on this particular site with a few blog posts.
One thing that these ladies did very well is slant the books. They are focusing on healthy recipes, work at home exercises, accountability programs and meal planning already done. All of those are at the heart of what every busy mom wants.
There are so many ways that you could recreate something similar, but different using PLR.
For example let's take the 100 Healthy Recipes eCookbook (http://www.sixsistersstrong.com/product/100-healthy-recipes-ecookbook/).
They have the following breakdown, but quite honestly you could do any recipe breakdown you like:
–18 Breakfast Recipes
-22 Lunch Recipes
-32 Dinner Recipes
-12 Side Dish Recipes
-13 Healthy Snack Recipes
-8 Dessert Recipes
You don't have to do a healthy cookbook. You could create one on quick recipes.
Find Recipes To Use For Your Slant
Take the Mega Food PLR pack from Kitchen Bloggers. There are 160 recipes that you can look through and find quick recipes that will work for your cookbook. When you're looking remember that quick means that the recipes usually only has a few ingredients and doesn't involve a lot of chopping or prep time.
You'll get several different recipe types, so you should be able to find most if not all from this pack from Trish. If not she has a Soup, Salad and Sandwich pack and a Tastes Like Chicken pack that you can use as well.
Or check out JR Lang's Healthy Cooking PLR Pack.
Look at recipe books towards the bottom of the sales page.  She has found and is giving away several cookbooks that our US government has created. These are in public domain which means that you can use any of the content in the book.
Change Description & Use Tips To Make It Your Own
I would definitely add your own tips or reword some of the directions, but you can use it free. JR Lang has taken the time to find 3 cookbooks and all of these could be used in a project like this.
More Slant Ideas For Cookbooks
Plus I see two more slants that you could use to create a cookbook:
Others would be:
Gluten Free
Kid Friendly
Low Carb
Paleo
The list goes one for slants. Think about what your audience responds too and create those types of cookbooks for them.
Come Up With New Recipe Names
When you've collect all of the recipes you'll want to format the book. As you format it come up with different recipe names for each of the recipes. If you've got a tip, idea or fun story about any of the recipes related to the recipe people like to read those. I read them all the time in my cookbooks.
Here are three ways to add some of your personality:
"This recipes is a favorite when we go to potluck dinners and I've learned to always carry the recipe with me to hand out." Name, City & State (or a personal story)
Here is another one:
not just a salad, but a delicious meal—try serving with crusty whole-grain bread
Tip: Look for an avocado that is slightly firm, but soft enough to
be gently squeezed.
Name the Cookbook
After you've formatted it and changed the names of the recipe, you'll want to create a name for your cookbook.
Quick & Easy Recipes For Busy Moms
The Cookbook Every Mom Needs For Those Nights!
Create an eCover For Your Cookbook
Then you'll need to create an eBook cover or hire someone to do it for you. What I'd do is go over to Amazon and find cookbooks that are similar and start looking at the covers. Pick a few that you like and write down why. Then send that over to your graphics person.
Once you've got the graphics back you'll want to put a flat cover on the first page of the book and then use the other one for your marketing. Turn the cookbook into a PDF, upload it to your site and start offering it for sale.
Shopping Cart Ideas You Can Use
You can use eJunkie, Gumroad or WooCommerce for shopping carts.
Overwhelmed?  Don't Do It All In One Sitting
Does this sound a little overwhelming? Only work on it for short spurts at a time. Commit to 5 recipes a day or 45 minutes a few times a week. It doesn't have to be done all at once. In 20 days you'll have a new cookbook that you can sell to your customers. Then you can move onto the next cookbook or product that you'll be offering your customers.
Depending on how many recipes you want to include this shouldn't take more than a few hours to complete. As you start doing more and more the time you spend will decrease.
Why You Should Create a Cookbook For Your Audience
People love cookbooks. That is why you see them at the end of the aisle when you're in the check out line. At least the small ones. It looks yummy and the headline grabs their attention. I know I've bought more than one when I've been standing in line!
I hope this helps you start a Cookbook Empire on your blog! If so, please let me know. 🙂
-April
GET MY DAILY PLR DEALS
(PLUS TIPS, TRICKS & TECHNIQUES TO USE PLR)