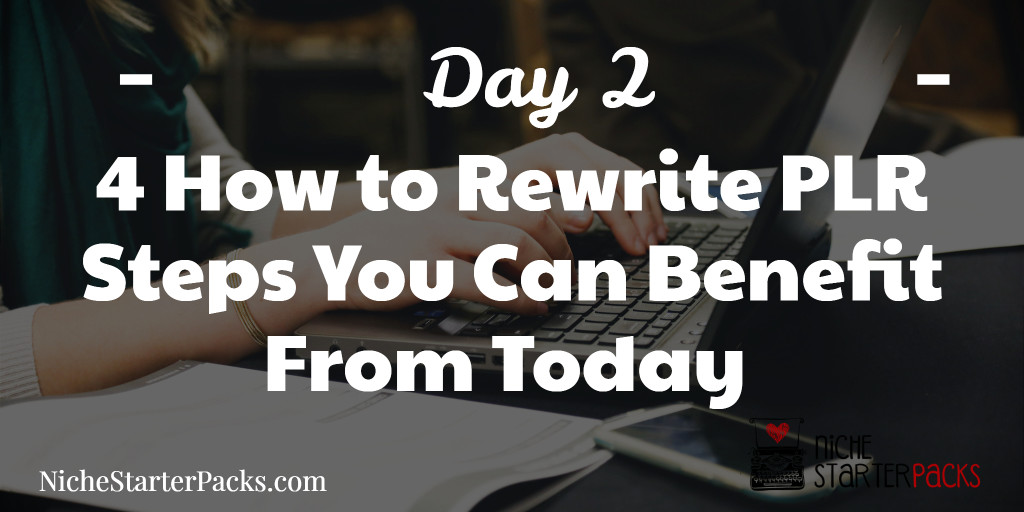 Hi!
Yesterday I went over Why You Should Rewrite, Talked about Duplicate Content and When You Should Rewrite Your PLR – Click HERE to read all about it.
Today I'm going to teach you four easy steps to help you rewrite your done-for-you content.
4 Amazing How to Rewrite PLR Steps
By far the best way of making your PLR content appear unique to the search engines is to rewrite it. You don't have to rewrite 100% of the article – just enough that it doesn't look exactly like the original.
Plus you'll want to use the specific keywords you're targeting because this will help the search engines find them.
The good news is that rewriting PLR can take as little as ten minutes per article…. once you've practiced it a few times!
Use these steps to get going:
Step 1: Read the article
Read the article once through to get a feel for what it says and what the main points are. This will also let you see where the article is going and if you want to take anything out because you don't agree with it or don't want it in your blog post.
Step 2: Create a new Title & Subheadings
In a new document, enter a unique title and the subheadings for your article. The subheadings don't have to be in the same order as the original – in fact,it's great if you change it up a bit. This will make it more unique.
Make sure you're using the keywords that you've found in your title and subheadings for the search engines. You can use a tool like Jaaxy to help you find long tail keywords that don't have a lot of competition. This is the keyword tool I've been using for the keywords in my pre-written content bundles.
Under each of the titles and subheadings put the key points that you want to talk about for each topic.
Creating attention-grabbing titles takes practice and there is a technique to it. You should use the methods in Content Creation Formula, to get title ideas.
By using the search power of Jaaxy, and combining it with the methods of the Content Creation Formula, you'll have hundreds of targeted keywords with search intent. Targeting keywords alone is NOT enough.
You must write content that readers are searching for. That's exactly why these two products complement each other perfectly.
Another tool that I absolutely LOVE is a software called Fresh Title. Take your keywords and plug them into this tool. It'll literally spit out hundreds of ideas for you to pick from. Sometimes they work better as taglines, but with this huge list you can find one or two to use.
Step 3: Write the introduction and conclusion.
You can refer to the original and change the wording if you need to.
You can also do this step last. I've heard that some people write (or rewrite) their entire article first and then it is easier to come up with an intro and a conclusion because the rest of the articles is finished and you'll know how to introduce it.
Try it both ways and see which way is easier for you.
Step 4: Fill in the blanks
There are two different ways to approach this and it depends on if you're rewriting completely or just adding a few details to the pre-written content.
If you're rewriting you'd want to write paragraphs under each of the subheadings. Write about the same general idea from your memory, or keep referring to the original and reword it if you need a little more help.
TIP: Try to rewrite it this way, paragraph by paragraph, rather than sentence by sentence. This helps to keep it more naturally unique, as you let the words flow.
If you want to add a few details – you'd copy and paste the paragraphs that fit each bullet or key point that you added in Step 2.
Remember, if you want to you can stray from the original ideas and add your own – you can definitely do that. But if you want to make sure you keep the same message as the original, refer back to it from time to time to make sure you're staying on track.
Follow these steps and you'll be able to use all your done-for-you content. Don't let it sit on your hard drive. Make a plan and then schedule the time to work on it.
Have a great and productive day!
April
Read Day 1 —————– Read Day 3
GET MY DAILY PLR DEALS
(PLUS TIPS, TRICKS & TECHNIQUES TO USE PLR)