3 Ways to Use Private Label Rights Content
Private label rights content is a great way to save time and get ideas on what to write on your blog. There are so many ways that you can use done-for-you in your business, but where do you start?
You can use one, two or all three of the ideas below.
1. Create Opt-Ins From DFY Content
One way to use this ready-made journal content is to create opt-ins.  A few months ago I  heard that 6 opt-ins were the magic number.
How do you get so many opt-ins created and added to your site?
By using private label rights of course! 🙂
For example, there is a PLR bundle all about Bullet Journaling and in the pack, you'll get one report in the first offer and that will make a great start, but if you purchase the second pack I'm sharing you'll get 5 more reports!
These two private label rights packs combined will help you get to the goal of creating 6 opt-ins in your business.
The report titles are below:
Bullet Journal
Gratitude Journal
Health Journal
Stream of Consciousness Journal
Travel
>Grab the Journaling PLR Package – Mega Bundle<<

Check Out What's Included in the DFY Bullet Journal Bundle (Including all those reports!)
All of these journals are 4 to 5 pages with professional eCovers and include the following topics: Benefits of, What to Write About, Tips, Prompts To Get You Started
Here is everything you'll get in the OTO:
eCover Graphics – in PNG and PSD files
eBook Converted Into Reports – 5 Reports with eCovers in PNG & PSD formats
Report – 'Journaling Tips for People Who Hate to Write' – 10 pages, 4,592 words
Report Graphics – in PNG and PSD files
Report – 'Bullet Journaling Hacks' – 10 pages, 3,424 words
Report eCover Graphics – PNG & PSD Files
Articles – 20 Articles – 500+ Words, Text & Word Format
Bonus – Social Media Graphics & Posts
Bonus – 365 Journaling Prompts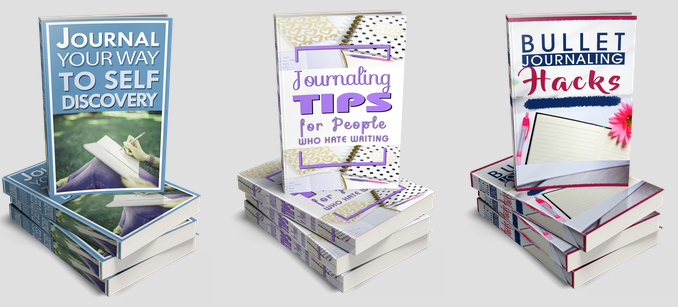 This is such a great Bullet Journaling Bundle (both the front end and the upgrade). So much potential and fun things that you can do and create with it!
2. Make Videos Out of the Content
This is an easy one because you can do one of two things.
You can create a Powerpoint slide with all the main points and then read the article you've chosen word for word.
You can read the article and pick out the main points and then do a video of you talking about each point. You'll want to add your stories, opinions and any resources you want to share.
For the Bullet Journaling PLR Bundle you could take the 10-day email sequence from the front end and make videos for each day. Provide these as additional training or on a Facebook group that your audience.
3. Unique Way to Use Facebook Live Streaming
Another way to use Facebook Live Streaming for this particular course, but not actually get on video is to point the camera down and show them how to do something.
For example with the private label rights pack we've been talking about you could point it down to your personal bullet journal and walk your customers through the steps of how a bullet journal works, what to use it for and how to set it up.
Or another option would be to have bullet journal work sessions. I saw someone do this last year for coloring. This will help your audience get ideas and ask questions.  This could work on any type of workbook, questions or action steps.
>>Grab Jennifer's Bullet Journaling PLR pack<<
Ways People Are Using Bullet Journals
When I was doing some research about bullet journal I knew these types of journals was BIG before I got started, but I didn't realize how big this trend is.
People are using bullet journals for anything they can think of.  Check out what they're tracking:
habit tracking
bucket list
grocery shopping
movies / TV series they've watched on Netflix
children's milestones
daily routines
healthy choices.
The options really are limitless of what you can create and the angles that you can use when you're using the bullet journal private label rights content.
Action Step:
Brainstorm a list of ways that your audience tracks things in their life and then look through the content of the PLR bundle. Make note of all the content that will help them.
In case you forgot this front end pack includes:
a 34-page eBook "Bullet Journaling 101"
10-Custom Made Printables
10-Page Report "Staying Organized with Bullet Journaling"
Professionally Designed eCovers
14-Day Email Sequence
10 Articles 700+ Words
List of 60 Ideas For Bullet Journal Collection
Resources
As well as my Meal Planner Bonus
You'll get high-quality, pre-written content with both of these Bullet Journaling bundles – so if you need more content on this subject. I suggest you grab them both.
I've mentioned the specific DFY Bullet Journaling Bundle that Jennifer Andersen created, but you can use these methods for any PLR product that you purchase. 
Take a look at done-for-you content on Niche Starter Packs and grab a topic that resonates with your audience and try these tips today.
Have a great and productive day!
~April
P.S. This DFY Bullet Journal PLR Bundle provides eBooks, eCovers, autoresponder series, printable pages, social media graphics, and articles…to name only a few AND that is only in the first offer.  You'll also get a chance to purchase 99+ pages of content in the upsell opportunity.
Want to keep this for later? Here is a PIN:

---
In the spirit of full disclosure, some of the links in this blog may be affiliate links, which means I may receive compensation for suggesting the products, services or businesses. However, I would never recommend any product that I didn't believe was high quality or it wouldn't benefit you and your business.
I also do not suggest them only to get commissions, but because I truly believe they could help you grow your business, engage with your audience or get you to your next milestone or goal.
GET MY DAILY PLR DEALS
(PLUS TIPS, TRICKS & TECHNIQUES TO USE PLR)