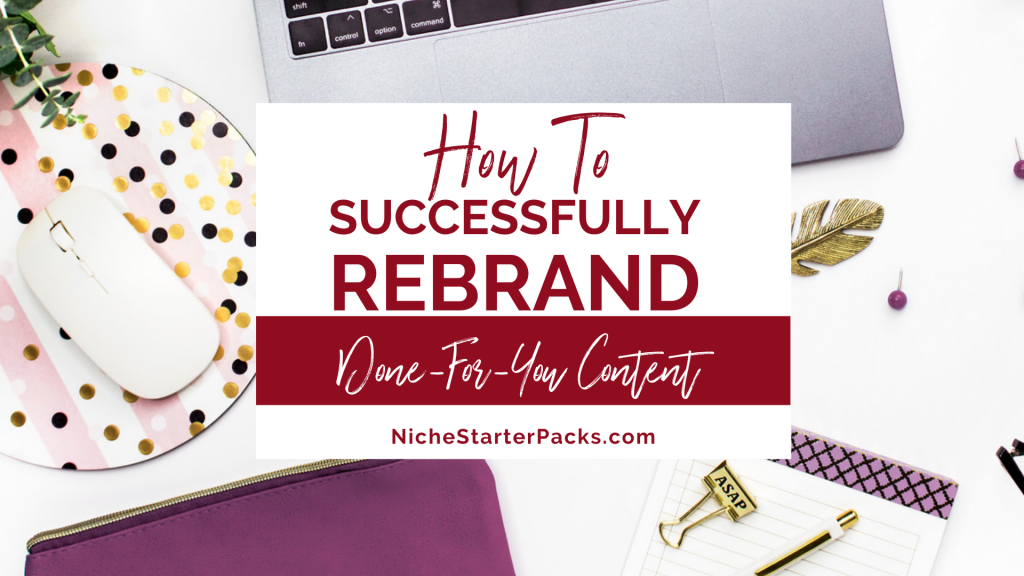 How to Successfully Rebrand Done for You Content
If you want to get the best results from done for you content, it's worth taking the time to rebrand it. Although it is possible to gain results by using pre-written content as it is, you'll see the biggest benefits come from making it unique.
The question is, how can you rebrand done for you content?
Below, I'll reveal some of the best steps you can take to rebrand pre-written content to increase its value.
Change its name
The first step to branding done for you content, is to change its name. This helps to make it unique and it will increase where the content ranks on search engine results.
You'll want to ensure the name is relevant to the product. Ideally, it should contain relevant keywords too as an additional boost to its SEO. If you are rebranding the content into different formats, again you'll want to make sure each one has a unique name.
Clear its formatting
You'll also want to have free reign over the formatting of the content. To do this, copy and paste all of the content into new Google Docs document. Press the format tab within the menu, then opt for the clean formatting option.
This gives you a totally clean document in which you can format it however you like.
Include your own voice and content
When you're trying to rebrand your content, it helps to add your own voice. So, take a little time to go over the pre-written content and see where you can add your own input.
It could be you have a certain way of speaking which isn't currently reflected in the done for you content. By adding your own unique style, it sets the content apart and gives it a lot more personality. This is what will help you to connect to your audience.
Similarly, you should think about adding some personal stories and experiences into the content too. Consumers LOVE storytelling, so if you do this, you're bound to see increased results.
Change its format
This is an optional step, but it can greatly increase the results you experience from done for you content. Changing its format from blogs and reports to eBooks, video and worksheets for example, will provide multiple other marketing materials.
You'll also find that different formats generate different results. So, it's a great idea to experiment a little and see which format works better with your audience.
Combine it with other done for you content
Did you know you can also combine different done for you content packs? If you find two similar packs within the same niche, you can mix and match the content to produce more value.
By combining the content, it also makes it much more unique. While others may have the rights to both packs, it's unlikely your competitors will mix and match them in the same way as you. So, you'll be able to charge more for these unique packs you've created.
Change the images and graphics
Finally, a key step in rebranding your pre-written content is to change its images and graphics. You'll find most packs come with images included. However, if you take the time to source your own, the content will be more unique.
You should change all of the graphics, including the covers of eBooks for example. You'll also want to change the graphics and images on slides, videos and PDF files.
These are some of the best ways to rebrand your done for you content. It might take a little more effort but following the steps above and rebranding the content can help you achieve much better results.
~April
P.S. Don't forget to download your checklist below so that you can start rebranding your PLR today!