Black Thumb Gardening Is a MAJOR Problem For Those Who Want To Garden, But Can't Keep Anything Alive!
Wanna Be Gardeners Are Frustrated Because They Want Beautiful Plants, But Can't Seem To Get Them — They Need Your Help NOW!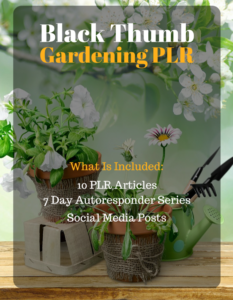 Hello Marketers!
Do you have a gardening niche site?  Has your community been asking for information for people who can't seem to keep a plant alive for anything?  There are really people out in the world that cannot keep a garden from dying.  Whether it is a small houseplant or an herb garden – they just can't seem to keep it green and beautiful.
These types of people NEED your help.  They want to own beautiful houseplants, but they know the reality that if they get one it is going to end up dying.
This PLR packs helps these people.
10 Articles To Help The Black Thumb Audience Members You Have
Many people find the thought of trying to grow a plant or herb daunting.  There is a lot of work involved and every time they have tried…they have failed.  But they want to try again.  This could be for many reasons.  The only problem is that they don't know where to start.
With these articles you can help them gain the confidence they need to get a plant and grow it successfully!  They might even want to grow an entire container garden once they get comfortable with one plant, guess what you'll be prepared when that happens as well.
The topics for these articles range, but all of them will help you guide your audience in their gardening adventures.
You'll get articles that cover the following topics:
4 Beginner Gardening Mistakes to Avoid – 435 words
4 Ways to Get More Shade in Your Backyard – 522 words
5 Tools Every Gardener Should Have – 451 words
Beginners Guide to Planting a Container Garden – 455 words
Don't Poison Your Pets! Keep These Toxic Plants Out of Your Garden – 449 words
Five Essential Tips For Indoor Gardening – 581 words
Grow Your Own Fruit With Dwarf Fruit Trees – 485 words
How to Attract Hummingbirds to Your Yard – 441 words
How to Exterminate Common Garden Insects – 447 words
Important Dos and Don'ts For Your First Vegetable Garden – 517 words
Get these in both Text and Word format.
They will appreciate a blog that caters to their problems.  Many of these people would love to own a houseplant or plant a garden, but need help because they just don't know how.
Gardening is an EVERGREEN niche and while this topic might have been seasonal in the past, people are starting to bring their gardening indoors.  So you'll be able to help people year round.
7 Day Autoresponse Series to Help Pick a Plant That Won't Die Easily
You'll also get a 7 day email series that will guide people to the right plants.  These plants are ones that most people can easily grow.  They all require less work on their part; therefore, it is less likely they will end up dying.
Here is the daily topics:
Fool-Proof Plants to Start With Snapdragon – 417 words
Fool-Proof Plants to Start With Lavender – 458 words
Fool-Proof Plants to Start With Marigolds – 413 words
Fool-Proof Plants to Start With Black-Eyed Susan – 389 words
Fool-Proof Plants to Start With Sunflowers – 393 words
Fool-Proof Plants to Start With Summer Squash – 454 words
Fool-Proof Plants to Start With Mint – 386 words
Get these in both Text and Word format.
These cover a wide range of options for the people who are interested in growing a plant.  You can get flowers, herbs and even squash.  There will be a type of plant that will interest everyone.
Blog Ideas & Swipe Files For Gardening
Do you have problems coming up with blog topics or ideas?  You'll find enough for an entire year!  The blog ideas offers a variety of topics.  From container gardening, the best tools to use and types of bugs to watch for in your garden.  There are 52 blog post ideas.  The ideas include money making opportunity by promoting affiliate programs as well.
You'll also get 73 swipe titles to pick from.  You can use these for the gardening niche or change the words and use them for other niches as well.  Here is a quick sample of some of the swipe file titles:
[# Steps/Tips] To [Garden/Gardening]
Yes YOU Too Can Learn How To [Garden/Gardening] With Ease!
[Garden/Gardening] In Just (Select Number) Minutes A Day – Guaranteed!
FREE Report Reveals 5 Secrets To [Garden/Gardening]
Add these to your swipe files and keep them on hand when you are trying to come up with article, report or eBook titles.
Get these in Text format.
Amazon Product Lists on Gardening
You'll get 4 different Amazon lists on gardening products.  The lists are the Best Seller, Hot New Releases, Most Gifted and Most Wished For – so you'll know exactly which items are HOT right now and you'll be able to create articles based on those.  Each list has 100 products to pick from.
You can write product reviews or Top 5 article lists.
These come in a CVC file.
Social Media Posts
You'll also get Tweets and Facebook posts for each of the articles and autoresponder series.  That is 34 total!  They come in a text file, so that you can easily copy and paste them into whichever social media platform you want to use.  Just add your link and an image.  Your audience will love these!
The Facebook posts are tips on each of the topics for the articles and autoresponders, so it encourages people to click on the link and read the rest of the post or sign up for the opt in.
Get social media in both Tweets and Facebook posts – text format.
The Black Thumb Gardening PLR Bundle will help you grow your audience.  If you want to help your community find the right type of plants and show them the way to producing an actual living garden – then this PLR topic will help.
After you purchase this bundle – you will get to immediately download all of your content!
You'll get this PLR bundle for only $19.95!

All PLR Products that you purchase from me are non-refundable.
PLR Rights Terms:
1. Don't pass on PLR rights to anyone, so your customers only get personal use rights.
2. Do not put my name on it.
GET MY DAILY PLR DEALS
(PLUS TIPS, TRICKS & TECHNIQUES TO USE PLR)