When you're in business lead generation is a big part of it.  If you don't know how to generate leads you're going to go out of business.  No matter if you're calling it traffic, readers, customers or clients they are all leads.
If you teach bloggers, entrepreneurs or business owners you can use this done-for-you bundle by Aurelius Tjin to help you.
When it comes to capturing names and email addresses, people are savvier now than they were a decade ago. They know that the minute they hand over their personal contact details, they're opening themselves up to a never-ending slew of spam.
You not only have to be careful about how you interact with your subscribers once you get them on your list, but to even get them on there in the first place, you have to have something very tempting to offer.
That is what this PLR is all about — Lead Generation.  Chances are if you don't have a list you've probably heard how important one is, but you really don't understand completely.  I know that is how I was before I started building a list.
Lists can be scary and intimidating, but with Aurelius Tjin's PLR you'll find it much easier.
Get the Lead Generation PLR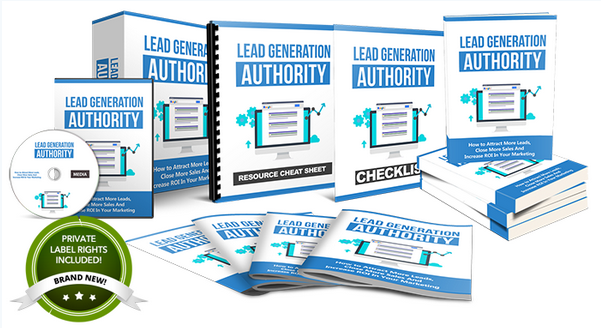 The package includes:
Module 1: High Quality Ebook (60+ pages)
Module 2: Printable Checklist
Module 3: Resource Cheat Sheet
Module 4: Mindmap
Module 5: Ready-Made Salesletter & Thank You Page
Module 6: Lead Magnet & Opt-in Page
Module 7: High-Quality Professional Graphics
Module 8: 10 x Quality Articles
Module 9: Promotional Email Swipes
Module 10: Social Media Viral Images Pack
You'll get instant access to everything mentioned above.
Plus you'll get 3 Bonuses from Aurelius as well.
FAST-ACTION BONUS #1: Quickstart Guide
FAST-ACTION BONUS #2: 12 Step-By-Step Video Tutorials
FAST-ACTION BONUS #3: PLR Training Camp – 2 Hour Video Training
If you're teaching anyone about blogging or building a business online you should get this.  They need to know how to capture leads for their business.
This works for any industry or niche – restaurants, mortgage brokers, bloggers, real estate agents, wellness coaches, personal trainers and fitness coaches.  To make it better take the information and cater it to a specific niche.
You can personalize the title to How to Generate Leads For Your Small Business as Personal Trainer.  Go to Fiverr and get new eCovers made that are specific for this industry.  Make sure they are great though!
Grab the Lead Generation PLR  to help your audience with this aspect of their business
Have a great and productive day!
April
Other Products, PLR Bundles & Deals You Might Be Interested In That'll Help You:
P.S. If you'd like more tips, tutorials and PLR deals that are going on – sign up for my newsletter below.
GET MY DAILY PLR DEALS
(PLUS TIPS, TRICKS & TECHNIQUES TO USE PLR)