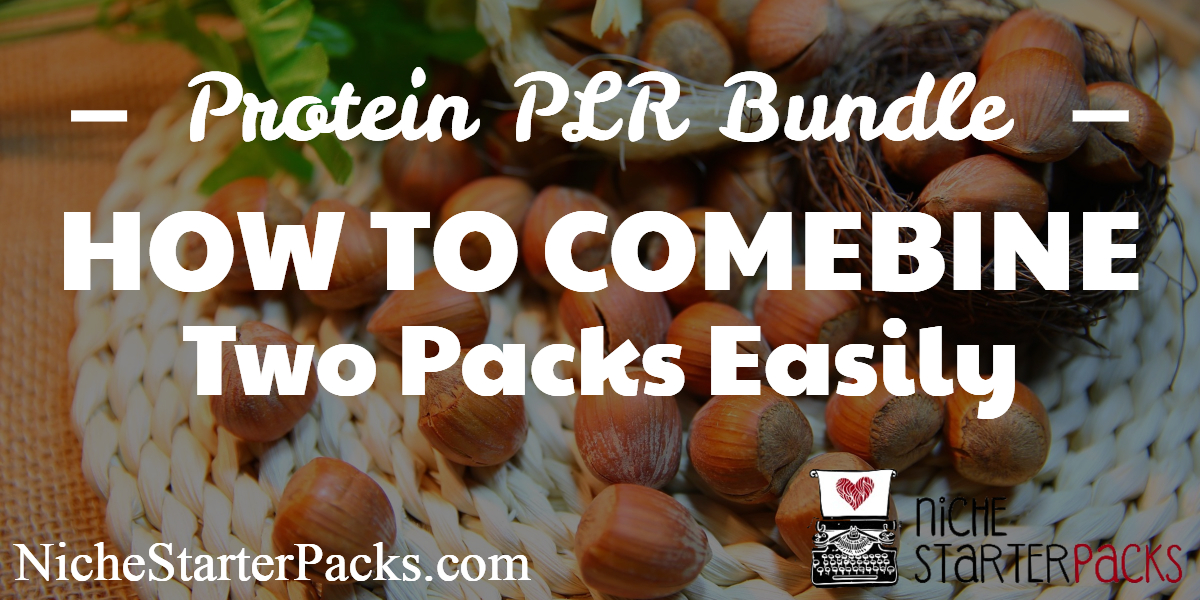 Protein is a hot topic that is searched for over 1 million times in a month. People look for this topic when they are trying to lose weight as well as gain weight and muscle.
I've created a protein PLR bundle.   Keep reading to find out how to combine two packs and use your PLR instead of letting it sit on your computer.
Take a look at what you'll get in the bundle:
16 Page Report – Quick Guide to Protein Shakes, 2,584 words
6 Protein Shakes Topics Broken Into Articles
6 Blog Images That are Inside the Report
eCover (JPEG, PNG & PSD formats)
6 Different eCover Angles
10 Brand NEW Protein PLR Articles
You can easily slant the Protein PLR pack a lot of different niches and keywords.
Plus you can promote protein bars, protein powder, protein shakers and protein shakes. The bars, powder and shakes are consumable products – so you could easily send an email monthly to remind people to purchase their monthly supply.
Tiffany Lambert has a Protein Power PLR Product Review that you can get to help you with all of these types of product reviews.
Protein Bars
1. Quest Nutrition Protein Bars
2. OhYeah! One Bars
3. Zone Perfect Bars
4. Clif Bar Builders
5. Muscle Pharm Combat Crunch
Protein Shaker Cups and Mixers
1. Umoro One Multifunction Protein Shaker Bottle
2. PROMiXX 2.0
3. HELME Shaker Bottle
4. VALI Stainless Steel Shaker
5. BlenderBottle Classic Loop Top Shaker Bottle
Protein Shakes Ready to Drink
1. Orgain Organic Nutrition Shake
2. Atkins Ready To Drink Shake
3. Pure Protein Shake
4. CytoSport Muscle Milk Ready-to-Drink
5. EAS Myoplex Original Ready-To-Drink Protein Shake
Protein Powders
1. Orgain Organic Plant Based Protein Powder
2. Optimum Nutrition 100% Whey Gold Standard
3. BSN SYNTHA-6 Protein Powder
4. Garden of Life Organic Vegan Protein Powder
5. Isopure Zero Carb Protein Powder
Right now you can get these 20 protein product reviews for $7!
April's Advice
Here is how I'd combine both of the products.
1.Add the protein reviews from Tiffany's product to your blog.
2. Add extra pages to the 'Quick Guide to Protein Shakes' that comes in my pack.  I would do this by creating a Top 5 list for the the protein shakes, protein shakers and protein powder and add them into the report.  Take a look below:
Here is the sections of the report with the new Top 5 Lists:
Benefit of Drinking Protein Shakes
Tips For Making Protein Shakes
The Best Protein Shake Mixes to Use In Your Shakes (add this page)
6 Protein Shake Recipes To Try
3 Ingredient Protein Shakes
Protein Shakes To Make Without a Blender
5 Protein Shakers You Can't Live Without (add this page)
Ways to Increase Protein in Your Protein Shakes
Top 5 Protein Powders To Increase Your Protein (add this page)
3. Link the Top 5 pages that you just created to the product review on your blog.
Add an intro at the beginning of the Top 5 page that talks about the product review.  Then add the 5 different products and a brief summary of each.
For the Top 5 List – I would format it like the following:
5. Isopure Zero Carb Protein Powder
Isopure's protein shakes are perfect for after an intense workout, because the absorption rate is much higher, meaning that it will repair your torn muscle fibers much faster.
Read my review on my blog here
I took that out of the Power Protein PLR Product Review back from Tiffany. You could easily rewrite it.
By using these two packs together you'll add tremendous value to your Quick Guide to Protein Shakes report, you'll boost your traffic with product reviews on your blog and you can start earning money with your recommendations.
Get the packs here:
Do you
GET MY DAILY PLR DEALS
(PLUS TIPS, TRICKS & TECHNIQUES TO USE PLR)