Safety is a HUGE Concern For People
They Want To Learn Ways to Be Safe
Travel Safety Tips Will Help Them With Peace of Mind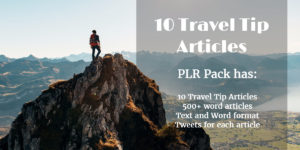 Traveling is so much fun.  The new experiences, the new foods and the new cultures are a few reasons why people love to do it so much.  One issue that holds people back is the safety aspect of it.
I know a lot of people who are afraid to travel by plane, so they always take other modes of transporation or they drive.  This type of fear might not ever go away and some people may never travel by plane, but one way to help them is to provide safety tips.
You'll get this PLR bundle for only

$10.95

!

This PLR bundle is packed full of tips for all different types of travel like cruises, airplanes, buses, trains, motorcycles and taking a road trip.
You could use these Travel Safety PLR articles to:
Use PDF Sharing Sites
Create PDF's and put them on free PDF sharing websites like.  Check out this list of 30 different PDF sharing sites you can use.    You'll have to find ones that work for your niche, but this way to get traffic is very powerful.
Create a Visual With an Infographic
Turn them into an infographic.  Take each subheading and use it as a main point, find images that work with the infographic, then set it up.  Here is a blog post with 10 choices that I found — You can use templates at Piktochart  and you can find quite a few that are free.
Blog Series Will Help Boost Traffic
Boost traffic on your blog with a 10 day blog series with each of these articles.  Put an opt-in at the bottom to let your audience know when the next safety tip series blog post comes out.
There are so many ways that you can use this PLR.
---
Check Out What You'll Get: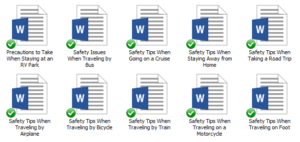 1. Safety Tips When Staying Away from Home (550 words)
2. Safety Tips When Going on a Cruise (566 words)
3. Precautions to Take When Staying at an RV Park (528 words)
4. Safety Tips When Taking a Road Trip (526 words)
5. Safety Tips When Traveling by Airplane (548 words)
6. Safety Tips When Traveling by Bicycle (578 words)
7. Safety Issues When Traveling by Bus (545 words)
8. Safety Tips When Traveling by Train (544 words)
9. Safety Tips When Traveling on a Motorcycle (598 words)
10. Safety Tips When Traveling on Foot (581 words)
Get in both Text and Word Format & Tweets for each article

---
You'll also get 10 Tweets for the articles. They come in a text file, so that you can easily copy and paste them into whichever social media platform you want to use. Just add your link and an image. Your audience will love these!
The Tweets will encourage people to click on the link and read the rest of the post or sign up for the opt-in.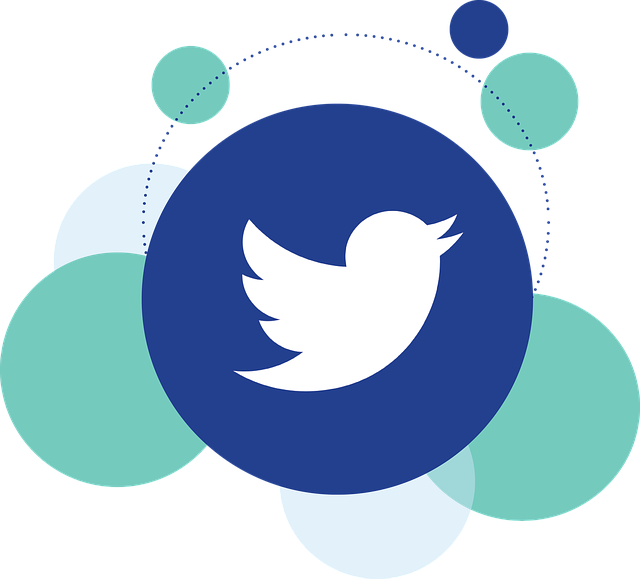 You'll get this PLR bundle for only $10.95!
After you purchase this bundle – you will get to immediately download all of your content!

All PLR Products that you purchase from me are non refundable.
PLR Rights Terms:
1. Don't pass on PLR rights to anyone, so your customers only get personal use rights.
2. Do not put my name on it.
GET MY DAILY PLR DEALS
(PLUS TIPS, TRICKS & TECHNIQUES TO USE PLR)