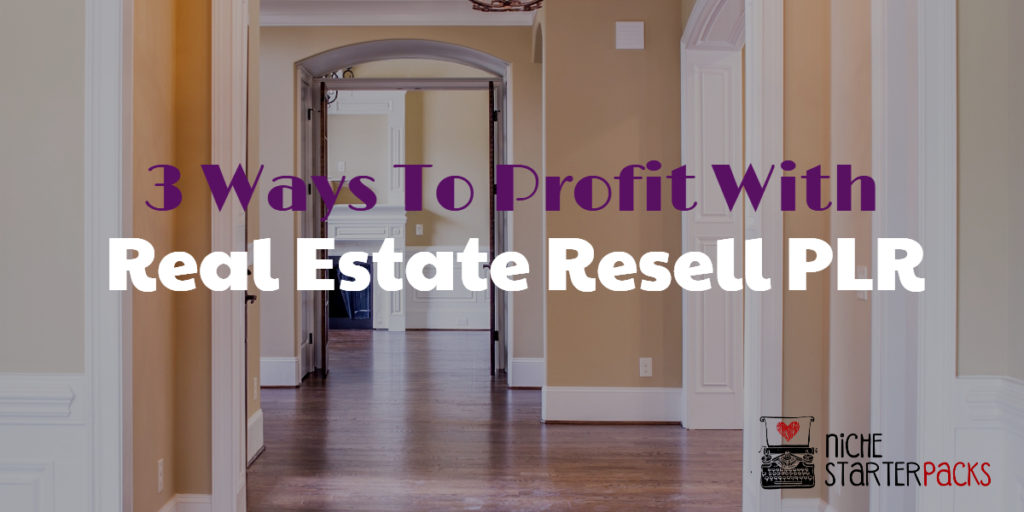 Tiffany Lambert just launched a resell PLR pack on Real Estate. She has a video that I watched and talks about how Real Estate Agents are getting tired of paying the high fees of the pay per lead services that they use. They've used these for YEARS, but now they have started building their own blogs.
>>Get the Real Estate Resell PLR Pack HERE<< 
She suggests putting together a site that teaches them the nuts and bolts of setting a site up, keyword research and everything they need to know to get their site up.
This Resell PLR pack has so much profit potential!
Her idea is great, but here are some more ways to use this and earn money from it.
1. Create a Real Estate Marketing Site. Offer a service that sets up the site for them. Put the sites up and add all of these articles on it – then sale the site to the real estate agents for $297, $497 or $997.
In order to do this – you'll need to pick up both the front end and the OTO. For this particular service you'll specifically need the OTO. Add all of the articles she has onto the site.
I wouldn't wait for them to come to me though. I'd create a marketing site with a few different real estate site demo's on it and then I'd approach real estate agents. If you want to have a bigger impact create a demo specific for them. You can have a generic demo like Portland Homes for Sale — then add all of their contact info with their picture. All they have to do is push the buy button. 🙂 Another way would be to buy their name or suggest to them to use their name for the blog.
2. Make Local Lead Magnets. The front end that has 3 reports and this is how you'll create an opt-in report for the local lead magnets. These three reports are for 3 different types of people – buyers, sellers and flippers. If you just wanted to buy the FE – you could rent out the lead magnets to a real estate agent on a monthly or yearly basis or just sell it to them outright and then you won't have to worry about maintaining the local SEO.
Check out the titles:
10-Page Report: Staging Your Home for a Fast Sale
10-Page Report: A Buyer's Guide to Financing a Home Purchase
5-Page Report: Flipping Homes for Profits
3. Offer Email Marketing Services.  Once the lead magnets are set up you'll want to set up an email autoresponder because you could offer this as a service as well. This is a great way for them to follow up with people who want to buy a house. Plus they'll also be able to start sending them messages about local business and charge these business an advertising fee.
My brother and his girlfriend just bought a house and they have needed painting supplies, bark dust, and lumber. Plus they are now thinking about searching around for another insurance company. Tons of potential there!
This seriously has so much potential! I LOVE it!
>>Don't Forget to Pick Up the Real Estate Resell PLR Pack HERE<< 
Have a great and productive day!
April
GET MY DAILY PLR DEALS
(PLUS TIPS, TRICKS & TECHNIQUES TO USE PLR)