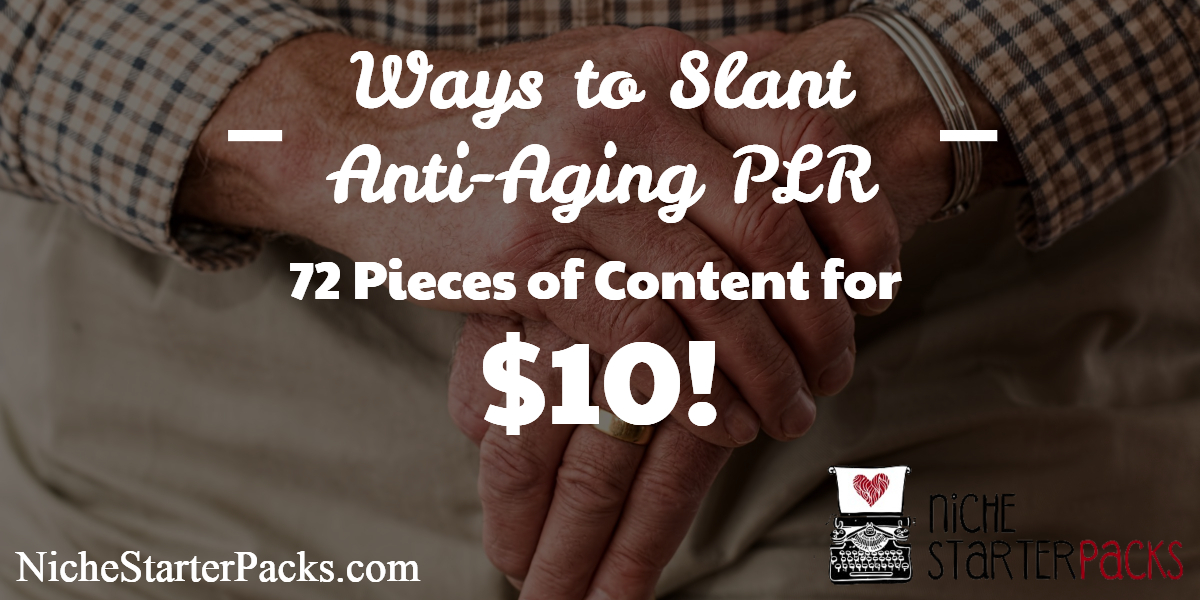 Yesterday after dinner we went to the park and played tagged.  :0)  My son definitely keeps me young.  We had a blast.  DMan is getting really awesome on the monkey bars.  He zooms across them like they are nothing.
This morning when I woke up the house was a warm 67 degrees.  I've been up almost half an hour and it has gone up to 68.  I thought it seemed cold before I actually got up.  I'm not sure why, but my thermostat has to be changed from cool to heat.  Since it is still warm at night I keep the cool on and forget to change it over to heat when I go to bed and then I wake up to the house being freezing cold.  You'd think I wouldn't have any issues with the heat pump since that is my brother's profession!
What's Happening in the PLR World Today
Body Mind Anti-Aging PLR With 50% Off Coupon
Anti aging is an evergreen topic that can be used on several different types of sites.  For example, you could use it on a parenting site, lifestyle blog and health and fitness blogs.  Plus if you're a personal trainer, a wellness coach or a nutritionist anti aging is a great slant to help your customers.  They want to get fit and start eating better, but knowing that this could help them slow down the aging process is an incentive to keep going.
Get the Body Mind Anti-Aging PLR for 50% off today – Coupon Code April
Here's What You'll Get:
5-Page Opt-In Report: "Paying the Price for Aging Ignorance"
5-Part Email Series
20 One-Page Articles
10 One-Page Product Reviews
Tiffany provides quality PLR, so you won't have to worry about getting content that you can't work with.
Today I'm going to talk about angles and slants that you can use with this particular PLR pack.  I'm going to give you some ideas on several different slants that you could use — but please remember that you can add your own slant to this pack and you can use PLR more than once!  In Tiffany's new PLR Challenge she said something that I loved, she said "PLR is like leftovers that never end." (I paraphrased that, but that is completely true!)
This PLR pack could easily be put up on a niche site all about anti aging, but you can also use this PLR to help you with prior PLR you've bought as well.
Let's take a look at the titles of these three articles and the slant you can use on them:
Why Many Seniors Crave a Career After Retirement 
This could easily be incorporated with a blog that helps seniors.  So many people retired, but then they need a supplemental income to help them or they get bored and want to go back to work part time.  Plus if you've got a site dedicated to seniors you can also get Jennifer's Senior Health PLR to help you with content on your blog.
How Exercising Your Brain Can Stave Off Memory Loss 
Memory loss is often joked about on Facebook with social memes, but it's not really funny.  I forget things and I know that right now it is because I have a lot going on in my life, but as I age I might not be so lucky.  So you could talk about this on a lifestyle blog, a parenting blog or a health blog.
Seven Superfoods That Serve Up a Healthy Brain Boost
Superfoods are such a hot topic and this can be used so many ways.  You can slant it towards a juicing or smoothie blog, a general health blog or if you are a wellness coach.
Switching up the type of posts that you add to your site will keep it interesting.  So this might not be specifically about weight training or personal training, but it would make an excellent article for this type of site as well.  This group of people are very interested in their health and would like an article like this.
This is only 3 of the 10 articles that you get with Tiffany's Body Mind Anti-Aging pack, so if you don't have a site on anti-aging you can still use the content.
Plus you have an opportunity to earn affiliate commissions with tangible products with the 10 product reviews that are included.  You'd be surprise how much commission you can get for these products.  Some of these creams get up there in price!  You're looking at $70, $80 and $100+.
Here are the awesome benefits of anti-aging cream:
People buy more than one (for specific areas or one didn't work like they wanted it too)
Consumable, so they buy it regularly
On the lookout for a better product
Take a look at the product reviews you'll get:
Anti Aging Kit – 409 words
Anti Aging Cream with Retinol – 413 words
Anti Aging Serum – 409 words
Anti Aging Hyaluronic Acid – 419 words
Anti Aging Acne Skin Care – 401 words
Anti Aging Anti Wrinkle Serum – 410 words
Anti Aging Vitamin C Serum – 417 words
Anti Aging Daily Moisturizer – 413 words
Anti Aging Night Cream – 408 words
Anti Aging Eye Cream – 416 words
Even as a coach, personal trainer or nutritionist you can add these product reviews to your site.  You are a trusted professional and people will take your recommendations seriously – just make sure that you completely believe in the product that you are promoting.
To do this you'll need to check the ratings and what people say about the product.  No product will work for everyone and they'll all have bad reviews, but if you're honest and give all the fact this is a great way to earn some extra income.
Don't forget that Tiffany has given a 50% off coupon to the Body Mind Anti-Aging PLR – Coupon Code April
The Ultimate Anti-Aging Guide PLR
Yesterday Aurelius Tjin released a new PLR called The Ultimate Anti-Aging PLR and it has everything you need to release your own product.  You'll get everything you need to start earning money.
Get The Ultimate Anti-Aging Guide at the best price!
Here's what you will find inside:
ebook (11,916 words and 62 pages)
Checklist
Resource Cheat Sheet
Mindmap
Salesletter & Thank You Page
Lead Magnet & Opt-in Page
High-Quality Professional Graphics
10 x Quality Articles
Promotional Email Swipes
Social Media Viral Images Pack
The article topics from this PLR pack are really great and you can use them in the same way that I described above.
With the eBook and the articles you'll be getting 72+ pieces of content…for $10!  Plus the professionally done graphics and sales pages are just icing on the PLR cake!  For my next launch I have added graphics and it takes a lot of time back and forth with the graphics person to get them looking great.  Plus you're not going to find them anywhere near the $10 range.
Get The Ultimate Anti-Aging Guide today (you only have 2 days left to get it at this reduced rate).
As I've mentioned Jennifer and I are launching a Juicing PLR product on Saturday.  This one is a lot different than others I've done, so it has been a learning experience — but the finished product is really great!  So watch for this pack on Saturday.
Today I'll be working on finishing touches and homeschooling.  We finally get to go to a new parent meeting at the homeschooling co-op today.  I have been calling every single week and was finally told that they are having a meeting today.  I hope he is still able to go to the other homeschooling activity that we've been going to on Friday's.  He likes having the same kids that he can play with every week.
Have a great and productive day!
April
Join the newsletter
Subscribe to get our latest content by email.