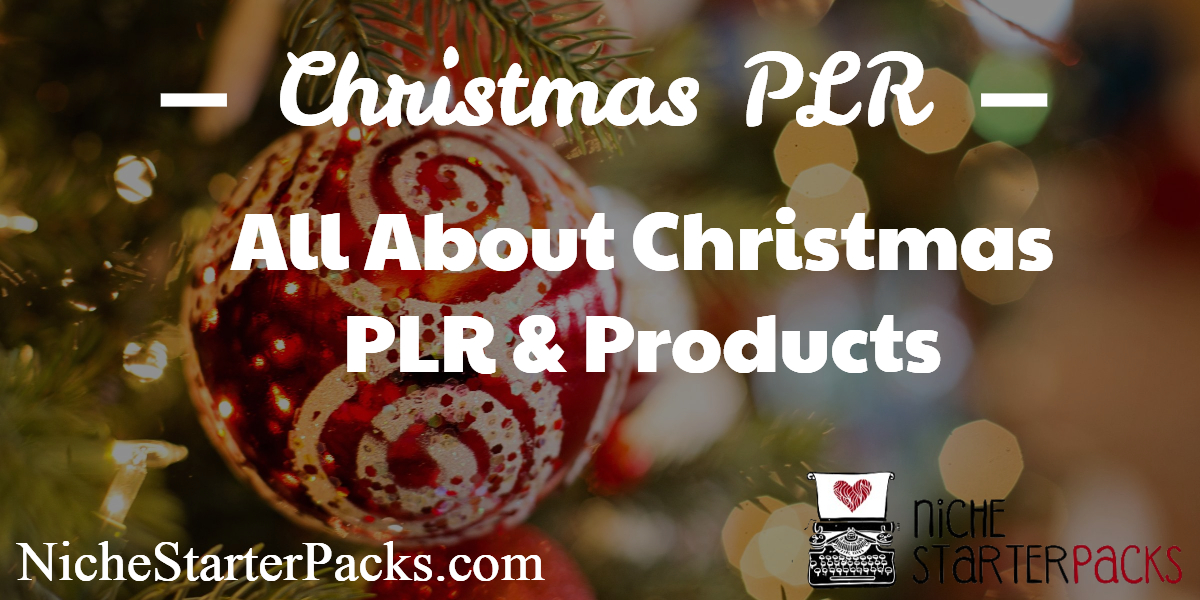 Wow – we're approaching Christmas…and fast!
Seriously, where did the time go?
I'm sure you're aware that the fourth quarter is the biggest money-making opportunity for people, so gearing your site up with amazing done-for-you content on toys, health and the holiday season is a good idea.
I've found all of those plus brandable coloring pages and journals.
Done For You Products To Help You Profit During 4th Quarter
Below is a list of done-for-you and customizable products you can use during the holiday season:
Pre-Written Healthy Holiday & Weight Loss Content
Customizable Holiday Content
DFY Christmas Journals, Coloring Books & Quote Images
Toy PLR
Gift Guides & Gift Idea PLR
Need some ideas on how to use all of this great content?  Take a look at these blog posts that I've created:
Bloggers LOVE to Create Gift Guides Because of the Profit Potential They Provide
I know the following two blog posts are specifically for Mother's Day, but the information is still good and can be applied for Christmas too.  Plus Gift Guides are BIG money makers.
Bloggers love to create because of the profit potential and readers love them because of the value it provides – they save tons of time trying to find the perfect gift because someone else has already done the work for them.
Ideas of How to Use DFY Content For the Holiday Season
Every year I look at the top toy list to see what I'm going to purchase for my nieces and nephews.
All kids are different in what they want and what they will enjoy playing with when they are going through different developmental phases.  That is why if you're an affiliate marketer for toys during the Christmas season you should pick up all the PLR that you can get.
Felicia has a 2016 Top Toys PLR  that is MASSIVE! You get 60 articles in the front end offer.
You'll get:
– 15 Product Reviews from the Toys R Us Fabulous 15 Toys List
– 20 Toy Character Articles (which mentions the most popular character lines)
– 10 Toy Brand Articles (which mentions popular toys in each brand)
– 15 Product Reviews from the Most Popular New Toys for 2016 List
Take a look at some of the 15 Most Popular New Toys for 2016 PLR:
1. Learning Resources Pretend & Play School Set – 478 words
2. Play All Day Elmo – 514 words
3. Yvolution Y Glider Deluxe Scooter
4. 'Green Toys' Mini Ferry Toy Boat
5. Step2 Upscale Party Time Kitchen
6. Interactive Remote Control R2 D2
7. Disney Descendants Villain Mal, Daughter of Maleficent
8. Funko POP Movies: Harry Potter Action Figure
9. Hallmark itty bittysLimited Edition SUPERGIRL
10. Girl Scout Cookies Deluxe Oven
11. Fisher Price Bright Beats Dance & Move BeatBo
12. Shopkins Bubbleisha
13. Minion Kevin Banana Eating Action Figure
14. LEGO Scooby Doo Build Your Own Mystery Machine
15. Marvel Remote Control Hulk Smash Vehicle

Every year Gaz Cooper puts together Christmas Toy PLR. This year he started early and created Predictmas. Last year he created pre-written product reviews for toys. He goes above and beyond during his research and actually talks to someone in the industry.
You can get the Predictmas here 
A few days ago he came out with done for you toy videos! You'll get 50 Brand New Video Reviews on Toys. You can buy it through the link above, but I wanted to talk to you about he videos.
In Christmas Video Commissions they have taken the predicted 50 best selling Toys for this Christmas and created 50 CUSTOM PROFESSIONAL videos based on these toys.
These are ready to be uploaded to video sharing sites and many can instantly grab Google page 1 listings with very little effort.
Here's what you'll get:
A list of 50 predicted Best Selling NEW Toys of 2017
50 Custom Professional Review Videos For Each New Toy
Each Done For You Video Has Licensed Music and a Call to Action
Fast Action Guide To Help You Rank The Videos
50 YouTube Video Descriptions
You'll get a massive head start with the pre-written content and done for you videos. Bought together this is an amazing combo, but each bundle is also pretty awesome.At just .54 cents a video this has MASSIVE VALUE for anyone with a toy list.
This PLR works awesome if you have a niche site, but it will also work if you have a parenting or lifestyle blog as well. Your audience is parents and they will be looking for toys to buy for their kids, nieces, nephews and if they adopt a family.
In fact, you could create an ultimate blog post on how to find the right toys for families that you adopt during the Holiday Season or create a gift guide (just make sure that you follow all the affiliate program terms).
When you're part of a family once kids come into the picture the gift giving is all about them. Last year I had 3 kids to buy for and this year I have 5! So in just one year my gift giving has almost doubled! I'm sure I'm not the only one that has had this happen, so there is plenty of opportunities to recommend products for kids.
Plus if you do a few unboxing videos your blog will get popular really quick. Kids absolutely love those things.
Christmas is the biggest shopping time of the year. Businesses gear up just for the fourth quarter. This applies to online businesses and affiliates. If you're going to get into affiliate marketing right the whole year can be profitable, but fourth quarter will knock it out of the park in earnings.
What about creating niche sites? Those work awesome as well, plus you can find so many PLR packs to pick from. Most of them are children's toys because that niche is so big — but there are a few other options as well.
There are TONS of great brandable content that you can use for your sites.
Plus if you would like to add more toys to your affiliate blog Tiffany Lambert has a Toy PLR pack  (this pack is in her store – you have to go to the search box and type in toy PLR)  that she up last year.  Toys are popular and even though this is PLR from last years top lists that doesn't mean it won't sell.  She has PLR for such items as Frozen Toy Characters and Minecraft Lego sets.  These still sell very good because I buy Minecraft products and I see Frozen toys all over the place.
With both of these PLR packs you can get a very nice start on your Toy Niche blog or if you own a parenting blog you can add these.  With this type of site, you'll have the potential to see nice profit with the 4th quarter coming up.
Christmas season is the biggest spending time of the year.
These Toy and Christmas PLR packs will help you earn money as an affiliate. You can add the PLR content as is on to your site or you can personalize and make the content your own.
Not sure how to do that? Here are two products that can help.
Toys and gift giving is an all year activity, but during the holidays you'll earn more. You can start your site at any time, but adding to it throughout the year is what will get you the most money and earning potential. Setting it up right and really figuring out how to get people to come to your site is essential. By using the products above you'll learn the skills to help you.
If you have any questions, please let me know.
Thank you,
April
GET MY DAILY PLR DEALS
(PLUS TIPS, TRICKS & TECHNIQUES TO USE PLR)