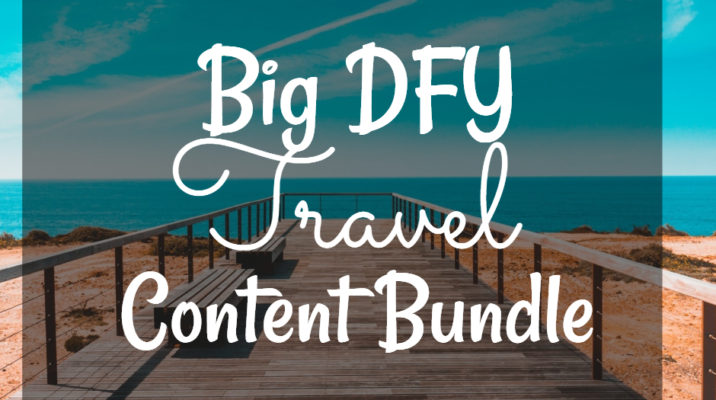 BIG DFY Travel Content Bundle
Travel is a huge part of family vacations – whether families are taking a staycation in their area,

going to a location a couple of hours away or traveling across the ocean. People LOVE to travel. The new experiences, the memories, the culture and of course the food.
There are certain times that travel seems to happen more – like during spring and winter breaks, as well as summer. But the truth is that travel is popular all year.
I've combined several packs that will help you create a series of blog posts that are going to help your customers from travel tips, safety guidelines, budgeting and eco-friendly vacations – you'll be able to provide tons of valuable information to your audience.
You'll get 60 travel related articles, 21 bonus royalty free images and 200 keywords for one low price.
You'll get this PLR bundle for only $47.00!

Pack #1: Travel PLR Articles
Keeping Kids Busy on a Trip (567 words)
Making Your Summer Travel Pleasurable for Everyone (515 words)
Should You Let Your High Schooler Attend Spring Break Activities out of State? (601 words)
Summer Travel
Hotspots in the U.S. (597 words)
Summer Travel Safety Tips (578 words)
Tips for Sending Your Kid on a Train by Themselves (594 words)
Tips for Sending Your Kid on an Airline Flight by Themselves (526 words)
Traveling with Your Pet (585 words)
Ways to Save Money on Summer Travel (601 words)
What to Do and Where to Go When Gas Prices Spike during Travel Season (591 words)
Pack #2: Solo Travel Articles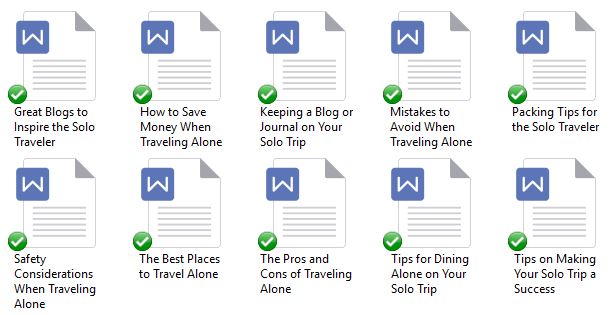 1. The Best Places to Travel Alone (528 words)
2. Great Blogs to Inspire the Solo Traveler (545 words)
3. How to Save Money When Traveling Alone (590 words)
4. Keeping a Blog or Journal on Your Solo Trip (552 words)
5. Mistakes to Avoid When Traveling Alone (551 words)
6. Packing Tips for the Solo Traveler (592 words)
7. Safety Considerations When Traveling Alone (585 words)
8. The Pros and Cons of Traveling Alone (593 words)
9. Tips for Dining Alone on Your Solo Trip (540 words)
Pack #3: Safety Travel Tip Articles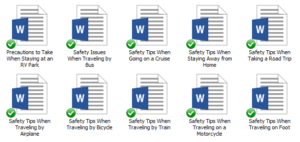 1. Safety Tips When Staying Away from Home (550 words)
2. Safety Tips When Going on a Cruise (566 words)
3. Precautions to Take When Staying at an RV Park (528 words)
4. Safety Tips When Taking a Road Trip (526 words)
5. Safety Tips When Traveling by Airplane (548 words)
6. Safety Tips When Traveling by Bicycle (578 words)
7. Safety Issues When Traveling by Bus (545 words)
8. Safety Tips When Traveling by Train (544 words)
9. Safety Tips When Traveling on a Motorcycle (598 words)
10. Safety Tips When Traveling on Foot (581 words)
Pack #4: Eco-Friendly Travel Articles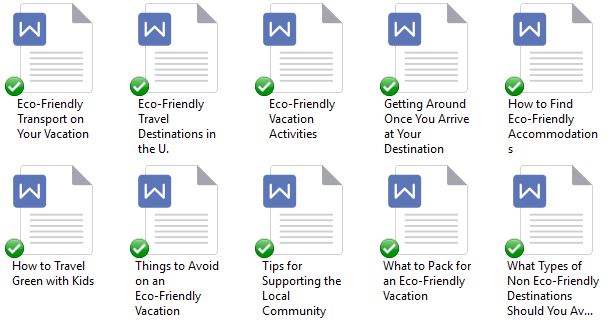 1.) Eco-Friendly Transport on Your Vacation (501 word)
2.) Eco-Friendly Travel Destinations in the U.S. (523 word)
3.) Eco-Friendly Vacation Activities (555 word)
4.) Getting Around Once You Arrive at Your Destination (566 word)
5.) How to Find Eco-Friendly Accommodations (528 word)
6.) How to Travel Green with Kids (525 word)
7.) Things to Avoid on an Eco-Friendly Vacation (55 word)
8.) Tips for Supporting the Local Community (501 word)
9.) What to Pack for an Eco-Friendly Vacation (542 word)
10.) What Types of Non Eco-Friendly Destinations Should You Avoid? (582 word)
Pack #5: Vacation Spending PLR Articles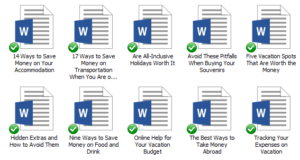 1. 17 Ways to Save Money on Transportation When You Are on Vacation (700 words)
2. Avoid These Pitfalls When Buying Your Souvenirs (626 words)
3. Five Vacation Spots That Are Worth the Money (665 words)
4. Hidden Extras and How to Avoid Them (665 words)
5. Nine Ways to Save Money on Food and Drink (657 words)
6. Online Help for Your Vacation Budget (621 words)
7. The Best Ways to Take Money Abroad (631 words)
8. Tracking Your Expenses on Vacation (649 words)
9. 14 Ways to Save Money on Your Accommodation (673 words)
10. Are All-Inclusive Holidays Worth It? (632 words)
Pack #6: How to Eat Healthy While Traveling Articles
How to Choose Healthy Options From a Breakfast Bar – 511 words
Healthy Meals You Can Prepare in Your Hotel Room – 594 words
Healthy Snacks to Feed Your Kids While Traveling – 453 words
The Top 5 Healthiest Fast Food Joints and What to Eat – 494 words
What to Look For in a Hotel to Eat Healthier – 496 words
How You Can Eat Healthy at Any Restaurant – 462 words
6 Low-Fat Snacks to Bring On a Road Trip – 525 words
4 Easy and Healthy Meals to Bring On the Road – 495 words
The 8 Healthiest Travel Destinations in America – 457 words
Healthy Options From Convenience Stores – 464 words
How to Eat Healthy While Traveling Titles:

Section 2 – Royalty Free Images
Images are expensive to purchase, so I've found royalty free images that you can use with the articles or inside the report.
How to Eat Healthy While Traveling Titles:

Section 3 – Keyword Research
I've come up with 200 long tail keywords all related to eating healthy while traveling. You'll find some of these are what people like to call low-hanging fruit keywords while others have more searches.
But these are all high-targeted keywords that have the potential to easily get on the first page of search engines with. Search engine optimizing is important, so get a head start with this list.
You'll get this PLR bundle for only $47.00!

All PLR Products that you purchase from me are non-refundable.
PLR Rights Terms:
1. Don't pass on PLR rights to anyone, so your customers only get personal use rights.
2. Do not put my name on it.
GET MY DAILY PLR DEALS
(PLUS TIPS, TRICKS & TECHNIQUES TO USE PLR)
Tags: travel PLR
Done-For-You Categories, Home & Garden PLRPosted in 0 comments