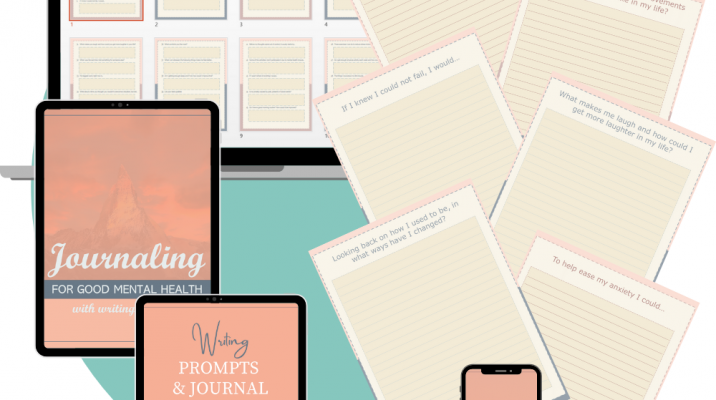 "cREATE A PRODUCT FAST AND EASY WITH THIS DONE-FOR-YOU JOURNAL WITH WRITING PROMPTS"
Mental health is a topic that your audience takes seriously, especially right now because of all the negativity that is going on in the world. It is easy to get sucked into everything - the posts, threads and comments, but these can trigger anxiety and stress.
Being their mentor and coach and you want to help your clients, but how?
Journals with writing prompts.
This is the best way to help your clients deal with their emotions, see patterns and boost their mood.
Sounds amazing, but you don't have the time to add one more thing to your list of things to do and create a journal with prompts.
This takes time to research thought provoking prompts and then put it together in a beautiful journal.
Grab the DFY Better Mental Health Journal With Writing Prompts For Only $27
Imagine if you could download, personalize, brand and sell a journal in a couple of hours (at most) instead of days or weeks creating it.
I have the solution...
The Done-For-You Better Mental Health Journal With Writing Prompts
This beautiful done-for-you journal is geared towards helping your customers. These journaling prompts will guide clients towards feelings that they're suppressing. By doing this it helps people process their feelings and become more aware of their triggers. Bringing to light ways that they used before to cope with certain situations.
Journaling can also help transform someone from a negative mindset.
That's why we've crafted these writing prompts around the topics of stressors they have, anxiety they're feeling, and how they've dealt with certain situations in the past, but we've also included positive prompts as well. With these prompts your clients will write about things that bring joy and happiness, what songs bring joy and what their ideal day would look like.
Good mental health brings into focus both of these so that they can figure out what is causing it and then find ways to help your clients through it.
What's Included In This Bundle:
With this done-for-you product you'll get a total of 50 writing prompts. They're used in three different formats.
The first is a daily journal for a month that has one prompt daily. That means there are 30 writing prompts in that part of the product. You can use the prompts inside or you can switch for any of the prompts that are included.
The second is a 10-page printable that includes all of the journaling prompts.
And the third is a Word document that also includes all of the prompts.
Take a closer look below to see how it has been configured...
31-Page Journal, "Better Mental Health Journal With Writing Prompts"
This includes a done-for-you journal in Powerpoint format. The design template has been set, so that you can quickly and easily change all the colors so that you can brand it.
This format has one prompt per page so that someone can write a full page about how they're feeling. This allows your clients to dig deeper into their emotions.
3 Editable eCovers
With this done-for-you journal you'll get not one, but three different eCovers to pick from. Two of the eCovers are in Canva. This makes it much easier to use your brand colors, change images that you want to and add your own title to it when you use the eBook template provided. Then you'll download and add the newly created eCover to the planner.
The third was created inside Powerpoint. This makes it easy to change everything right inside the software so that you don't have to go to another paltform if you don't want to.
Ready made eCover that has an eye-catching design for you to use right out of the box. Change the report name, add your name as the author and start using this eCover right away.
By offering different eCovers it gives you flexibility.
10-Page Prompts Printable, "50 Journaling Prompts For Better Mental Health"
To help you repurpose and reuse the done-for-you content you'll get all 50 prompts total.
They're broken up two different ways.
that are included in this product with five prompts per page. Change the colors and then make a PDF out of this, then send it to your list or include it as your coaching program.
You could also add an eCover on this to make a product.
50 Journal Writing Prompts in Word
You'll also get all 50 writing prompts in Word format.
This will make it easy to create a blog post from. Write a short intro and conclusion, then post it on your site. You could post all of the prompts at one time or break the blog posts and prompts up over a few weeks.
At the bottom of the blog post you could take the printables and use it as a content upgrade or you could take the 31-page journal, add a call to action at the bottom and sell your readers the journal.
Longtail Keyword Research
You'll also get keyword research service done for you. I've come up with long tail keywords all related to journaling, strategies for good mental health and writing prompts. You'll find some of these are what people like to call low-hanging fruit keywords while others have more searches.
These are all high-targeted keywords and I've used a very popular keyword search software to get them. They all have the potential to easily get on the first page of search engines.
Search engine optimizing is important, so get a head start with this list.
bonus included:
5 Blog Post Series
You'll get a series of blog posts that will let you dig deep into the topic. You can schedule these on your blog and then link the series together to help your readers go from one to the other. By doing this your reader will stay on your site longer.
Topic Titles:

1. The Best Journaling Techniques (617 words)
2. Tips for Journaling for Better Mental Health (621 words)
3. Common Mistakes to Avoid When Journaling for Better Mental Health (627 words)
4. 6 Benefits of Journaling for Mental Health (619 words)
5. Digital or Physical Journals: Which Work Better? (608 words)
These blog posts are developed to be 600+ words so that you can add your stories, expertise, insight, resources, and branding. By doing this these articles will be easier to rank in the search engines because longer blog posts rank better than shorter ones.
Compiled Blog Posts
We've even gone through the time and trouble to combine these blog posts together in a logical order. This means we've outlined them into a report. All you have to do is add your images, a call to action and set up a landing page to start offering high-quality information to people who will join your list.
3 Easy Steps To Use This Done-For-You Content
Download. Personalize. Use As Your Own.
Because this done-for-you pack includes multiple formats such as the Daily Writing Journal With Prompts, the 10-Page Printable as well as different eCover formats you don't have to restructure the products or create beautiful eCovers that go with them - this is going to you save even more time.
You can use this is so many ways, check it out below...
ways to use the done-for-you journal:
what our customers say:
I feel like you're an extended part of my "team"
...
I purchased your special today. I'm looking forward to using this content! You have other good stuff too that might be useful in the days ahead, so I'll keep checking. 🙂 I feel like you're an extended part of my "team". Thanks for that. Content is such a chore for me. PLR makes life easier and who doesn't like that?
karen r miller

-

Soul Centered Coach & Reiki Master/Teacher
My customers invest in my done-for-you product so that they can create new products in their business in a matter of hours instead of days and have a stable cash flow even if they don't have time to write a single word.
All the work is done for you - just tweak the done-for-you product and you're ready to use it.
Grab the DFY Better Mental Health Journal With Writing Prompts For Only $27
After you purchase this done-for-you journal – you will get to immediately download all of your content!
All PLR Products that you purchase from me are non-refundable.
PLR Rights Terms:
Don't pass on PLR rights to anyone, so your customers only get personal use rights.
Do not put my name on it.
Want to save this for later? Use the PIN below:
Done-For-You Categories, Done-For-You Low Content Printables, Personal Development PLR, Types Of Done-For-You ProductsPosted in 0 comments