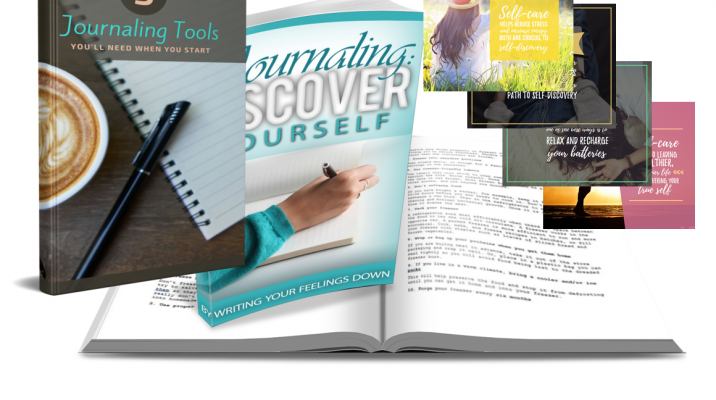 Journaling is Great For Self-Improvement, Lifestyle Changes, Health and So Many More Aspects Of Your Life...
"Incredible! Done-For-You Content to Easily Schedule an Entire Series & Build a List in This HOT Niche... Journaling."
Earn Affiliate Income With Product Reviews!
What You'll Get in the DFY Content Series & Marketing Kit:
Four done-for- you blog posts, saving you time to research and write all the content
Four ready to use emails that introduce the blog posts, so that you can easily share your blog post to your list
A 14-Page report compiled out of the blog posts, to easily add an opt-in to turn readers into subscribers
Four beautifully designed social media tip images, these are unique because each one has a tip that is related to the topic.
DFY long tail keyword research, pick a keyword that you want to rank for and get your content up.
BONUS royalty free images, content needs images to make it more appealing to your readers.
One Top 5 List, you'll get a tangible top five list with different products to recommend.
Five product reviews, these are the products in the Top 5 List
---
What You Should Know About Journaling Before You Dismiss It As a Topic That Won't Work On Your Blog
Have you considered getting into the journal niche or talking about it on your blog, but you're not convinced yet?
Journaling is so much more than just writing words on paper and when you talk about and teach your audience this - it can be life changing.
Journaling is about being able to write down your emotions. Anything that you want. There is NO JUDGEMENT!
We live in a world that judged.
Not only that, but by using a journal your audience will be able to release their tension and stress that is caused by every day life. They can dream big and accomplish those goals with the help of a journal.
Because their journal is all about them. Is is their safe place to discover themselves. They'll be able to capture their thoughts and feelings. At first that is probably all that they'll do. But eventually they'll be able to analyze their words and see patterns. Start to figure out what is important to them and to change habits, goals and their life to reflect that.
Journaling is the best way to self discovery.
There are so many reasons that include journaling content on your blog, but the two most important are:
1. By teaching your audience what journaling will do and how to do it, you can change lives and help people.
2. The journal niche is a HUGE trend that isn't slowing down and you can earn affiliate commissions on tons of different types of products.
Check these ideas out:
Notebooks

Color Markers

Pens

Journals

Accessories
Did you know that $210 MILLION unlined notebooks sold last year? That was an 18% increase over the year before.
It doesn't end with just unlined notebooks there was a 17% increase in color markers.
By talking about and recommending products on your site you'll be able to earn affiliate commissions or sell digital products on your site because people love printables.
Journaling Is Growing In Interest

Journaling is growing in popularity on Instagram. These are social media platforms that you can grow a following with and potentially earn money from promoting products or selling your products.
Instagram has almost FIVE MILLION posts between the two hashtags #journal and #journaling. This doesn't even include tags that are similar.
It is growing because journaling helps so many people. You can journal to learn almost everything you want about yourself - they have health trackers, mood trackers and habit trackers. Or you can journal to heal and understand your emotions.
Here are a few Benefits of Journaling:
Stress reduction
Changes habits
Digs deep into emotions
You'll love the fact you can help other people when you publish this content series.
So how can you get into this trending and popular niche?
With the DFY Blog Series & Marketing Kit...
Here's What You'll Get in the DFY Blog Series & Marketing Kit:
This is done-for-you content that you can get up on your site, share to your audience and earn an affiliate income all in one bundle.
Plus you'll get content and product reviews that resonate with your audience. This will drive them to buy the products that you promote.
Here's an overview of what you'll get:
4 Blog Post Series: You'll get a series of blog posts that will let you dig deep into the topic. You can schedule these on your blog and then link them together to help your readers go through the series.
4 Intro Emails: Every single blog post comes with an intro email. This email is specifically written to help you share this series to your subscribers or tweak the wording a little and share on your social media platforms. To do that you can set these up in your email software as a sequence or on a Facebook group as a post.
14-Page Report, "Journaling: Discover Yourself": (Blog Posts Combined): You might not want to use the content as blog posts, so I've compiled them into an eBook or you can use the report as a way to get opt-ins at th end of each blog post by offering the combined content in one place. Not only that, but this eBook has been formatted with headings and images for your convenience.
Professionally Designed eCover: You'll be provided with the Photoshop source files for the eBook cover for the "Journaling: Discover Yourself".
Social Media Posts: You'll get 10 social media posts per blog for you to use to direct people back to your site where you've posted. It is easier to share when all you have to do is add a link and post!
Social Media Tip Images: Your audience is going to love these beautiful graphics that have a tip on them. You'll get three different sizes for the most popular social media platforms.
BONUS: Royalty Free Images
200 Long Tail Keywords: You'll get researched keywords that are for journaling and self discovery.
7-Page Report, "5 Journaling Tools You'll Need When You Start": This report was written specifically for sharing with your audinece on the best tools for bullet journaling. You'll be able to give this away as a guide on which tools they need and then direct them back to your site with the product reviews so that they can read more in depth about each tool. This report has been formatted with headings and images and it is all about the tools that they need to start their bullet journal.
Canva eCover Template: You'll be provided with an eBook cover Template in Canva for the "5 Journaling Tools You'll Need When You Start". This will allow you to quickly and easily add your branding and change things on the eCover.
Product Reviews: You get detailed product reviews of some of the HOTTEST products that are selling well on Amazon that are specifically on journaling.
Bonus: As a bonus I've gone onto Amazon and downloaded at least three images per product. This will save you time when you're adding the product reviews to your site. You won't have to download themselves because you'll already have them.
In this section you're going to get ready to use blog posts that you can upload and schedule on your site. This is going to provide valuable information on Self Discovery With Journaling.
Use an objective for the blog post like is it informational, do you want customer to sign up for your opt-in, or do you want reader to click through to signature program, etc.
Then add a call to action on every blog post.​
Self Discovery With Journaling Blog Post Topic Titles
5 Reasons Self Discovery Through Journaling is the Key to a Fulfilled Life (622 words)
Ways to Reinvent Yourself Through Journaling (662 words)
How to Use a Journal to Discover Yourself (653 words)
Proven Journal Techniques That Help You Heal For Self Discovery (659 words)
You'll also want to make sure that the blog posts link to each other. That way you'll get link juice AND your readers can find all of the posts in that series.
You'll get Text and Word format.
The ready to use emails save you time when you go into your software. An introduction to the blog post is already written - all you have to do is add the URL on your site where the blog post needs to go.
This will literally save you hours. You can also repurpose the emails into social media blurbs and add them to those platforms as well.
So you're really getting a two for one.
Content in Text and Word Format.
Creating the blog posts and uploading them onto your site isn't enough. You'll also need to share the blog posts and engage your audience on your social media platforms.
You'll get 5 Facebook Tips and 5 Tweets for EACH blog post.
​

That means you'll have enough blurbs to market your blog post for 5 days (or 5 times).
Content in Text and Word Format.
4 Social Media Tip Images
Beautifully pre-designed social media templates WITH cleverly crafted tips that you can post on your Twitter, Pinterest, Instagram and Facebook platforms. Easily change them with Photoshop or add your website name on an online graphic platform like Canva.
You have tons of flexibility to use these in your business.
You'll get several different sizes, as well as the images in JPeg, PNG and PSD format.
Customizable Opt-In Report, 14-Page Report
The report is compiled of all the articles so that you can also use it as an opt-in. Growing your list is an essential part of running a business and by providing valuable information that people want and need you'll start adding more people to your list and that leads to bigger community.
Ready made eCover that has an eye-catching design for you to use right out of the box. Change the report name, add your name as the author and start using this eCover right away.
Content in Text and Word Format.
I've come up with 200 long tail keywords all related to journaling and self discovery. You'll find some of these are what people like to call low-hanging fruit keywords while others have more searches.
But these are all high-targeted keywords that have the potential to easily get on the first page of search engines with. Search engine optimizing is important, so get a head start with this list.
Content in Text Format and Excel Spreadsheet.
Top 5 List & Product Reviews
Affiliate marketing is a way to monetize your blog and recommending products is a way to help others.
When people start the process of buying products they star their research online. Not only that people want to know about products that you use or things that will help make their life easier.
You'll get a top 5 list of tangible products you can recommend to your audience, as well as the product reviews for each thing on your top 5 list.
Top 5 List & Product Reviews
Top 5 Essential Journaling Tools You'll Need When You Start
Helix Angle Circle Maker (410 words)
Leather Journal Writing Notebook (430 words)
TOMBOW Mono Drawing 3 Pack Piece (535 words)
Sharpie Point Assorted Colors (408 words)
Wescott LetterCraft 12 Inch Beveled Transparent Ruler (408 words)
These product reviews are written in an informative way with a slant to get the reader to click on the link out of curiosity... and they'll probably end up buying the products!
You'll also get a Canva eCover template that is full customizable. This will make creating your own eCover so much easier because you just have to go inside the online software, change the colors to reflect your brand and give it a different title.
By doing those two steps you're new guide will look completely different than any other product guide that was bought.
Canva is free and easy to use.
Content in Text and Word Format.
Bonus: Amazon Product Images
I'll even provide you with the product images for all of the reviews. These are images from Amazon - I grabbed them for you so that you can easily use them without having to stop what you're doing, go get the images from the site and then get back into the swing of your project.
You're getting a great deal with all of this content and images.
How to Use the Content Series & Marketing Kit :
The DFY Blog Marketing Kit is geared towards creating a blog series and then marketing it to your audience.
Use our done-for-you content to quickly get an informational and educational blog series up for your readers to enjoy.
To make it even better we've compiled all the blog posts into a report and you can add an opt-in form on your posts to collect leads.​
Then take the emails that introduce the blog post and add them to your email auto responder. There is very little work you need to do here - just add your blog post link and your name at the end.
The last section is all about promoting your blog posts with social media posts that you can share, as well as eye-catching images.
The Journaling Niche is Great For Self-Improvement, Lifestyle, Health and So Many More...
Right now is the best time to grab this pre-written content bundle!
All PLR Products that you purchase from me are non refundable.
PLR Rights Terms:
[YES] Can be edited and modified in any way
[YES] Can be branded and sold as a report with personal use rights only (PDF)
[YES] Can put your name as the author
[YES] Can be used as eCourse and webinar material
[YES] May use the content on your site/blog
[YES] Can be used on article marketing sites
[YES] Can be translated to other languages
[YES] Can use the content to create and post videos on video sharing sites/blogs, etc.
[NO] Cannot claim copyright to the content since it is PLR
[NO] Cannot resell the packs
[NO] You may NOT sell or giveaway private label rights (non-transferable PLR)
[NO] Can be added to membership sites with resell and master resell rights
[NO] Cannot use my name as author
P.S. With this pack you'll get an entire blog marketing kit - not only will you get the content to post on your blog, but you'll be able to share the content with your audience with emails, social media posts and social media images.
P.P.S. Remember that 61% of people buy a product AFTER they've read a blog post. The high-quality product reviews on Popular Amazon Products in this bundle will help you earn affiliate commissions - faster and easier than before.
Tags: Canva template, DFY Keyword Research, PLR Articles, plr blog posts, PLR Bundle, plr report
Done-For-You Blog Series and Marketing Kits, Done-For-You Categories, Personal Development PLRPosted in 0 comments