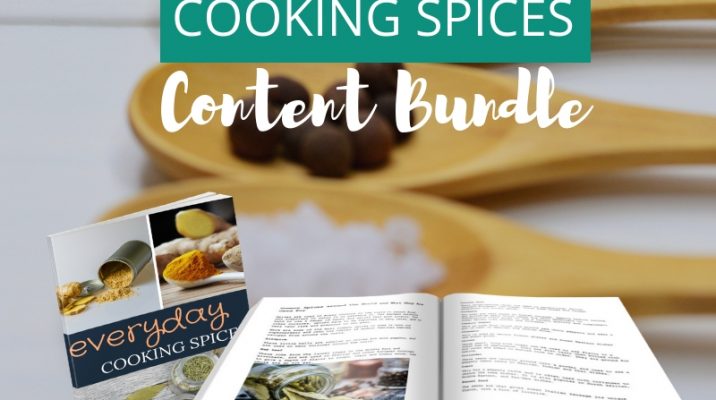 Cooking With Spices Can Make or Break a Meal! Teach Your Audience About the basics
Spices can ruin a dish or enhance it! Adding the perfect ones is critical.
One of my favorite things to do is to create spice mixes. You take a few different spices and combine them and you've got ranch seasoning, taco seasoning or pork rib rub.
I buy lots of spices. This includes basics such as salt, pepper or peppercorns which can range in price depending on if you're buying organic or a specialy brand. But I also buy gourmet and speciality mixes as well. During the holidays I almost bought a spice gift basket for my white elephant gift that included tons of high-quality and unique spices that I knew others would enjoy.
Spices can range in price from $1 to $15+ so that makes it a great item to promote as an affiliate.
The content you'll get in this PLR pack provides tons of informational value to your audience, but that isn't all! It also has profit potential with different types of products that you'll be able to recommend.
It can be used to promote items like:
Organic Spices
Gourmet Spices
Spices Cookbook
Spice Sampler
Spice Rack
Herbs, Spices & Seasonings
Spice Storage Containers
Take a look at the image below. This is over $18, plus has 298 reviews with an average of 4.5 stars. So people are definitely looking and buying this type of product.
All of these spices make meals taste so much yummier! (Yes - that IS a word...I think! Haha)
You'll get 10 high-quality articles that you can use on your website or blog to appeal to different niches such as a mom blog, health and wellness or a lifestyle blog.
Ways to Use This PLR Pack:
What I like about this PLR pack is that it is full of great tips that can be shared. Here are two things I can think to use them:
Create infographics of the tips so that your audience can print them out and keep them on hand in their kitchen. Don't forget to add your URL to the sheet so that they'll be looking at it every time they use the cheat sheet!
Post the tips on your social media platforms. This can include Instagram, Twitter, Facebook Group, Facebook Pages and GooglePlus. To do this I'd create Tip graphics in Canva or your favorite graphic editor. They don't have to be fancy. At the top put: Using Spices Tip: and then underneath that put the tip. Pick one of your brand colors for the top wording, then use white for the tip and then use another brand color for the background. It can be as simple as that. Then download and share.
Done-For-You Cooking Spices Report & Blog Post Content Bundle
Get It All For $27!
Section 1 – 33-Page eBook, "Everyday Cooking Spices"
You'll get a report / eBook to sale on your site or give away as an opt-in.
It has 10 sections that talk about the following:
Spices and Their Origins
​Common Spices around the World and What They Are Used For
Nine Spices That Give Health Benefits
13 Essential Spices for Your Kitchen
​Seven Great Spice Mixes to Make
​​Spice Storage Tips
Four Great Recipes Using Spices
​Tips for Cooking with Spices
Ways to Use Spices in Desserts and Baking
​12 Unusual Spices and How to Cook with Them
The eBook is compiled of the articles below. You'll find them formatted with headings, subheadings and images. This will save you time and let's you repurpose the content quickly and easily.
You'll also get a Canva eCover template with this PLR pack.
This makes it much eaiser to use your brand colors, change images that you want to and add your own title to it.
Section 2 – 10 Articles
This section is where you can guide your reader's to sign up for the main opt-in report or let them know more details are available in a report that is for sale.
Cooking Spices Topic Titles

1. Spices and Their Origins (631 words)
2. Common Spices around the World and What They Are Used For (663 words)
3. Nine Spices That Give Health Benefits (580 words)
4. 13 Essential Spices for Your Kitchen (614 words)
5. Seven Great Spice Mixes to Make (556 words)
6. Spice Storage Tips (543 words)
7. Four Great Recipes Using Spices (618 words)
8. Tips for Cooking with Spices (603 words)
9. Ways to Use Spices in Desserts and Baking (648 words)
10. 12 Unusual Spices and How to Cook with Them (581 words)
Section 3 – Social Media Blurbs
Engagement with your audience is important and that is why we've included 10 social media blurbs for you to use. You can use them to promote the report and get more subscribers or send people back to the blog posts.

The blurbs encourage people to click on the link and read the rest of the blog post.
Section 4 – Keyword Research
I've come up with 200 long tail keywords all related to cooking spices. You'll find some of these are what people like to call low-hanging fruit keywords while others have more searches.
But these are all high-targeted keywords that have the potential to easily get on the first page of search engines with. Search engine optimizing is important, so get a head start with this list.
BONUS: Section 5 – Royalty Free Images
​
Images are expensive to purchase, so I've found royalty free images that you can use with the articles or inside the report.
Done-For-You Cooking Spices Report & Blog Post Content Bundle
Get It All For $27!
After you purchase this bundle – you will get to immediately download all of your content!
All PLR Products that you purchase from me are non-refundable.
PLR Rights Terms:
Don't pass on PLR rights to anyone, so your customers only get personal use rights.
Do not put my name on it.
Please note – this is PLR that I have bought a special license to sell. I have added a lot of extra to the package to make it even better and more useful for you. But rest assured It is high-quality content. I provide it because I want to make sure my customers get the opportunity to purchase what they need when they need it. Make sure you don't own this already. I will always let you know if a pack is under special license or not.
Wanna Share on Pinterest? Below is a PIN Image You Can Use:
GET MY DAILY PLR DEALS
(PLUS TIPS, TRICKS & TECHNIQUES TO USE PLR)
Tags: bonus royalty free images, Canva template, DFY, DFY Keyword Research, DFY social media blurbs, PLR, PLR Articles, plr reports
Done-For-You Categories, Health PLRPosted in 0 comments