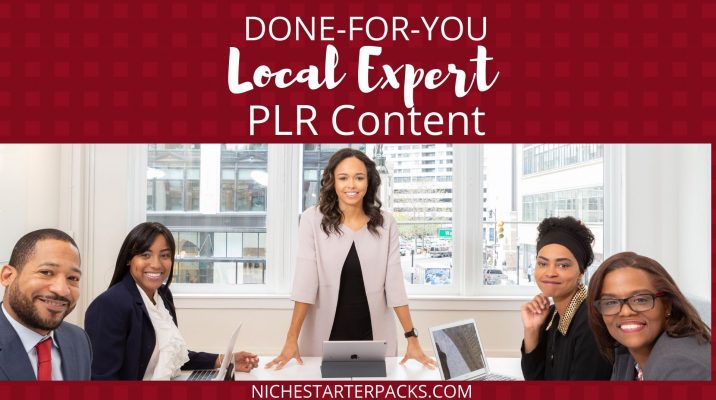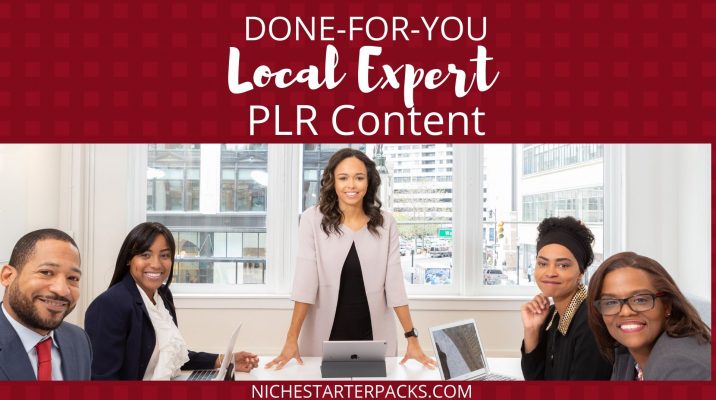 Local Businesses Need Help With Their Marketing
Do you help local businesses?
This is a great PLR content bundle to add to your site because it talks about local marketing. It isn't easy to get new business but this pack has tons of ideas that businesses can implement and then add to their markteing strategy.
You could use these to add to your local business service site to help you attract new clients.
If you're in the business niche these articles will also work because you can take out any local marketing references and slant it towards what you're audience needs.
You'll get high-quality PLR content that you can use on your website or blog to appeal to different niches such as a mom blog, business or a lifestyle blog. These niches might not be as obvious but a lot of stay at home moms want to help earn more money to contribute to their household and you could teach them how to market their business in their local community once they've decided what they want to do.
Using this high-quality PLR content on your blog is only the beginning of what you can do with it. Gardening is a HOT topic and you can also recommend products for your audience to purchase. They're going to want to know what you use or recommend.
DFY Effective Local Marketing PLR Bundle
Get It All For $27!
PLR Bundle 1 – Brick & Mortar Business ($10 Value)
This PLR Bundle has PLR articles all about creating a brick and mortar business BUT even if you have an audience that isn't outside the home these articles still apply.
You could take the Seven Ways to Create a Customer Experience in Store and change it to website. You might have to find similar tips that are given, but the same concept applies. People need a good customer experience whether they are in the physical store or virtual one.
Brick and Mortar Business Topic Titles:
How Consumers Shop Online and Offline (592 words)
Eight Things Your Staff Need to Do to Make Visitors Come Back (628 words)
Seven Ways to Create a Customer Experience in Store (587 words)
12 Examples of Successful Bricks and Mortar Industries (645 words)
Reasons Why Some Bricks and Mortar Stores Are Struggling (649 words)
Offline Marketing Tips (683 words)
Tips on How to Create Visually Attractive Store Displays (563 words)
The Importance of Personalization in Marketing Your Bricks and Mortar Business (666 words)
Tips on How to Market Your Bricks and Mortar Store Online (622 words)
The Importance of Having a Consistent Brand (632 words)
PLR Bundle 2 – Mobile Marketing ($10 Value)
It is a fact of life that cell phones are here to stay that means that mobile marketing should be a consideration when people are marketing their business -especially local businesses.
Teach your audience how mobile marketing works and why they should consider it.
Mobile Marketing Topic Titles
How to Optimize Email Marketing on Mobiles (607 words)
2. Marketing with Mobile Apps (446 words)
3. Ad Features That Work Best on Mobile (451 words)
4. Common Problems and How to Fix Them (869 words)
5. Do's and Don'ts with Text Message Marketing (651 words)
6. How Mobile and Online Marketing Differ (522 words)
7. Tips on How to Measure Mobile Metrics (520 words)
8. Using QR Codes (464 words)
9. Why Mobile Marketing Is So Effective (589 words)
10. Steps for Creating a Mobile Marketing Strategy (554 words)
PLR Bundle 3 – Community Expert ($10 Value)
Marketing is a huge part of business because if you're not letting people know about your business than they can't purchase what you offer. The same applies to your audience.
Talk to your audience about becoming their community expert.
Community Expert Topic Titles
How to Set Up Your Own Local Networking Group (590 words)
2. How to Work a Room (769 words)
3. Networking Locally: How to Be Successful (490 words)
4. Choosing a Topic to Attract Local Business Owners (571 words)
5. Hosting Local Business Workshops (570 words)
6. How to Attract Local People to Your Training Events (571 words)
7. How to Become Recognizable in Your Community (579 words)
8. How to Deliver Memorable Workshops and Training Seminars (665 words)
9. Using Facebook to Get Involved with Your Local Community (776 words)
10. Teach What You Know (487 words)
As you can see you're getting three high-quality PLR packs that sell on my site individually for $30, but you can grab it for a discounted rate right now.
DFY Effective Local Marketing PLR Bundle
Get It All For $27!
After you purchase this bundle – you will get to immediately download all of your content!
All PLR Products that you purchase from me are non-refundable.
PLR Rights Terms:
Don't pass on PLR rights to anyone, so your customers only get personal use rights.
Do not put my name on it.
Please note – this is PLR that I have bought a special license to sell. I have added a lot of extra to the package to make it even better and more useful for you. But rest assured It is high-quality content. I provide it because I want to make sure my customers get the opportunity to purchase what they need when they need it. Make sure you don't own this already. I will always let you know if a pack is under special license or not.
Wanna Share on Pinterest? Below is a PIN Image You Can Use?
GET MY DAILY PLR DEALS
(PLUS TIPS, TRICKS & TECHNIQUES TO USE PLR)
Tags: DFY social media blurbs, PLR Articles, PLR Content
Business PLR, Done-For-You CategoriesPosted in 0 comments