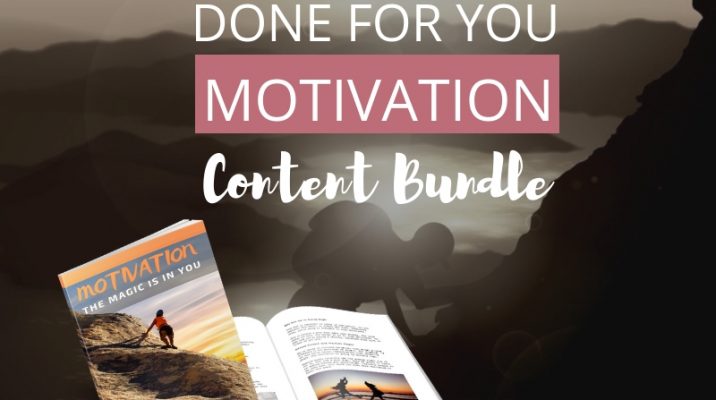 99% of the world are settling For less than what they are truly capable of - Help Improve Their Life Through Self Motivation!
Personal Development has always been the key to unlocking a person's true potential. It allows you to tap into the powers inside of you that you would never have imagined exist.

Look at how great people like Tony Robbins have changed the lives of millions. It's because he understood the true power of personal development, that why he was able to change his life and millions of others for the better.
People are totally lost and confused to where they want to go in life
People suffer in the areas of health, wealth and relationships
With this done-for-you content everything has been laid out methodically so that you can help your audience benefit from self-motivation by showing them how to boost their mood when it is down!
Plus self-improvement is a HUGE niche where you can earn money as an affiliate and with your own products.
The sky is the limit with this evergreen niche because there is always someone trying to better themselves. Not only that, but motivation is a topic that you fits almost all niches - like parenting, health, fitness, exercise, cooking, health, children and homeschooling. But you can also use it for certain situations (or slants) - being a single mom, going back to school, getting healthy, exercising regularly or doing a big project.
A boost in motivation is something that we all need in our life.
Check out products it can be used to promote:
Self-Improvement books
Journals
Online Workshops
In-person Workshops
Motivational Wall Art
Wall Decals
Coffee Mugs
Planners
There is such a wide range of products that you'll never run out of things to promote. Talk about an amazing niche to get into for bloggers.
There are so many different Motivational Wall Art and decals that it was hard to pick just one. You can find them for work places, doctor's office and families. Plus there was ones with words and ones that only had images. Prices ranged from a few dollars to a few hundred dollars
You'll get 5 high-quality articles that you can use on your website or blog to appeal to different niches such as a mom blog, health and wellness or a lifestyle blog.
Ways to Use This PLR Pack:
What I like about this PLR pack is that it is full of great tips that can be shared. Here are two things I can think to use them:
Take the articles and create blog posts on your site. Link them to each other so that you get that internal link juice.
Use the report to create an opt-in box. You'll want to make an opt-in box and put it on each of the blog posts above so that people can find the topic easily.
Done-For-You Motivation Blog Post Bundle

(Report, Articles, Royalty Free Images, Keywords) – Get It All For $17!
Section 1 – 11-Page eBook, "Motivation: The Magic Is In You"
You'll get a report / eBook to sale on your site or give away as an opt-in.
It has 5 sections that talk about the following:
3 Tips to Boost Motivation
5 Motivation Mistakes You Could Be Making Right Now
Why Motivation is Key to Self-Improvement
Can Your Diet Influence Motivation?
How to Successfully Maintain Motivation
The eBook is compiled of the articles below. You'll find them formatted with headings, subheadings and images. This will save you time and let's you repurpose the content quickly and easily.
You'll also get a Canva eCover template with this PLR pack.
​

This makes it much eaiser to use your brand colors, change images that you want to and add your own title to it.
Section 2 – 5 Articles
This section is where you can post the articles on your blog and then guide your reader's to sign up for the main opt-in report or let them know more details are available in a report that is for sale by adding an opt-in form to the bottom or a call to action pointing them to the sales page.
Motivation Title Topics
3 Tips to Boost Motivation (479 words)
5 Motivation Mistakes You Could Be Making Right Now (524 words)
Why Motivation is Key to Self-Improvement (474 words)
Can Your Diet Influence Motivation? (470 words)
How to Successfully Maintain Motivation (511 words)
Section 3 – Keyword Research
I've come up with 200 long tail keywords all related to decorating in the fall. You'll find some of these are what people like to call low-hanging fruit keywords while others have more searches.
But these are all high-targeted keywords that have the potential to easily get on the first page of search engines with. Search engine optimizing is important, so get a head start with this list.
BONUS: Section 4 – Royalty Free Images
​
Images are expensive to purchase, so I've found royalty free images that you can use with the articles or inside the report.
Done-For-You Motivation Blog Post Bundle

(Report, Articles, Royalty Free Images, Keywords) – Get It All For $17!
After you purchase this bundle – you will get to immediately download all of your content!
All PLR Products that you purchase from me are non-refundable.
PLR Rights Terms:
Don't pass on PLR rights to anyone, so your customers only get personal use rights.
Do not put my name on it.​
Wanna Share on Pinterest? Below is a PIN Image You Can Use?
GET MY DAILY PLR DEALS
(PLUS TIPS, TRICKS & TECHNIQUES TO USE PLR)
Tags: Canva template, DFY Keyword Research, PLR Articles, plr blog posts, PLR Bundle, plr report
Done-For-You Categories, Personal Development PLRPosted in 0 comments