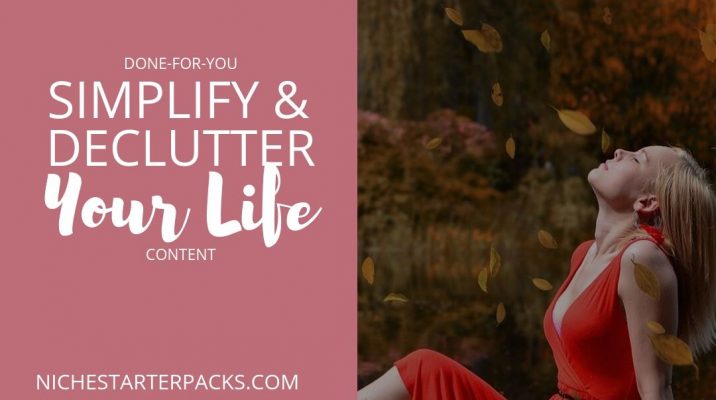 HOT Self Help PLR Content in Simplifying & Decluttering Niche...Just Tweak, Brand & Use on Your Site
People Are Tired of Being Overwhelmed With All Their Stuff - Help Them simplify & Declutter Their Life...It's Easy If You Use This Personal Development PLR
Our lives are hectic....
We've got to go to work, run errands, get out kids off to school, organize playdates (or parties), pay bills, clean our house and take time off to relax.
It can get overwhelming at times and a lot of people want to simplify their life.
This PLR content bundle can help with that. It has topics on simplifying and decluttering that will give your audience actionable ways to actually get start living more of a minimalist life.
Use this high-quality PLR content as an opt-in or on your blogs...and that's only the beginning of what you can do with it. Personal Development in general is a HOT topic, but organization, decluttering and simplifying is a HUGE and trending topic right now.
(I am switching to a Shopify store and this will take you to the checkout there. You will be asked to sign in or create an account. If you would like to look at more of my products on the shop, click the logo at the top after you hit checkout.)
You'll get high-quality PLR content that you can use on your website or blog to appeal to different niches such as a personal development, mom blog, health and wellness or a lifestyle blog.
DFY Simplifying & Decluttering Your Life PLR Bundle
Section 1 – eBook Template
33-page eBook, 5,325 words, "Simplicity: Strategies For Simplifying All Aspects Of Your Life"
Use the eBook template that is provided and put it for sale on your site to earn profit or use it on your site to get traffic. You can also take bits and pieces out of it and add it to your social media platforms.
Even though this is formated into an eBook template that doesn't mean it has to stay that way. You can use it for whatever you'd like to
Check out what you'll get in the eBook template...
10 sections that talk about the following:
-Introduction to Simplifying All Aspects Of Your Life
-Getting Your Priorities Right
-The Power of Being Well-Organized
-The Art of Delegation
-Automation That Will Save You Time
-Taking Control of Your Finances
-Tips for Saying No
-How to Let Go of Toxic People
-Ways to Use Social Media Effectively
-Conclusion
The eBook template is compiled of the PLR articles below. You'll find them formatted with headings, subheadings and images. This will save you time and let's you repurpose the content quickly and easily.
So this is a great way to buy a plr ebook that you can put to use right away.
You'll also get a Canva eCover template with this PLR pack.
This makes it much eaiser to use your brand colors, change images that you want to and add your own title to it when you use the eBook template provided.
Section 2 – 10 Day eCourse Decluttering Your Life
You're going to get a 10 day eCourse that will add value to your report. When people opt-in to the report use this course as either a free eCourse or a paid one. This is a HOT topic that has tons of people interested in.
Decluttering Your Life eCourse:

Email 1: The KonMari method of decluttering (715 words)
Email 2: The four-box method of decluttering (599 words)
Email 3: Creative ways to declutter (572 words)
Email 4: Decluttering clothes (641 words)
Email 5: Tips for decluttering your yard (524 words)
Email 6: Tips for decluttering your garage (651 words)
Email 7: Tips for decluttering your attic (618 words)
Email 8: Decluttering before moving (509 words)
Email 9: Tips to avoid overwhelm when decluttering (590 words)
Email 10: How to reduce your sentimental clutter (748 words)
The PLR eCourse can be schedule on your blog post, made into an email autoresponder series or shared on your social media channels.
I'm not done yet…
Section 3 – Keyword Research Service Done For You
You'll also get keyword research service done for you. I've come up with 110 long tail keywords all related to the PLR articles on decluttering your life, being a minimalist and organization. You'll find some of these are what people like to call low-hanging fruit keywords while others have more searches.
These are all high-targeted keywords and I've used a very popular keyword search software to get them. They all have the potential to easily get on the first page of search engines.
Search engine optimizing is important, so get a head start with this list.
BONUS: Section 4 – Royalty Free Images

Images are expensive to purchase, so I've found royalty free images that you can use with the articles or inside the report.
These came from Pixabay and you're able to use them in your products and on your blog without attributions.
As you can see there is a lot of reasons to buy the plr content in this package. There is a wide variety of high quality PLR products including a niche plr ebook, eBook template and even keyword research service done for you.
DFY Simplifying & Decluttering Your Life PLR Bundle
After you purchase this bundle – you will get to immediately download all of your content!
All PLR Products that you purchase from me are non-refundable.
PLR Rights Terms:
Don't pass on PLR rights to anyone, so your customers only get personal use rights.
Do not put my name on it.
Please note – this is PLR that I have bought a special license to sell. I have added a lot of extra to the package to make it even better and more useful for you. But rest assured It is high-quality content. I provide it because I want to make sure my customers get the opportunity to purchase what they need when they need it. Make sure you don't own this already. I will always let you know if a pack is under special license or not.
Wanna Share on Pinterest? Below is a PIN Image You Can Use:
GET MY DAILY PLR DEALS
(PLUS TIPS, TRICKS & TECHNIQUES TO USE PLR)
Tags: bonus royalty free images, Canva template, ebook template, keyword research, personal development PLR, PLR eCourse, plr report
Done-For-You Categories, Done-For-You Report & eCourse Bundle, Personal Development PLRPosted in 0 comments