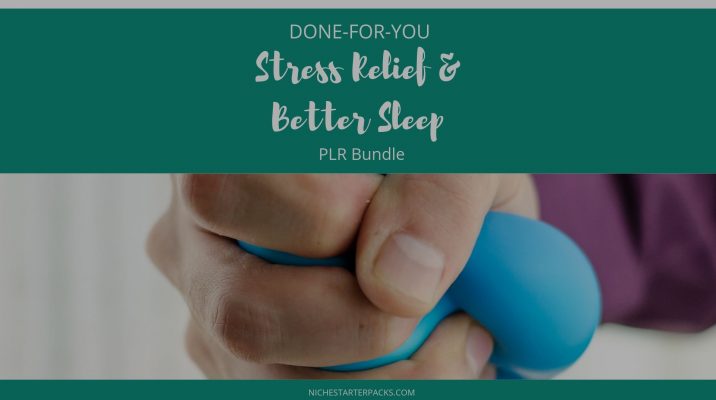 Stress Relief & Better Sleep PLR - High-Quality Done-For-You Health Content...Just Tweak, Brand & Use on Your Site
Show Your Audience how to ease their stress & get better sleep with exercise, meditation & journaling - It's easy with this pLR bundle that combines them all
It seems that there are two things that adults have challenges with a lot and that is Stress and Insomnia. I know so many people who don't get enough sleep and that in turn leads to them being more stressed and more irritable. This is never a good combo for the people around them. 🙂
That means that people are searching for ways to relieve or ease both of these problems that they are having.
This is where this PLR bundle will help you because it gives different ideas on how to help with these two problems in the form of exercising, meditation and journaling. These three things are essential if they want a balanced life with more sleep and less stress.
Using this high-quality PLR content on your blog is only the beginning of what you can do with it, you can also send an email autoresponder or combine them into a report for a free opt-in or sale it as a product.
Stress relief and getting more sleep are both HOT topic that you can recommend products for your audience to purchase. They're going to want to know what you use or recommend.
DFY Stress Relief & Better Sleep PLR Bundle
Get It All For $27!
PLR Bundle 1 – Stress Relief & Better Sleep ($17 Value)
This PLR Bundle has PLR blog posts, intro emails and social media posts all about how to relieve stress and get better sleep. It covers ways to do it such as exercise, meditation and journaling.
Stress Relief & Better Sleep Topic Titles:
3 Quick & Easy Exercises You Can Do When You Feel Stressed (482 words)
2. 4 Reasons Exercise Eases Stress (496 words)
3. How to Use Journaling To Help Ease Stress (470 words)
4. Get More Sleep With a 5 Minute Night Time Meditation Routine (457 words)
5. Exercising Helps Stress & Anxiety (481 words)
6. The Best Binaural Beat for Meditation Before Sleep (446 words)
7. Fuel Your Brain & Reduce Stress with Exercise (450 words)
8. Five Minutes of Meditation Can Help Stress Levels All Day (470 words)
PLR Bundle 2 – Stress PLR Articles ($15.95 Value)
Stress is a fact of life and it really doesn't matter your age. You can be an adult or a child - you're going to feel it in your life. One important skill that people need to learn is about their stress. So they'll need to learn how to identify it, what triggers it and ways to help relieve it.
That is where these PLR articles come in because it'll help you teach your audience all about it.
Stress Topic Titles
Understanding the Different Types of Stress (433 words)
2. Physical and Mental Signs of Stress (426 words)
3. How to Practice Yoga For Stress Relief (477 words)
4. How Regular Exercise Helps With Stress (428 words)
5. Food and Nutrition For Natural Stress Relief (429 words)
6. Easy Ways to Relieve Stress at Home (439 words)
7. Identifying Stress Triggers (417 words)
8. How to Get Rid of People Causing Your Stress (437 words)
9. Healthy Lifestyle Changes For Stress Management (429 words)
10. The Physical Impact of Stress (411 words)
11. When to Get Professional Help For Your Stress (452 words)
12. How Pets Can Help With Stress (464 words)
13. Tips For Putting a Stop to Work Stress (481 words)
14. Journal Writing For Stress Relief (448 words)
15. Tips For Using Meditation to Relieve Stress (482 words)
PLR Bundle 3 – Sleep PLR Articles ($10.95 Value)
Lack of sleep can cause some major issues for people from irritability to lack of focus. This in turn can cause accidents if it is bad.
There are millions of people who suffer from insomnia. There are lots of reasons why and even though some insomnia needs to have a medical professional you can still recommend ways to help people sleep from natural supplements to diet and exercise.
Sleep Articles Topic Titles
Could Your Diet Be Keeping You Awake (436 words)
Do You Have Sleep Apnea? (430 words)
3. Does Exercise Affect Your Sleep? (451 words)
4. Natural Treatments for Insomnia (450 words)
5. Signs of Sleep Deprivation (434 words)
6. Sleep and Your Baby – What's Normal? (501 words)
7. Sleep and Your Health (369 words)
8. Sleep: Is There Such a Thing as Too Much? (519 words)
9. Tips on Getting Enough Sleep (524 words)
10. Top Tips for Helping Baby Sleep (431 words)
As you can see you're getting three high-quality PLR packs that sell on my site individually for $43, but you can grab it for a discounted rate right now.
DFY Stress Relief & Better Sleep PLR Bundle
Get It All For $27!
After you purchase this bundle – you will get to immediately download all of your content!
All PLR Products that you purchase from me are non-refundable.
PLR Rights Terms:
Don't pass on PLR rights to anyone, so your customers only get personal use rights.
Do not put my name on it.
Please note – this is PLR that I have bought a special license to sell. I have added a lot of extra to the package to make it even better and more useful for you. But rest assured It is high-quality content. I provide it because I want to make sure my customers get the opportunity to purchase what they need when they need it. Make sure you don't own this already. I will always let you know if a pack is under special license or not.
Wanna Share on Pinterest? Below is a PIN Image You Can Use:
GET MY DAILY PLR DEALS
(PLUS TIPS, TRICKS & TECHNIQUES TO USE PLR)
Tags: bonus royalty free images, Canva template, DFY social media blurbs, ebook plr, keyword research, PLR Articles, PLR Content
Done-For-You Categories, Personal Development PLRPosted in 0 comments