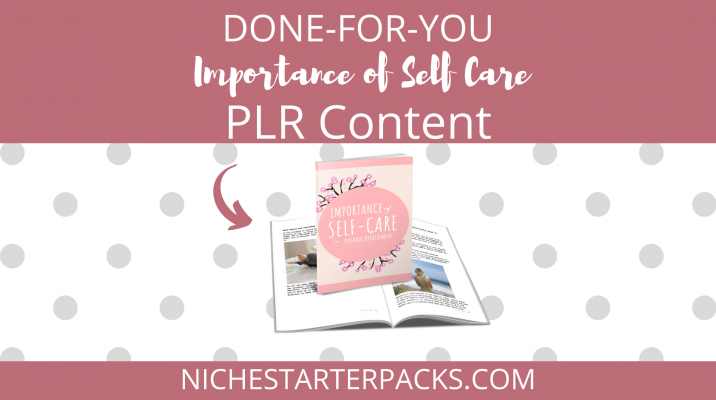 Self Care PLR - High-Quality Done-For-You Personal Development Content...Just Tweak, Brand & Use on Your Site
Self-Care Is a hot topic because so many people need it to help them destress from life and responsibilities
We're so busy in our life that burnout and overwhelm are just another part of what to expect, but it doesn't have to be like that.
People have to take care of themselves and make it a priority. As parents, caregivers, workers and just part of society there is so much pressure that is put on us.
I know as a single mom it is hard to put myself first. When I go to the store I'll buy my son a pair of shoes before I buy myself something because he needs them (OMG he out grows everything right now!).
I try to make time for myself but I love being a mom and taking care of him so it is extremely hard for me to do it. Now he's starting to get into all the changes from being a boy to being an adult and so there are definitely days that I need it.
And knowing this it reminds me of something I heard on Oprah when I was younger. (I'm paraphrasing this).
"If your glass is half full or empty than you have nothing left to give."
This was more powerful on the show because they actually brought a glass of water out and talked about taking care of yourself. Each time they did something for themselves they put water in a glass and every time they did something for someone else they took water out. It wasn't long before the glass was empty.
With this content you'll be able to help your audience realize that taking time for themselves isn't selfish but actually helps the family.
Plus using this high-quality PLR content on your blogs is only the beginning of what you can do with it. Personal Development in general is a HOT topic.
This PLR was created with a specific purpose in mind. You'll get longer blog posts so that once you've added your personalization the content you'll get more in-depth articles. According to Curata these types of blog posts generate 9X more leads than shorter ones.
Then you'll get intro emails to let your email list know about your new blog post. This is easy to take and plug in to your email software. All you have to do is add the URL. Once you've set it up don't forget to set it up in your email sequence so that you let your audience know about it more than once.
You'll also be provided with not one but ten different social media tips. This makes it easy to share with your community. To repurpose these all you have to do is create graphics. Plus if you've got a social media scheduler you can add it to the schedule in the future so that you're sharing the content again in 3, 6, 9 or 12 months.
There is so much in this PLR content bundle and it is all geared towards blogging, sharing your content and getting leads with an opt-in report.
You'll get high-quality PLR content that you can use on your website or blog to appeal to different niches such as a mom blog, health and wellness or a lifestyle blog.
DFY Importance of Self-Care PLR Content Bundle
Get It All For $27!
Section 1 – eBook Template
22-page eBook, 3,245 words, "Importance of Self-Care in Personal Development"
Use the eBook template that is provided and put it for sale on your site to earn profit or use it on your site to get traffic. You can also take bits and pieces out of it and add it to your social media platforms.
Even though this is formated into an eBook template that doesn't mean it has to stay that way. You can use it for whatever you'd like to
Check out what you'll get in the eBook template...
5 sections that talk about the following:
-Why Self Care is Crucial to Personal Development
-5 Self Care Activities to Add to Your Routine
-Be Sure to Avoid These Top Self Care Mistakes
-Setting Self Care Challenges
-5 Awesome Self-Care Tips You Absolutely Need to Follow
The eBook template is compiled of the PLR articles below. You'll find them formatted with headings, subheadings and images. This will save you time and let's you repurpose the content quickly and easily.
So this is a great way to buy a plr ebook that you can put to use right away.
You'll also get a Canva eCover template with this PLR pack.
This makes it much eaiser to use your brand colors, change images that you want to and add your own title to it when you use the eBook template provided.
Section 2 – 5 PLR Articles (Report Broken Up)
You're going to get 5 PLR articles for you to add value to your blog about the importance of self care and personal development. This is a HOT topic that has tons of people interested in.
Self Care in Personal Development Topic Titles:

1. Why Self Care is Crucial to Personal Development (614)
2. 5 Self Care Activities to Add to Your Routine (637)
3. Be ure to Avoid These Top Self Care Mistakes (608)
4. Setting Self Care Challenges (646)
5. 5 Awesome Self-Care Tips You Absolutely Need to Follow (656)
Section 3 – Intro Emails
You'll also get 5 intro emails that you can use to make your audience aware you've got a new blog post. Use it for this purpose or reword it a little and reuse for a social media post.
Don't stop there though, take the email and add it to one or more of your email sequences. You want to make sure that you're sharing as much content as you can with your readers and as you get more people on your list you want to give them an opportunity to take a look at your past blog posts as well.
I'm not done yet…
Section 4 – DFY Social Media Tip Posts
Engagement with your audience is important and that is why we've included 50 social media tips for you to use. You can use them to promote the report and send people to the opt-in page that you create for it or you can send people back to the blog posts. Or mix it up and do both.

The posts encourage people to click on the link and read the rest of the blog post or download the report you're offering.
Section 5 – Keyword Research Service Done For You
You'll also get keyword research service done for you. I've come up with 100+ long tail keywords all related to the PLR articles on self care such as ideas, plans and target niches like self care for moms, etc. You'll find some of these are what people like to call low-hanging fruit keywords while others have more searches.
These are all high-targeted keywords and I've used a very popular keyword search software to get them. They all have the potential to easily get on the first page of search engines.
Search engine optimizing is important, so get a head start with this list.
BONUS: Section 6 – Royalty Free Images
​Images are expensive to purchase, so I've found royalty free images that you can use with the articles or inside the report.
These came from Pixabay and you're able to use them in your products and on your blog without attributions.
As you can see there is a lot of reasons to buy the plr content in this package. There is a wide variety of high quality PLR products including a niche plr articles, eBook template, done-for-you social media tips and even keyword research service done for you.
DFY Importance of Self-Care PLR Content Bundle
Get It All For $27!
After you purchase this bundle – you will get to immediately download all of your content!
All PLR Products that you purchase from me are non-refundable.
PLR Rights Terms:
Don't pass on PLR rights to anyone, so your customers only get personal use rights.
Do not put my name on it.​
Wanna Share on Pinterest? Below is a PIN Image You Can Use:
GET MY DAILY PLR DEALS
(PLUS TIPS, TRICKS & TECHNIQUES TO USE PLR)
Tags: bonus royalty free images, Canva template, DFY social media blurbs, ebook template, email autoresponder plr, keyword research, PLR Articles
Done-For-You Blog Series and Marketing Kits, Done-For-You Categories, Personal Development PLRPosted in 0 comments