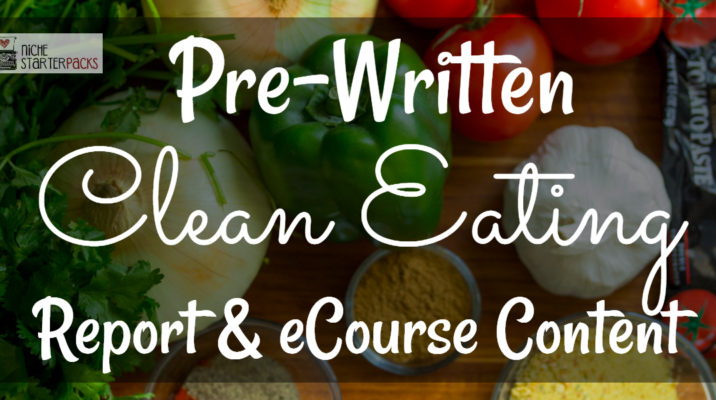 Pre-Written Clean Eating Report & eCourse Content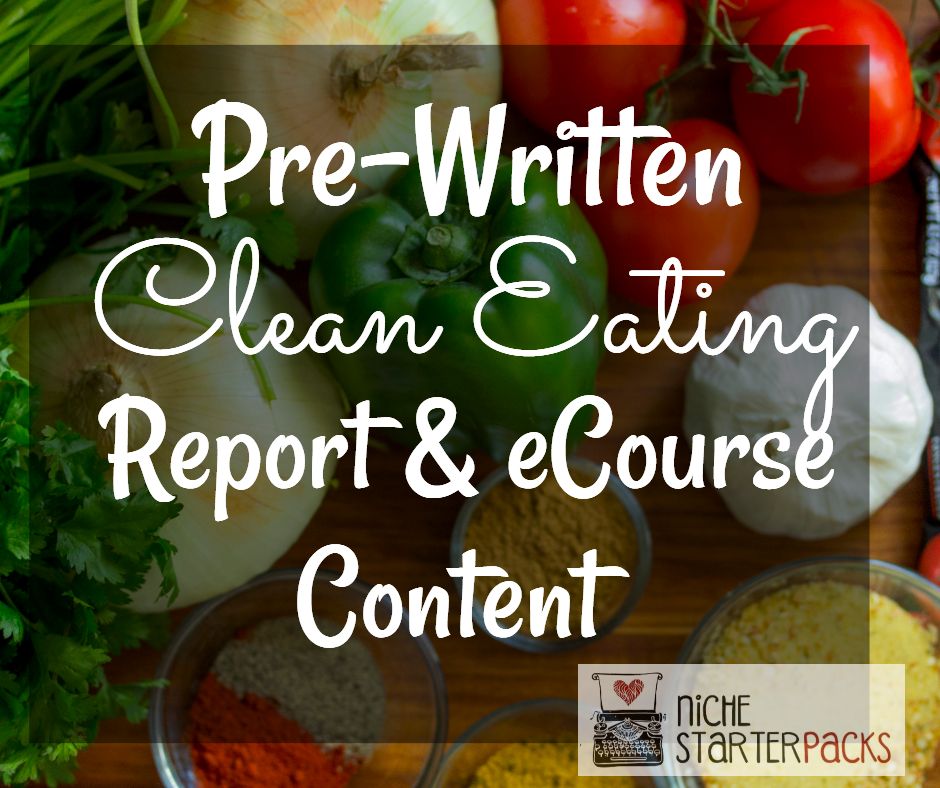 In this Pre-Written Clean Eating Report & Course Content, you'll be able to teach your audience on a variety of different topics about changing their diet and lifetsyle to one without processed food.  Like food you'll want to keep in your pantry and overcoming junk food cravings.
Discussing different topics on your site about Clean Eating will help you bring in a traffic and readers to your blog.
People who want to start eating clean or "real food" are all in different stages of their journey and they are researching different ways they can incorporate this diet into their life.  This is where you'll come in with the topics that will answer the questions that they have.
They need a site that will talk about a variety of topics – so that they can figure out what is best for them and how to start and get past the overwhelm of a new healthy lifestyle.
They can use this information to really understand how to do this.
The Pre-Written Clean Eating Report & eCourse Content will help you teach your audience about important topics whether they are in the beginning stages of planning or have decided to scale up their healthy lifestyle eating habits because of the wide range of topics in this bundle.
Pre-Written Clean Eating Report & eCourse Content for Only $37!

Section 1 – "Clean Eating – Staying Healthy in a Simple Way" Report
You'll get a 24-Page report on simple ways to start a clean eating diet.  This is a great opt-in because it talks about what it is, reasons your community should start, the principles, how clean eating maintains health and a 10 Day Clean Eating Challenge.  This report is going to help you grow your subscriber list.
Here's what you'll get in the report:
24-Page, 5580 words, 7 sections
Introduction
What is Clean Eating and its Rationale?
10 Reasons Why You Should Start Eating Clean
7 Guidelines/Principles of Clean Eating
How Does Clean Eating Aid in Maintaining Health and Managing Diseases
10 Days Clean Eating Challenge
Conclusion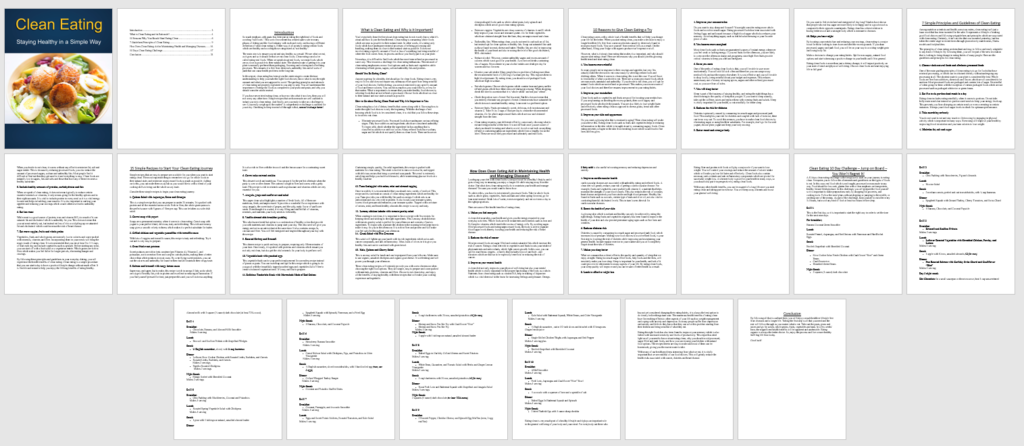 Get in both Text and Word Format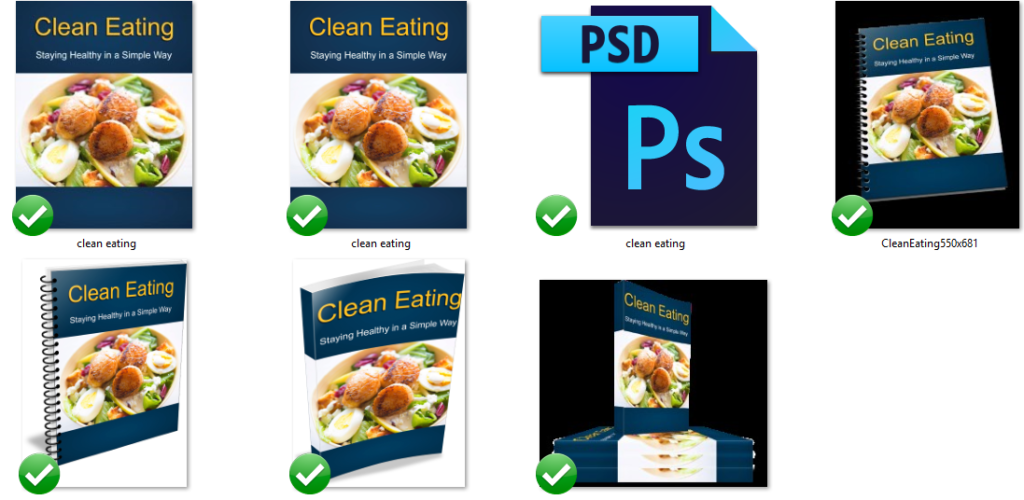 Get eCover 2D in PSD, JPG & PNG, 3D Angles in PNG
April's Advice:
This is a pretty long report I'd take out the 10 Day Clean Eating Challenge and make it into a bonus.  Here are the 3 ways I'd take this one section create more value for your customers.
Create an easy to read menu calendar with all of the recipes included. This will be easy for them to print out and look at.
Find clean eating recipes for each of the meals that are included. You can either add the link to site in a Clean Eating Recipe Resource or include the recipe in another document. If you decide to do the second one you should give credit to where you found it and make sure you use a different recipe name, as well as write your own directions.
Make a printable 10-Day Clean Eating Grocery Shopping List
This will take a little more work (not a lot!).  When people see four downloads that are going to help them easily start clean eating – you'll get more subscribers.
But this isn't all you'll get….
Section 2 – 10-Day Clean Eating eCourse
This section is where you're going to follow up with everyone who signed up for the opt-in report.  You'll be able to provide them a 10-Day eCourse.
April's Advice:
There are a few ways that you can use this page.  Instead of creating a thank you and download page for each of these opt-ins make a sales page for a $7 or $17 item.  Use these eCourses as your product.  This is the perfect time to have people transition from your subscriber list to buyer's list.
The best part?  You'll get three eCourses so that you can create a sales page for each opt-in!
This is a great combo of an opt-in and then a low-cost entry product.  The more extras you include to the eCourse the more you can charge.  Options might be a checklist, resources, examples and daily videos.
Clean Eating eCourse Topic Titles:
Email Day 1: Things to Keep on Hand in Your Clean-Eating Pantry (544 words)
Email Day 2: How to Adjust Almost Any Recipe to Be Clean (524 words)
Email Day 3: Food Substitutions for a Cleaner Diet (540 words)
Email Day 4: Overcoming Junk Food Cravings (591 words)
Email Day 5: How To Choose Clean Dairy and Dairy Substitutes (589 words)
Email Day 6: Clean Snacks That Will Keep You on Track (561 words)
Email Day 7: Clean Lunch Ideas For the Whole Family (523 words)
Email Day 8: Superfoods to Work into Your Menus (524 words)
Email Day 9: Money-Saving Tips When Eating Clean (536 words)
Email Day 10: Getting Back on Track After Your Fall Off (525 words)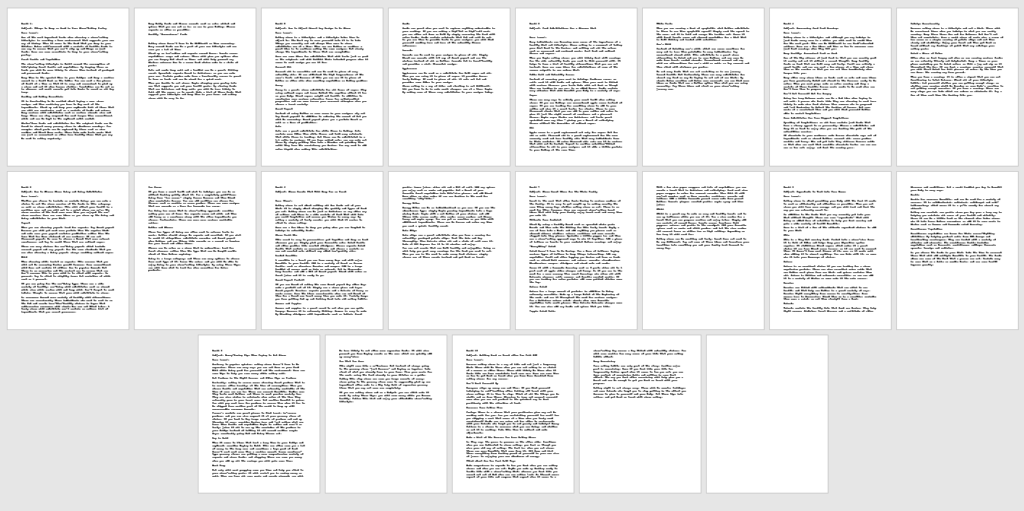 Get in both Text and Word Format 
Take advantage of this Pre-Written Clean Eating Report & eCourse Content for this price because this is only going to last a few days.  This bundle will help you increase subscribers and educate your readers about eating cleaner.
Pre-Written Clean Eating Report & eCourse Content Normally for

Only $37

!

All PLR Products that you purchase from me are non-refundable.
PLR Rights Terms:
1. Don't pass on PLR rights to anyone, so your customers only get personal use rights.
2. Do not put my name on it.
 Please note – this is PLR that I have bought a special license to sell. But rest assured It is high-quality content. I provide it because I want to make sure my customers get the opportunity to purchase what they need, when they need it. Make sure you don't own this already. I will always let you know if a pack is under special license or not.
GET MY DAILY PLR DEALS
(PLUS TIPS, TRICKS & TECHNIQUES TO USE PLR)
Tags: clean eating PLR, Health PLR, PLR, pre-written clean eating content, pre-written content eCourse, pre-written content report, pre-written health content
Done-For-You Categories, Health PLRPosted in 0 comments