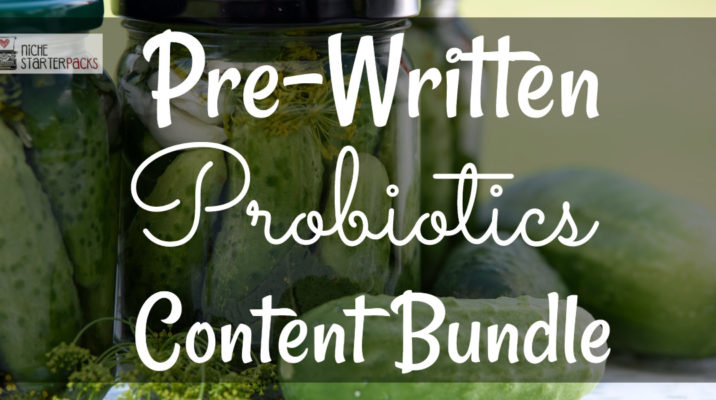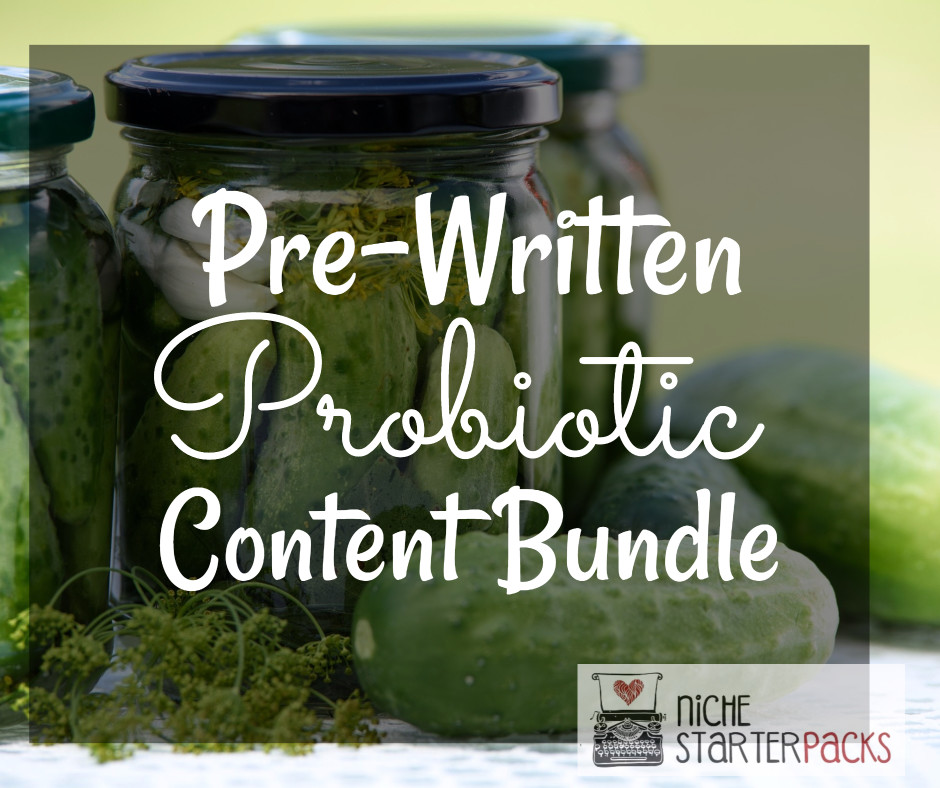 In this Pre-Written Prebiotic Content bundle –articles, a report compiled of the articles, keywords, and royalty free images, you'll be able to teach your audience on a variety of different topics about their gut health and why it's important to integrate probiotics into their diet.
Gut health is really important to a person's overall health and providing probiotics to your body is really important to keep the right type of bacteria in your body. Most people don't realize that this helps regulate all of the food that goes through your stomach.
Help educate your audience about how important probiotics are to their health. With the right amount, it makes it harder for harmful bacteria to stay in their system and make them sick.
When you've got a busy life – this is very important.
The Pre-Written Prebiotic Content bundle will help you bring in a traffic and readers to your blog because you'll be talking about topics that people are searching for – like what probiotics are, why they are important, different types of bacteria and how to start incorporating it into their lives with the food they eat.
People who want to learn about their gut health and probiotics are all in different stages of their journey and they are researching different ways they can incorporate it into their life. This is where you'll come in with the topics that will answer the questions that they have.
They need a site that will talk about a variety of topics – so that they can figure out what is best for them and how to.
They can use this information to really understand how to do this.
The Pre-Written Prebiotic Content Bundle will help you teach your audience about important topics that they desperately need because of the wide range of topics in this bundle.
Pre-Written Prebiotic Content Bundle (Articles, Report, Royalty Free Images, Keywords) – 
Get It All For $27!


Section 1 – "Probiotic Health Guide: Discover How to Heal Your Gut Flora" Report
You'll get a 21-Page report all about probiotics and your gut health. This is a great opt-in because it talks about what it is, why bacteria can cause their body to be off balance and natural ways to get the probiotics they need through the food they eat. This report is going to help you grow your subscriber list.
Here's what you'll get in the report:
Probiotic Health Guide: Discover How to Heal Your Gut Flora Report
Includes: 10 sections
Report Section:
But this isn't all you'll get….
Section 2 – 10 Articles (all the articles above broken into individual articles for you to use)
This section is where you can guide your reader's to sign up for the main opt-in report or let them know more details are available in a report that is for sale.
1.) Adding Probiotics to Your Lifestyle (499 words)
2.) Get Your Probiotics Naturally through Food (516 words)
3.) Health Issues Caused by Bacterial Imbalances (531 words)
4.) How to Choose Probiotic Supplements (545 words)
5.) How to Correctly Use Probiotics (549 words)
6.) Prebiotics in Your Food (519 words)
7.) Tips for Keeping the Proper Bacteria Balance (507 words)
8.) Understanding the Bacteria in Your Body (470 words)
9.) What Are Probiotics? (531 words)
10.) When the Bacteria in Your Body Is Off Balance (503 words)
I'm not done yet…
Section 3 – Royalty Free Images
Images are expensive to purchase, so I've found royalty free images that you can use with the articles or inside the report.
Section 4 – Tweets
Engagement with your audience is important and that is why we've included 10 social media Tweets for you to use. You can use them to promote the report and get more subscribers or send people back to the blog posts.
Section 5 – Keyword Research
I've come up with 200 long tail keywords all related to probiotics. You'll find some of these are what people like to call low-hanging fruit keywords while others have more searches.
But these are all high-targeted keywords that have the potential to easily get on the first page of search engines with. Search engine optimizing is important, so get a head start with this list.
Pre-Written Prebiotic Content Bundle (Articles, Report, Royalty Free Images, Keywords) – Get It All For $27!


All PLR Products that you purchase from me are non-refundable.
PLR Rights Terms:
1. Don't pass on PLR rights to anyone, so your customers only get personal use rights.
2. Do not put my name on it.
 Please note – this is PLR that I have bought a special license to sell. I have added a lot of extra to the package to make it even better and more useful for you.  But rest assured It is high-quality content. I provide it because I want to make sure my customers get the opportunity to purchase what they need when they need it. Make sure you don't own this already. I will always let you know if a pack is under special license or not.
GET MY DAILY PLR DEALS
(PLUS TIPS, TRICKS & TECHNIQUES TO USE PLR)
Tags: Health PLR, PLR Articles, plr report, pre-written content
Done-For-You Categories, Health PLRPosted in 0 comments