Simple Sales Funnel Idea With Example
Want to create a simple sales funnel? Funnels are an important part of your online business, but a lot of people don't know how to create one. There really isn't a right or wrong way to make a funnel. Even if you give a group of people the exact same content they can all set it up differently based on what the goals of their business and the funnel are.
A few days ago I released a new blog post on how to create a simple funnel and I gave you an example of what I'd do with vision board content.
Today I'm going to give you a few examples of how to create a simple funnel with the Self-Care Mastery EKit from EKitHub.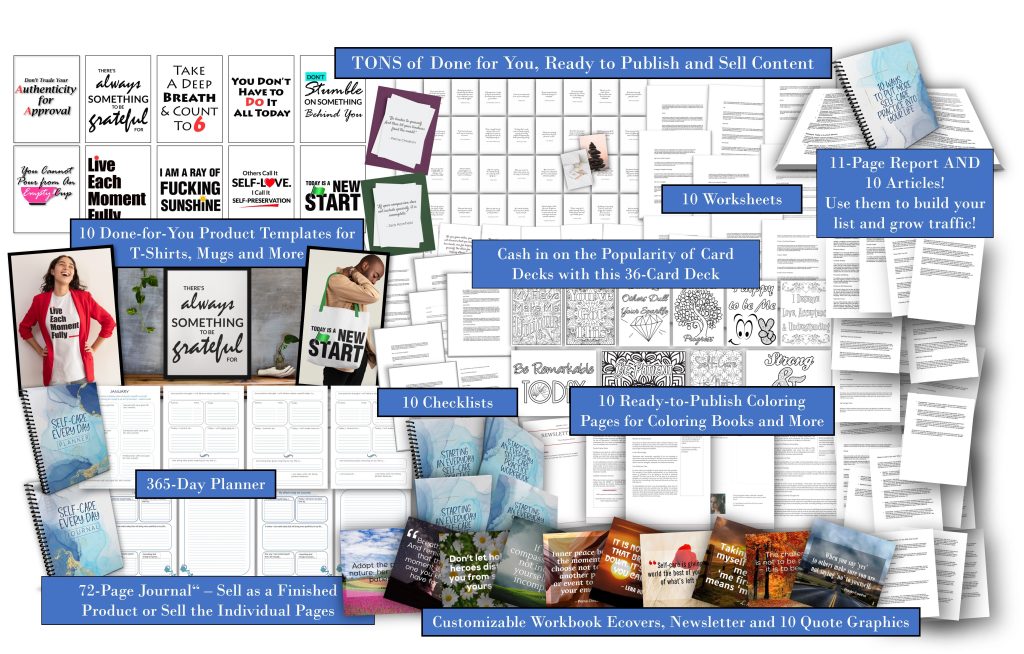 Here is what is included in the PLR Package:
11-Page Report – "10 Ways to Put More Self-Care Into Your Life" Report (.doc)
Professionally-Designed Ecover Set – .JPG and .PSD with flat cover and 4 x 3D versions to go with the report.
10 Articles – for your social media, blog and more. (21 pages / 6,106 words)
Newsletter –

fully editable newsletter in .doc format includes 2 of the articles in this EKit

and includes plenty of space for your personal thoughts
10 Self-Care Quote Graphics – (.PNG and .PSD) We've also included 10 graphics with inspirational quotes to help your followers create more self-care in life so they can improve their lives and achieve their goals.
10 18″ x 24″ Posters/Product Templates – for wall art, mugs, t-shirts, social media, book covers, inserts…and more.
72-Page Journal – (ppt) comes with an Ecover Set. There are three 4d versions with .psd for editing.
365-Day Planner – (ppt) comes with an Ecover Set. There are three 4d versions with .psd for editing.
36-Card Printable Card Deck – Card Deck with fully editable cards. They come formatted for commercial or at-home printing. Instructions included.
10 Coloring Pages – coloring is a hit with children and adults alike. Use these sheets to generate traffic or create downloadable or print coloring books for sale. (.png / PSD 2550 x 3300 px)
10 Worksheets – (16 pages/ 1,037 words) (.doc) to help your readers stay on track while learning how to create more self care in their lives.
10 Checklists – You get 10 checklists (15 pages/ 3,690 words) (.doc).
Activity Book / Workbook Cover Set – Use these covers to bundle up content with the coloring pages, worksheets, checklists and more.
Tons of amazing done-for-you content to use.
Systems really are key. Once you get those down then you'll know what to do every single time you buy the same products with the same components in them.
What's Included in the Simple Sales Funnel
Next, I want to show you what would be included in a simple funnel. I'm going to give you ideas of which pieces to use for each part of the funnel.
The Simple Funnel Has….
A Problem-Solving Lead Magnet
A Few Subject Matter Blog Posts
A Landing Page with Sign Up Form
A Thank You / Download Page
An Autoresponder with Follow Up Messages
The Main Product to Promote
Below I'll break these apart and include each one.
Remember this is just one way that you can create an opt-in form, but every single person can set up what they're doing differently, so there are a lot of different options. 🙂
Simple Sales Funnel Idea Breakdown
I'm listing these in order as shown above, but I would start with the main product. It will make the rest of the process easier.
Problem Solving Lead Magnet
What I love about this PLR EKit is that there are SO many pieces that can be used as a lead magnet and they don't require a ton of work on your part.
Lead Magnet Opt-In 1:
You could use the report.
Change the title and the eCover, add an author page, tweak the content, add images, and then put your call to action in the report.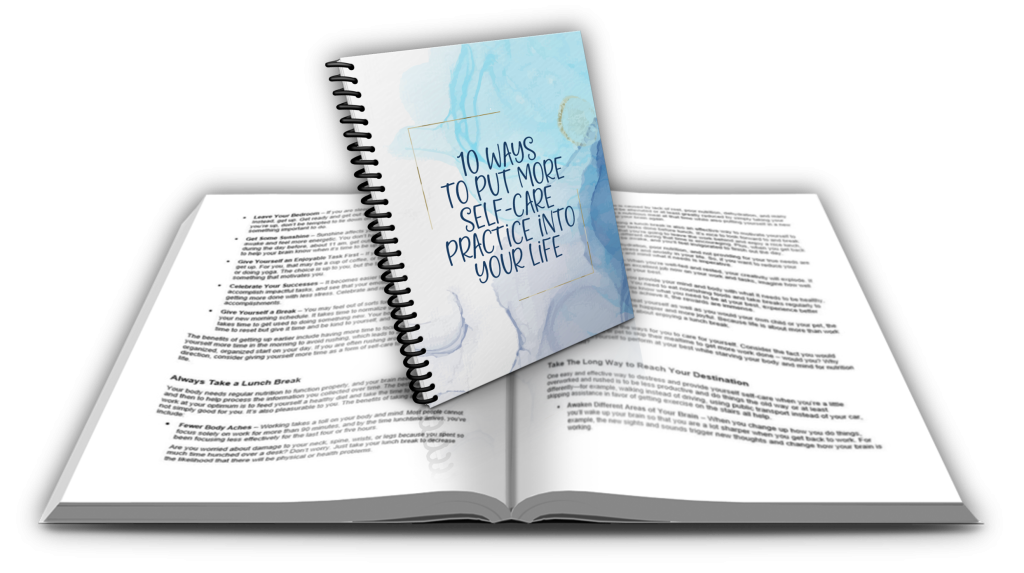 Freebie Opt-In 2:
Or you could use the checklists and worksheets that are provided and combine the like topics. Then you could use those batched together to use as an opt-in. This would get you three to five different opt-ins for the one product you're going to create on self-care.
For example, you could combine these two worksheets: Planning My Lunch Hour, My Morning Page​ with these two checklists: Positive Things You Can Do On Your Lunch Break, Creating a Positive Morning Routine.​
Freebie Opt-In 3:
The third option for an opt-in would be the 10 coloring pages.
Few Subject Matter Blog Posts​
This one is pretty easy. I would take the articles, tweak them, add your call to action for your opt-in, and start scheduling them out or backdate so that they're all on your blog post when your first opt-in goes live.
Either of those works.
Landing Page with Sign Up Form​
I would use your Gutenberg Block Builders, WordPress plugin (like Elementor), or your email software provider to create landing pages.  I personally use ConvertKit or Thrive. 
Make sure you're listing the benefits of the opt-in they'll be getting for free.
I would also create beautiful mockups. Even though they're digital people like to "see" what they're getting.
Thank You / Download Page​
I would use my site to create a download page or my shopping cart. My shopping cart (aMember) isn't as flexible, so what I do depends on my goal of the download page.
You can use the download page to showcase your main product.
An Autoresponder with Follow Up Messages​
These don't have to be very long. Come up with a 3 to 5 set follow-up series.
In the first email give them their gift, in the second email asking them if they've downloaded it yet, and in the third one send the download link again.
You could also provide a short email explaining how others have used it or tips on how to use the opt-in.
Main Product to Promote​
I would start creating this one first. I know it is the last of the funnel, but if you start with this then you'll have all of your links to point to the product, as well as a call to action. It will make it easier.
For this product create a DIY Self-Care Kit and include:
10 18″ x 24″ Posters/Product Templates – I would package these as wall art. People love these types of inspirational messages that they can hang up on their wall.
72-Page Journal
365-Day Planner
36-Card Printable Card Deck
BONUS: Activity Book – If you used the coloring pages, worksheets, and checklists you can still include them, but I'd call it a bonus and bundle them into one book.
So that is how you would take the Self-Care Mastery PLR pack and create a simple sales funnel with it.
You can get the full details and get your limited-time private label commercial use license here: Self-Care Mastery Discount Ends Feb 8th
Systems & Templates Are Key
The key to making this go from PLR to a product is systems and templates. Make sure that you've got both set it place. The first one to three are probably going to be slower to create because you're starting to come up with your templates and checklists, but the time you spend on this part of the process will make the rest go that much faster.
Abraham Lincoln said, "give me six hours to chop down a tree and I will spend the first four sharpening the ax."​
Resource article: Build Simple Funnels With PLR
Have a great and productive day!


~April
GET MY DAILY PLR DEALS
(PLUS TIPS, TRICKS & TECHNIQUES TO USE PLR)