5 Amazing Websites & Tools To Inspire Content Ideas (& The Best Way To Utilize Them)
I don't know about you but some days, it's a struggle to create and publish good content.  That's why I use done-for-you content and different websites and tools for inspiration.
You can use these for content you create from scratch or with the licensed content you buy.
Next time you get stuck – try one of these sites.
Find Trending Keywords and Hashtags Across Multiple Networks With KeywordTool.io
You'll find the Keyword Tool.io useful for pulling keywords from several popular content sites including Google, YouTube, Instagram, Twitter, Bing, Amazon, eBay, and App Store.
I don't use this site often enough and that is unfortunate because it provides a treasure trove of information.
Need hashtags? It will generate hundreds for paid members but you can also use it for free and get the top five with the search numbers.
When I used it for traveling with kids this is what I got back:

#travelingwithkids
470,350
#travelingwithkids❤️
1,170
#travelingwithkidsisfun
493
#travelingwithkidsisnojoke
523
#travelingwithkids101❤️
31
As you can see some great hashtags.
Create In-Depth Articles Using Answer The Public
Answer the Public is one of my favorites sites and my go-to when I start the process of researching anything.
I use it for both my done-for-you content as well as the content that I create for my personal use.
Why do I use it so much?
It helps you understand what questions people want answered when they're searching for a specific topic.
This helps your content become more insightful and thorough for your audience and readers.
I wrote an article on how to use this site effectively called, "Tip To Create In-Depth Articles With Done-For-You Content"
This used to be a free site and you could use the search bar unlimited times every day, but they've changed this and now you can use it three to five times (I can't remember the number of times).
So use them wisely. 🙂
Buzz Sumo To Help You Find What's Missing and What Information People Want For a Specific Keyword
With Buzz Sumo you can see what is trending for specific keywords and you can see what content has been most shared in your niche.
This can give you an idea of what people want to know for specific keywords. If you want to make an even better article then you'll need to read through each blog post (there are usually three) and figure out what information is left out of each.
When I looked for content creation this is what I got: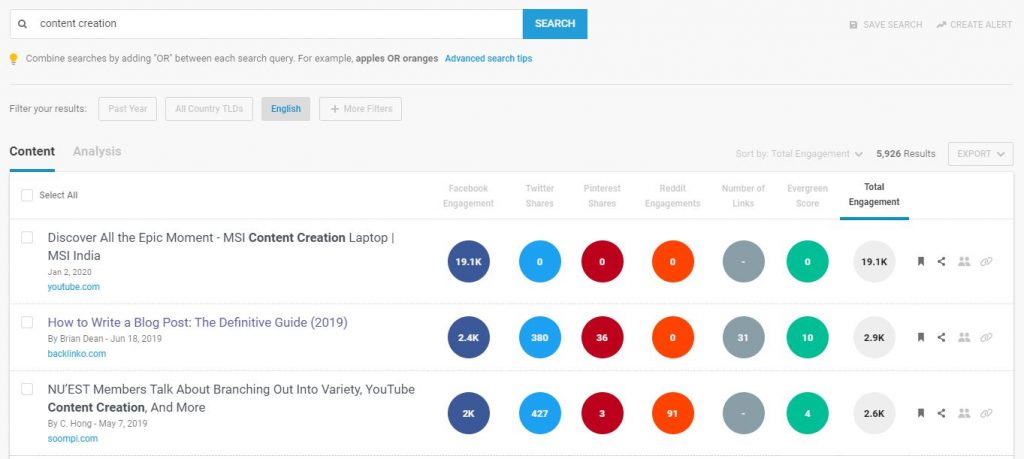 As you can see content creation was too broad of a keyword to use.
If you want to create great content from the information gathered from BuzzSumo check out this article from BackLinko.com, "BuzzSumo: The Definitive Guide."
The blog posts on Backlinko are always in-depth and have some valuable information.
Use Google Trends For Hot Topics
Another great resource site is Google Trends. The traffic you get from these search terms would be immediate. This might be tricky to use done-for-you content on but it isn't impossible.
I'll give you two examples of trends that are happening right now and how I'd go about taking advantage of trends right now.

Today is Valentine's Day. This is definitely a term that I would use. I probably would have started a couple of weeks ago if I wanted to take advantage of it to the maximum.
But how would I use this search term and stand out? Since I have a lifestyle blog I'd write it about children. Not what they can get but more what they can give.
My sister-in-law takes her children to the store and lets them purchase little gifts for others in the family. While this might not seem like a big deal – it is.
I honestly didn't understand that until this year. The kids absolutely love giving. They pick out the gifts with each person in mind and then the joy and excitement on their face when they give them is priceless. It makes them feel so good about themselves.
I also think this teaches children that these small gestures are important to make others feel appreciated. This will help their relationships later in life.
I would go more in-depth about this topic on my blog.
The second trend right now is Sonic the Hedgehog. I didn't know it until a few days ago but they're making a movie. My son is super excited to go watch it.
As a lifestyle blogger, I could talk about Sonic the Hedgehog from my generation, share a trailer on the blog post and then give a review once we watch it.
Parents want to see reviews of movies. We already have plans to go watch it on Tuesday (it is only $5 per person that day!).
I could also talk about the game then vs now (with an affiliate link of course).
Plus Sonic t-shirts, lunchboxes and accessories are going to get popular really fast. I'd take advantage of the trend and create a blog post about all the fun things you could buy a Sonic fan.
These would be easy to write because most of the content would be my opinion.
I found an article that might help you effectively use Google Trends – it is called, "How To Use Google Trends: 10 Mind-Blowing Tricks For Entrepreneurs" – check out number five and six specifically.
Feedly Has Hundreds of Blog Posts In One Place
I don't usually use Feedly but it is a great tool to help you in your business.
This is an easy tool to use. All you have to do is type in a keyword that you're interested in and you'll find blog posts about that topic and then put all your favorite content resources in one place.
You can find tons of different articles on one specific topic and that means your research time for that topic is going to reduce.
Read through the content to get an idea and take notes of what others are sharing. You'll want to write down the main topics and subtopics – do not copy what they wrote. If you have questions along the way write them down.
Why? Because if you have questions about a specific idea someone shared in their blog post someone else probably does as well.
When you create your content close all the blog posts, take a look at your notes, and start writing your own blog post.
You want to close everything so that you're not stealing phrases, sentences or paragraphs from others by accident.
Using Feedly with done-for-you content will help you make your articles more informative and in-depth for your readers.
Not sure how to use Feedly? Check out this article, "How To Use Feedly to Follow, Curate, and Share The Best Content on the Web."
The sites above are only a few resources for you to use.  
-April
P.S.  These are only a few sites and resources to use and most of them work in conjunction with the done-for-you content that you have.
GET MY DAILY PLR DEALS
(PLUS TIPS, TRICKS & TECHNIQUES TO USE PLR)