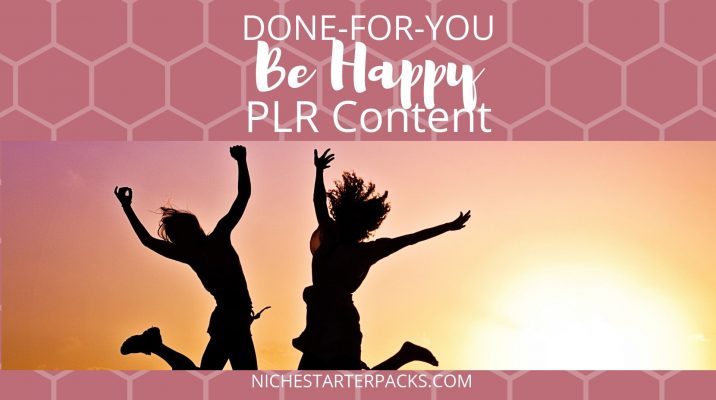 Personal Development Is The HOTTEST Topics Right now especially being happy and enjoying life - get in on this trend
In this White Label Happiness Content Bundle you'll be able to give your audience more information about ways to make their lives happy.
With this pack they'll be able to determine what happiness truly is to them. This means they'll know what makes you happy on a day to day basis.
In life, things do go wrong. But that doesn't mean people stop being happy.
If your audience want to become truly happy, they'll need to focus on the bigger picture. When people only focus on the negative then that is all they'll feel like their life has to offer. They'll feel unhappy and dissatisfied with their life.
This bundle will help you teach your audience about how to achieve happiness.
Plus August is happiness month and it is a great opportunity for you to take advantage of popular hashtags and get more people following you on your social media platforms – especially Instagram.
You'll get these PLR bundles:
White Label Happiness Content Bundle
Happiness PLR Articles
Enjoying Life eCourse PLR
You'll get high-quality PLR content that you can use on your website or blog to appeal to different niches such as a mom blog, health, wellness and lifestyle.
Using this high-quality PLR content on your blog is only the beginning of what you can do with it. Happiness & enjoying life is a HOT topic.
DFY All About Happiness & Enjoying Life Combo Bundle
Get It All For $37!
PLR Bundle 1 – Happiness Content Bundle ($27 Value)
This PLR Bundle is designed to be able to post it on your blog, send an email to let people know about your blog post and then share it not once, but multiple times on your social media.
Not only that but you're going to get the blog posts combined into a report so that you can easily add it to your site as an opt-in. People like the convenience of downloading and reading on their computer.
Check it out:
You'll get a 21-Page report all about Happiness. This is a great opt-in because it talks about how to make yourself happy and relax.
Use this report to grow your subscriber list.
Here's what you'll get in the report: Happiness – It's Your Time To Be Happy, 10 sections, 4,857 words
Report Section:
Defining What Happiness Means to You
4 Things Which Could Be Compromising Your Happiness
Why Spending Quality Time with Yourself is Crucial to Happiness
How to Start Appreciating and Being Happy with What You Have
Why Goal Setting Can Help in Your Pursuit of Happiness
5 Tips to Help You Start Living a Happier Life Right Now
Learning to Live in the Moment
How Your Circle Affects Your Happiness
Self-Worth and Happiness
5 Ways Diet and Exercise Link to Happiness
You'll also get a Photoshop eCover Template, Keyword Research and Bonus Royalty Free Images
I've come up with 200 long tail keywords all related to happiness. You'll find some of these are what people like to call low-hanging fruit keywords while others have more searches.
But these are all high-targeted keywords that have the potential to easily get on the first page of search engines with. Search engine optimizing is important, so get a head start on this list.
PLUS BONUS – Royalty Free Images
Images are expensive to purchase, so I've found royalty free images that you can use for the articles or inside the report.
PLR Bundle 2 – Happiness PLR Articles ($10.95 Value)
In this PLR pack you're going to get 10 articles all about happiness. You'll be able to talk about being happy and linking it between food, friends, hormones and personality. These articles will also talk about living in the moment and creating memories. We all want to be happy and some people aren't sure how to go about doing it, so with these articles you can guide them from the negativity and unhappiness they have now to a life with more happiness.
Article Topics:
The Link between Food and Happiness (518 words)
2. The Link between Friends and Happiness (586 words)
3. The Link between Hormones and Happiness (527 words)
4. The Link between Personality and Happiness (546 words)
5. Do You Need Money to Be Happy? (531 words)
6. Don't Sweat the Small Stuff (528 words)
7. Enjoying the Simple Pleasures in Life (579 words)
8. How Happy Are You? – Questions to Ask Yourself (517 words)
9. Seven Mantras to Increase Your Happiness (546 words)
10. Why Living in the Moment Makes You Happier (535 words)
PLR Bundle 3 – Enjoying Life eCourse ($10.95 Value)
In this PLR pack you're going to get a 10 day eCourse on how to start enjoying life more.
You'll be able to talk about ways that people can enjoy their life to the fullest. You can take this eCourse and set it up in your email software as a sequence. Then at the end of the happiness articles from above or after they opt-in to the report you could have them go through this course because you know their interested in enjoying life and being happy.
eCourseTopics:
Email Day 1 – Six ways to add laughter to your life (581 word)
Email Day 2 – Dealing with jealousy (622 word)
Email Day 3 – ow to get the most out of gratitude journaling (606 word)
Email Day 4 – Six ways to help others and increase your non-material wealth (587 word)
Email Day 5 – The joy of simple pleasures (635 word)
Email Day 6 – Tips for making the most of the relationship with our children (602 word)
Email Day 7 – Tips for making the most of the relationship with our children (602 word)
Email Day 8 – Tips for making the most of your relationship with your parents (604 word)
Email Day 9 – Tips for making the most of your relationship with your partner (589 word)
Email Day 10 – Tips for making the most of your relationship with your work colleagues (537 word)
Use this PLR as a report and get subscribers, add them to your site to attract more readers and then set up the eCourse to help them in their journey to happiness.
I'm not done yet…
As you can see you're getting two high-quality PLR packs that sell on my site individually for $48+, but you can grab it for a discounted rate right now.
DFY All About Happiness & Enjoying Life Combo Bundle
Get It All For $37!
After you purchase this bundle – you will get to immediately download all of your content!
All PLR Products that you purchase from me are non-refundable.
PLR Rights Terms:
Don't pass on PLR rights to anyone, so your customers only get personal use rights.
Do not put my name on it.
Please note – this is PLR that I have bought a special license to sell. I have added a lot of extra to the package to make it even better and more useful for you. But rest assured It is high-quality content. I provide it because I want to make sure my customers get the opportunity to purchase what they need when they need it. Make sure you don't own this already. I will always let you know if a pack is under special license or not.
Wanna Share on Pinterest? Below is a PIN Image You Can Use:
GET MY DAILY PLR DEALS
(PLUS TIPS, TRICKS & TECHNIQUES TO USE PLR)
Tags: bonus royalty free images, Canva template, DFY social media blurbs, ebook plr, keyword research, PLR Articles, PLR Content
Done-For-You Categories, Personal Development PLRPosted in 0 comments