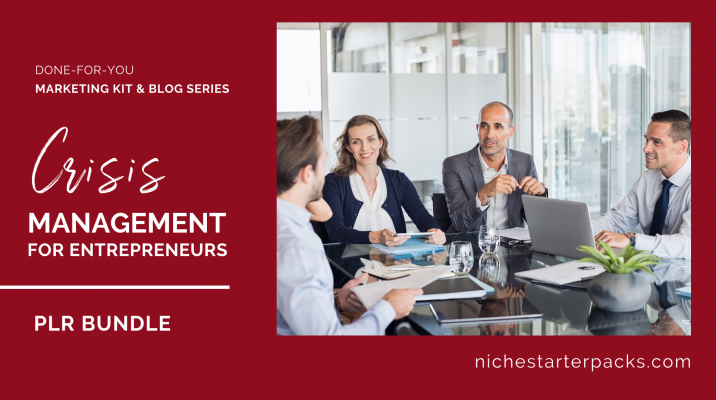 Done-For-You Crisis Management for Entrepreneurs Content Bundle
10 Blog Posts (500+ words)
31-Page Report (Compiled Out of Blog Posts)
Canva eCover Template
10 Social Media Posts
Keyword Research
BONUS Royalty Free Images
3 Easy Steps To Use This PLR
Download. Personalize. Use As Your Own.
Crisis Management is an Evergreen Topic
You'll get high-quality PLR content that you can use on your website or blog to appeal to business owners from any niches.
What's Included In This Bundle:
Here's an overview of what you'll get:
10 Blog Posts:

You'll get a series of blog posts that will let you dig deep into the topic. You can schedule these on your blog and then link them together to help your readers go through the series.

1. Common Mistakes Made When Managing a Crisis
2. Dealing with Natural Disasters as an Entrepreneur
3. Facing PR Disasters Head On
4. How to Handle Poor Feedback
5. Managing the Loss of a Key Staff Member
6. Overcoming a Data Breach
7. Preparing for a Crisis Even If It Never Happens
8. Protecting Your Intellectual Property
9. What to Do When Clients Won't Pay
10. Why You Need a Disaster Recovery Plan

​

31

-Page Report, "Crisis Management for Entrepreneurs"

(Blog Posts Combined): You might not want to use the content as blog posts, so I've compiled them into an eBook or you can use the report as a way to get opt-ins at the end of each blog post by offering the combined content in one place. Not only that, but this eBook has been formatted with headings and images for your convenience.

Professionally Designed eCover:

You'll be provided with a Canva Template for the eBook cover. Canva is a free graphic software platform and it is easy to change the eCover to your branding.

Social Media Posts:

You'll get 1 social media post per blog post (10 total) for you to use to direct people back to your site where you've posted. It is easier to share when all you have to do is add a link, tweak it a little to include your voice and post!

Long Tail Keywords:

You'll get researched keywords that are for crisis management

BONUS:

Royalty Free Images
Want a closer look at exactly what you'll be getting. Check it out:
Crisis Management Blog Post
In this section, you're going to get ready to use blog posts that you can upload and schedule on your site. This is going to provide valuable information on how your audience can prepare for and manage any crises that may come their business's way.
What is great about these blog posts is that you can use them easily as a series! People love series and will want to make sure that they get on your list to know when the next one is being released. So make sure that you're offering an opt-in box at the end when you release the blog posts the first time.
You'll also want to make sure you've got an objective for the blog post. This could mean that it is informational, you want customer to sign up for your opt-in, or you want readers to click through to a signature program, etc.
Then add a call to action on every blog post.
All blog posts are 500+ words, so you can give a lot of valuable information that allows your audience to get real results.
Tip: Make sure that each of the blog posts links to one another. That way, you'll get link juice AND your readers can find all of the posts in that series.
31-Page Report To Use As An Opt-In Or Freebie
The report is compiled of all the articles so that you can also use it as an opt-in. Growing your list is an essential part of running a business and by providing valuable information that people want and need you'll start adding more people to your list and that leads to bigger community.
Canva eCover template with this PLR pack.
Ready made eCover that has an eye-catching design for you to use right out of the box. Change the report name, add your name as the author and start using this eCover right away.
This makes it much eaiser to use your brand colors, change images that you want to and add your own title to it when you use the eBook template provided.
This report would be a great lead-in to a signature product or a challenge that you're hosting. You can add a call to action throughout the report, plus you can create a sales page as an upgrade on the download page. This will put your offer in front of people right away.
31-page eBook, "Crisis Management for Entrepreneurs"
Use the report template that is provided and put it for sale on your site to earn profit or use it on your site to get traffic. You can also take bits and pieces out of it and add it to your social media platforms.
Even though this is formatted into a report template, that doesn't mean it has to stay that way. You can use it for whatever you'd like to.
Check out what you'll get in the eBook template...
9 sections that talk about the following:
Why You Need a Disaster Recovery Plan
Preparing for a Crisis Even if it Never Happens
Common Mistakes Made When Managing a Crisis
How to Handle Poor Feedback
Facing PR Disasters Head On
Overcoming a Data Breach
Protecting Your Intellectual Property
What to Do When Your Clients Won't Pay
Managing the Loss of a Key Staff Member
The report template is compiled of the PLR articles below. You'll find them formatted with headings, subheadings and images. This will save you time and lets you repurpose the content quickly and easily.
So this is a great way to buy a PLR ebook that you can put to use right away.
The PLR articles can be schedule on your blog post throughout the month to create a series.
Keyword Research Done For You
You'll also get keyword research service done for you. I've come up with long tail keywords all related to crisis management. You'll find some of these are what people like to call low-hanging fruit keywords while others have more searches.
These are all high-targeted keywords and I've used a very popular keyword search software to get them. They all have the potential to easily get on the first page of search engines.
Search engine optimizing is important, so get a head start with this list.
Social Media Blurbs
Engagement with your audience is important and that is why we've included 10 social media blurbs for you to use. You can use them to promote the report and get more subscribers or send people back to the blog posts.

The blurbs encourage people to click on the link and read the rest of the blog post.
BONUS: Royalty Free Images
​Images are expensive to purchase, so I've found royalty free images that you can use with the articles or inside the report.
These came from Pixabay and you're able to use them in your products and on your blog without attributions.
As you can see, there is a lot of reasons to buy the PLR content in this package. There is a wide variety of high quality PLR products including a niche PLR ebook, eBook template, and even keyword research service done for you.
After you purchase this bundle – you will get to immediately download all of your content!
Crisis Management Online PLR - High-Quality Done-For-You Content...
Just Download, Personalize & Use As Your Own!
There is a ton of done-for-you content in this PLR bundle. It has been set up for you to blog consistently and then share with your audience through emails, as well as social media posts.
You'll even get all the blog posts compiled into a beautifully designed report so that you can use it as an opt-in, freebie to your list, sell it or as a bonus to a product you currently have.
All the work is done for you - just tweak the content and you're ready to use it.
This done-for-you content bundle is only $27 and will save you hours and hours of your time creating content.
Click the button below and get immediate access to the
DFY Crisis Management Content Bundle
After you purchase this bundle – you will get to immediately download all of your content!
Thank you!
All PLR Products that you purchase from me are non-refundable.
PLR Rights Terms:
Don't pass on PLR rights to anyone, so your customers only get personal use rights.
Do not put my name on it.
Wanna Share on Pinterest? Below is a PIN Image You Can Use:
GET MY DAILY PLR DEALS
(PLUS TIPS, TRICKS & TECHNIQUES TO USE PLR)
Tags: bonus royalty free images, Canva template, DFY, DFY Keyword Research, DFY social media blurbs, PLR, PLR Articles, plr reports
Business PLR, Done-For-You Blog Posts Bundle, Done-For-You CategoriesPosted in 0 comments