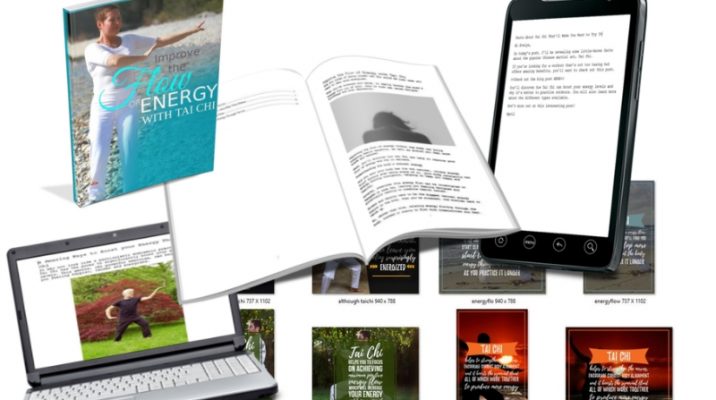 Have you ever considered talking about Tai Chi on your blog?
Easily Schedule an Entire Series on
Your Blog About "Energize With Tai Chi" - Fun Topic For a Variety of Niches!
Tai Chi Content Series & Marketing Kit for Blogs
Here are 5 creative ideas to tie the "Energize With Tai Chi" PLR into your niche:
Starter Content. Use this PLR for a new blog in this specific niche on Tai Chi. You can take the content that is included and have a strong start to get out of the gate.
Affiliate Marketing & Product Reviews. Recommend products on your site that will help anyone that is interested in this form of exercise buy the products that they need.
​Blog Series. Find a unique slant and use this content to create a blog series on your post. Some ideas could be: stressed parents that need help dealing with stress and anxiety , caregivers helping the elders they care for to work on their balance and mobility or host a Learn Something New Challenge and have that be Tai Chi.
Collect Leads. Set up the report as an opt-in on your site. Make sure to have an objective and add a product and service inside that introduces your business to new subscribers.
Sponsored Post. Contact a local businesses that offers this service and then get paid to have them listed on your blog post. You can either use the content as is with very little edited or rewrite the article completely - this will be determined on what you negotiate with the business.
---
What You Should Know About Tai Chi Before You Dismiss It As a Topic That Won't Work On Your Blog
​You might be asking yourself, "What is Tai Chi?"
It is a mind-body form of exercise that has many be​nefits. According to Harvard Health Publishing it is...
"Meditation in Motion"​
They call it that because as people move through a series of motions they will breathing in deeply and focusing their attention. Because of this it works well for people who experience stress, anxiety and even depression.
Not only that, but Tai Chi is a low-impact and slow motion exercise. What does this mean?
This helps so many people - including elderly, children, adults and out of shape people. It doesn't matter the age or shape of the person, they can start practiciting Tai Chi.
Benefits of Practiting Tai Chi:
Stress Reduction
Weight loss
Good to do with kids to teach them mindfulness
Deal with stress and anxiety
Helps balance and mobility.
You'll love the fact you can help other people when you publish this content series.
Tai Chi Is Growing In Interest​
Tai Chi is growing in popularity on both Pinterest and Instagram. These are two social media platforms that you can grow a following with and potentially earn money from promoting products or selling your products.
Pinterest growth is up 189%.
Instagram has almost a half a million posts!
So how can you get into this untapped niche?
With the DFY Content Series & Marketing Kit...
What You'll Get in the DFY Content Series & Marketing Kit:
Four done-for- you blog posts, saving you time to research and write all the content
Four ready to use emails that introduce the blog posts, so that you can easily share your blog post to your list
An 11-Page report compiled out of the blog posts, to easily add an opt-in to turn readers into subscribers
Four beautifully designed social media tip images, these are unique because each one has a tip that is related to the topic.
DFY long tail keyword research, pick a keyword that you want to rank for and get your content up.
BONUS royalty free images, content needs images to make it more appealing to your readers.
One Top 5 List, you'll get a tangible top five list with different products to recommend.
Five product reviews, these are the products in the Top 5 List
4 Energizing With Tai Chi Blog Posts
Ready to use blog posts to upload and schedule on your site that provides valuable information on Energize With Tai Chi.
Use an objective for the blog post like is it informational, do you want customer to sign up for your opt-in, or do you want reader to click through to signature program, etc.
Then add a call to action on every blog post.
4 Energize With Tai Chi Blog Post Topic Titles
How to Find Your Tai Chi Energy Flow (684 words)
Little Known Facts About Tai Chi – And Why They Matter (620 words)
4 Amazing Ways to Boost your Energy Through Tai Chi (615 words)
Improve the Flow of Energy with Tai Chi (669 words)
Content in Text and Word Format.
4 Energizing With Tai Chi Emails
The ready to use emails save you time when you go into your software. An introduction to the blog post is already written - all you have to do is add the URL on your site where the blog post needs to go.
This will literally save you hours. You can also repurpose the emails into social media blurbs and add them to those platforms as well.
So you're really getting a two for one.
Content in Text and Word Format.
Creating the blog posts and uploading them onto your site isn't enough. You'll also need to share the blog posts and engage your audience on your social media platforms.
You'll get 5 Facebook Tips and 5 Tweets for EACH blog post.
That means you'll have enough blurbs to market your blog post for 5 days (or 5 times).
Content in Text and Word Format.
4 Social Media Tip Images
Beautifully pre-designed social media templates WITH cleverly crafted tips that you can post on your Twitter, Pinterest, Instagram and Facebook platforms. Easily change them with Photoshop or add your website name on an online graphic platform like Canva.
You have tons of flexibility to use these in your business.
You'll get several different sizes, as well as the images in JPeg, PNG and PSD format.
Customizable Opt-In Report, 15-Page Report
The report is compiled of all the articles so that you can also use it as an opt-in. Growing your list is an essential part of running a business and by providing valuable information that people want and need you'll start adding more people to your list and that leads to bigger community.
Content in Text and Word Format.
Professionally Designed eCover
Ready made eCover that has an eye-catching design for you to use right out of the box. Change the report name, add your name as the author and start using this eCover right away.
You'll get several different angles, as well as the images in JPeg, PNG and PSD format.
I've come up with 200 long tail keywords all related to Tai Chi. You'll find some of these are what people like to call low-hanging fruit keywords while others have more searches.
But these are all high-targeted keywords that have the potential to easily get on the first page of search engines with. Search engine optimizing is important, so get a head start with this list.
Content in Text Format and Excel Spreadsheet.
Top 5 List & Product Reviews
Affiliate marketing is a way to monetize your blog and recommending products is a way to help others.
When people start the process of buying products they star their research online. Not only that people want to know about products that you use or things that will help make their life easier.
You'll get a top 5 list of tangible products you can recommend to your audience, as well as the product reviews for each thing on your top 5 list.
Top 5 List & Product Reviews
Top 5 Tai Chi Products & Training to Use to Boost Energy (700 words)
Tai Chi for Energy by Dr. Paul Lam (485 words)
BladesUSA E472-PP Martial Arts Polypropylene Training Tai Chi Sword (449 words)
Andux Chinese Traditional Tai Chi Uniforms (477 words)
ChiFusion Training (485 words)
TimeBus Kung Fu Shoes Martial Arts Shoes Tai Chi Shoes(444 words)
Content in Text and Word Format.
How to Use the Content Series & Marketing Kit :
The DFY Blog Marketing Kit is geared towards creating a blog series and then marketing it to your audience.
Use our done-for-you content to quickly get an informational and educational blog series up for your readers to enjoy.
To make it even better we've compiled all the blog posts into a report and you can add an opt-in form on your posts to collect leads.​
Then take the emails that introduce the blog post and add them to your email auto responder. There is very little work you need to do here - just add your blog post link and your name at the end.
The last section is all about promoting your blog posts with social media posts that you can share, as well as eye-catching images.
This PLR Bundle is Perfect for Health Bloggers, Mom Bloggers or Anyone Who In In the Healthy Lifestyle Niche...
Right now is the best time to grab this pre-written content bundle! To get the lowest price possible - buy it now.
All PLR Products that you purchase from me are non refundable.
PLR Rights Terms:
[YES] Can be edited and modified in any way
[YES] Can be branded and sold as a report with personal use rights only (PDF)
[YES] Can put your name as the author
[YES] Can be used as eCourse and webinar material
[YES] May use the content on your site/blog
[YES] Can be used on article marketing sites
[YES] Can be translated to other languages
[YES] Can use the content to create and post videos on video sharing sites/blogs, etc.
[NO] Cannot claim copyright to the content since it is PLR
[NO] Cannot resell the packs
[NO] You may NOT sell or giveaway private label rights (non-transferable PLR)
[NO] Can be added to membership sites with resell and master resell rights
[NO] Cannot use my name as author
P.S. With this pack you'll get an entire blog marketing kit - not only will you get the content to post on your blog, but you'll be able to share the content with your audience with emails, social media posts and social media images.
P.P.S. Remember that 61% of people buy a product AFTER they've read a blog post. The high-quality product reviews on Popular Amazon Products in this bundle will help you earn affiliate commissions - faster and easier than before.
GET MY DAILY PLR DEALS
(PLUS TIPS, TRICKS & TECHNIQUES TO USE PLR)
Tags: DFY Blog Marketing Kit, Tai Chi PLR
Done-For-You Blog Series and Marketing Kits, Done-For-You Categories, Health PLRPosted in 0 comments