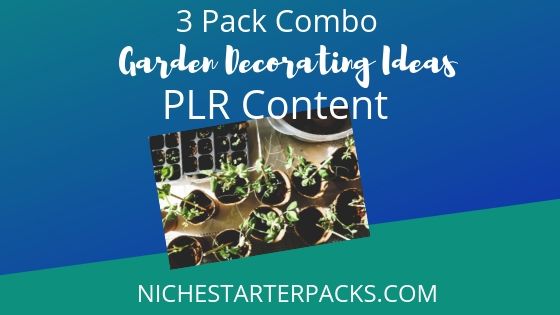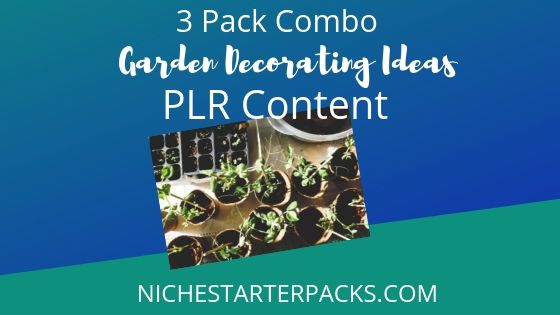 Garden Decorating Ideas PLR - High-Quality Done-For-You Health Content...Just Tweak, Brand & Use on Your Site
earn Commissions By Providing Garden Decorating Ideas To Your Audience
Gardening is a huge past time for a lot of people. They do it for so many different reasons:
It is relaxing
It helps with their state of mind
It helps nourish their body
They know where their food is coming from and what was put in it
That is only a few reasons why people garden.
It can take hours of prep work, maintenance and then weeding to get to the finished product. During each of these people are very proud of what they've accomplished and they want to show it off or buy pretty things for their gardens.
That's where this three pack bundle of Garden Decorating Ideas will come in handy for you. You're going to be able to recommend so many different items for your customers to do in their gardens. They're going to love all these fresh and fun ideas and one of the great things about it is that you can put your affiliate link inside the blog posts to earn affiliate income.
Tons of Different Products To Promote With These Three Garden Decorating Ideas PLR Bundles
You can find several different affiliate programs such as Amazon or Share A Sale. Just find a company that you believe in and that offers high-quality oils.
It can be used to promote items like:
Bird Houses
Bird Feeders
Fairy Garden Accessories
Buckets To Collect Rainwater
Outdoor Furniture
And So Much More....
You'll get high-quality PLR content that you can use on your website or blog to appeal to different niches such as a mom blog, gardening, outdoor or a lifestyle blog.
Using this high-quality PLR content on your blog is only the beginning of what you can do with it. Gardening is a HOT topic and you can also recommend products for your audience to purchase. They're going to want to know what you use or recommend.
DFY Garden Decor Ideas PLR Bundle
Get It All For $47!
PLR Bundle 1 – Recycled Lawn & Garden Ideas ($37 Value)
This PLR Bundle has a report, a 10 day eCourse, keywords and bonus royalty free images. You'll find tons of different lawn and garden ideas that you can share with your audience from pallet gardening to decorating on a budget.
Check it out:
You'll get a 22-Page report all about Lawn and Garden Ideas. This is a great opt-in because it talks about great things these Lawn and Garden Ideas can do.
Use this report to grow your subscriber list.
Here's what you'll get in the report: Recycled Lawn and Garden Decorations
Report Section:
Pallet Garden
Bucket Planters
Cinder Block Raised Garden Bed
Bowling Ball Art
Garden Hose Outdoor Rug
Glass Jar Lanterns
Bird Feeders
Bird Bath
Soda Bottle Elevated Planters
Recycled Fence
You'll also get a 10-Day eCourse, Keyword Research and Bonus Royalty Free Images
Lawn and Garden eCourse Topic Titles:
Email Day 1 – Save more water – three xeriscape tips (335 words)
Email Day 2 – Three ways to make your back yard more inviting (398 words)
Email Day 3 – How to attract more birds to your garden (385 words)
Email Day 4 – Tips for creating a butterfly-friendly yard (376 words)
Email Day 5 – Fun ideas for collecting rainwater (418 words)
Email Day 6 – Reasons to get rid of your lawn (391 words)
Email Day 7 – Five simple ideas to spruce up your landscaping (379 words)
Email Day 8 – Best materials for outdoor furniture (353 words)
Email Day 9 – Budget-friendly garden ideas (368 words)
Email Day 10 – Seven tips to maximize your back yard (490 words)
I've come up with 200 long tail keywords all related to garden and lawn ideas. You'll find some of these are what people like to call low-hanging fruit keywords while others have more searches.
But these are all high-targeted keywords that have the potential to easily get on the first page of search engines with. Search engine optimizing is important, so get a head start on this list.
PLUS BONUS – Royalty Free Images
Images are expensive to purchase, so I've found royalty free images that you can use for the articles or inside the report.
PLR Bundle 2 – Fun & Functional Gardening Report ($12.95 Value)
People love to decorate their graden and in this section you're going to get a PLR bundle thta talks about fun and functional ways to decorate. This can work for people if they are thrifty or if they just want unique ideas on how to decorate their garden.
Check it out:
Fun and Functional Gardening is a 13 page report (4,885 words).
This PLR report will give your audience different ideas on how to have a fun, but functional garden.
Arbors
Bird Baths
Bird Feeders
Fun Flowers and Veggies
Miscelleanous Items
Shepherd's Hooks
Statues
Sundials
Up-Cycled Pots
Waterfalls
Weathervanes
Groovy Gardening Tips
Use this PLR as a report and get subscribers or you can break it apart and turn them into blog posts.
I'm not done yet…
PLR Bundle 3 – Fairy Garden PLR Bundle ($12.95 Value)
Fairy gardens are all the rage right now. They are easy to make and there are tons of ways to use them. People can put them in their landscaping, take them to work, put them in their children's bedroom and give them as gifts.
People love these little fairy gardens. They can customize one to fit their own personality or if they are making it for someone else — they can find small items to go in the garden that that person likes.
These little gardens are so versatile.
This pack will help you grab the attention of this community. You'll get a report to use as an opt in to captures names for your email list and then you'll also get 5 "Top 5" lists. This list is all about products that will help them garden. Definitely a money maker.
Check it out:
7 Page PLR Report on How To Make a Fairy Garden – Trending Right NOW!
This report is 7 pages and has 1,986 words of content called "How to Make a Fairy Garden". You'll get a brief intro, four chapters and then a conclusion.
What topic are included in the report:
Section 1 – Choose Your Type of Container
Section 2 – Select the Right Soil and Plants
Section 3 – Start Adding Fairies and Decorations
Section 4 – Additional Tips
Get it in both Text and Word format.
You can use this as an opt in report or an ultimate blog post. You'll be able to include Amazon affiliate links if you add it to your site.
Then turn create power point slides and turn it into a slideshow to put on sharing sites.
5 "Top 5" Fairy Garden Products and Accessories PLR Articles
People love to read Top lists. They really like lists about products they are thinking about purchasing. The Top 5 articles give them choices and then based on what they are looking for they will find a product they want. It gives you a better chance of having someone click through your affiliate link.
Top 5 Container Garden Accessories – 479 words
Top 5 Fairy Garden Kits – 469 words
Top 5 Gardening Tool Sets – 518 words
Top 5 Herbal Garden Accessories – 485 words
Top 5 Vegetable Garden Products – 665 words
Get it in both Text and Word format.
You can use these in your email as an auto responder series or on your blog. You could even repurpose it and use it for both. Take the blog post and load it up on your site. Then send a brief paragraph letting your email list know that the article is up.
Social Media Posts
You'll also get Tweets and Facebook posts for the report and the Top 5 articles. You'll get 5 Tweets and Facebook posts with the report and 5 with the Top 5 articles! That is a total of 20 social media posts! They come in a text file, so that you can easily copy and paste them into whichever social media platform you want to use. Just add your link and an image. Your audience will love these!
The Facebook posts are tips on each of the topics for the report and Top 5 articles, so it encourages people to click on the link and read the rest of the post or sign up for the opt in.
As you can see you're getting three high-quality PLR packs that sell on my site individually for $62.90, but you can grab it for a discounted rate right now.
DFY Garden Decor Ideas PLR Bundle
Get It All For $47!
After you purchase this bundle – you will get to immediately download all of your content!
All PLR Products that you purchase from me are non-refundable.
PLR Rights Terms:
Don't pass on PLR rights to anyone, so your customers only get personal use rights.
Do not put my name on it.
Please note – this is PLR that I have bought a special license to sell. I have added a lot of extra to the package to make it even better and more useful for you. But rest assured It is high-quality content. I provide it because I want to make sure my customers get the opportunity to purchase what they need when they need it. Make sure you don't own this already. I will always let you know if a pack is under special license or not.
Wanna Share on Pinterest? Below is a PIN Image You Can Use?
GET MY DAILY PLR DEALS
(PLUS TIPS, TRICKS & TECHNIQUES TO USE PLR)
Tags: PLR Content, PLR eCourse, Report Bundle
Done-For-You Categories, Home & Garden PLRPosted in 0 comments