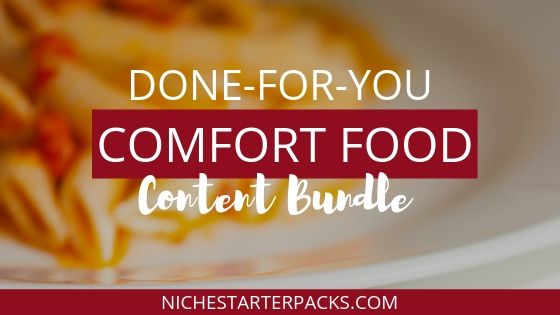 People Dream of Cozy Fall Days With Their Favorite Comfort Food Cooking in the Oven While Smells Drift Through the House
Comfort food is one of those words that has a different meaning for each person that hears it. Usually these are warm memories that have happened in the past or present with people that you loved.
When the weather gets rainy and the season transitions from summer to fall - people start thinking about the comfort food they enjoy.
They dig out their slow cookers, dust off their casserole dishes and start cooking their favorite recipes that make them feel good. These types of food cause warm feelings from memories of meals that they have always had or traditions that they carried on with their own families.

Right now is the perfect time to start promoting this topic. Give your audience content they want to read for themselves and share with others - this could be on Instagram, Facebook or Pinterest. People love to talk about food and there are millions of searches each month that prove that people do just that.
This is a topic that can be used in many different niches such as parenting, cooking, magazines, lifestyle and many more.
Comfort food causes people to feel happy and be positive because their are so many positive memories that come these meals. Even if they didn't have them as children - people make their own families and celebrate their lives with those they love.
67 Pages Of Comfort Food Content....



Done-For-You Comfort Food Content Bundle (Articles & Reports) – Get It All For $57!
Normally This PLR Bundle Is $67!

​

Section 1 - High Quality Articles
This includes 20 high quality articles that help you boost traffic with all of the great comfort food ideas, information and tips that people LOVE and are looking for. You'll get a great selection of different types of articles in this pack. In the Comfort Cooking PLR bundle you'll get 20 articles all about food that people enjoy and the topics will talk about ideas that people are interested in hearing about.
Here are the articles included:
Try These Comfort Foods For Breakfast
Different Ways to Make Grilled Cheese
6 Pasta Recipes You Need to Try
Soothing Soups to Help You On a Bad Day
Chicken-Based Comfort Dishes
Beef-Based Comfort Dishes
Vegetable Sides For Your Sunday Dinner
Ways to Make Macaroni and Cheese
Try Shepherd's Pie For a Comfort Meal
Easy One-Pan Meals to Feed the Family
Potato Dishes That Warm the Belly
Tips For Preparing Wholesome Comfort Foods
Desserts Following Your Favorite Dinner
Enjoy These Comfort Sandwiches For Lunch
Comfort Foods That Use Your Leftovers
How to Make Comfort Food Healthier
Comfort Foods You Can Make in the Slow Cooker
Tips For Freezing Your Favorite Comfort Foods
5 Comfort Food Casseroles to Try
Wholesale Vegetarian Dinner Ideas
Section 2 - Soups, Stews and Chili Articles
​I think that soups, stews and chilis are the classic comfort food. If you're a food blogger these would fit nicely on your blog and I like to cook them all year long and I'm sure I'm not the only one.
These work during the winter because they are hearty and warm, they work during the school year because most of them can be put into a slow cooker for those busy days and then during the hot summer they work (if it isn't too hot outside) because you're busy all day enjoying the sun or just don't want to turn on your stove so again you'd use a slow cooker and throw everything in the pot in the morning.
Here are the articles included:
Slow Cooker Chili Recipes (441 words)
Vegetarian Chili Recipes (408 words)
How to Make a Healthier Chili (413 words)
How to Make a Low-Carb Beef Stew (416 words)
Different Types of Stew Recipes (410 words)
Soup Recipes That Use Fall Vegetables (408 words)
Healthy and Tasty Soup (443 wordS)
Slow Cooker Soup Recipes (462 words)
4 Types of Potato Soup (449 words)
What to Serve Your Tomato Soup With (416 words)
How to Make a Chicken Stew (406 words)
Vegetarian Soup Recipes (447 words)
Soup That Uses a Lot of Vegetables (404 words)
How to Make Chicken Pot Pie Soup (462 words)
The 5 Most Popular Holiday Soups (431 words)
Section 3 - Baking Articles
Baking is definitely classified as comfort food. My mom used to make the best cinnamon rolls, zuchinni bread and cookies. These are my comfort foods and when I eat them now it always makes me think of my mom and the afterschool treats that she'd make for us.
Here are the articles included:
Baked Recipes That Use Apples (408 words)
What You Need to Start Baking (501 words)
Beginner Tips For Baking (453 words)
4 Types of Bread You Can Bake (411 words)
5 Delicious Muffin Recipes (440 words)
Holiday Cookies For Your Gift Exchange (406 words)
Common Baking Mistakes to Avoid (460 words)
5 Types of Chocolate Chip Cookies (422 words)
How to Make the Perfect Cupcakes (410 words)
Make Your Own Dinner Rolls (466 words)
Section 4 - Cooking With Cast Iron Report
​Over the past year and a half I've started using cast iron skillets. If you've never used one before these articles would be very helpful. I didn't realize how amazing these were until I got one. Now I love them and use them quite often.
You probably have people on your list that are like me. Have never tried cast iron, but will fall in love once they do. This report is a great one to get people started.
This section includes:
13 pages, 4,591 words, 8 sections
Section 1: Beginner Tips For Cast Iron
Section 2: How to Care For Cast Iron
Section 3: Why Cast Iron Needs to Be Seasoned
Section 4: Essential Tips For Cooking With Cast Iron
Section 5: Cast Iron Chicken Recipes
Section 6: Cast Iron Beef Recipes
Section 7: Cast Iron Vegetable Recipes
Section 8: Cast Iron Dessert Recipes
Section 5 - Turning Leftovers Into Casseroles Report
​Leftovers... sometimes you'll pack them in the fridge and think, "Oh yeah, this is going to be so good for lunch tomorrow." then when you get there the next day they are gone. Those are the best meals because family members eat them quickly.
Then there are the meals that no one will touch. Being creative and thinking of ideas to turn them from leftovers into another meal that your family will eat and enjoy can be a challenge.
Help your parents come up with ideas using this report.
This section includes:
9 pages, 5 sections, 3,149 words

Section 1: Components of a Good Casserole
Section 2: The 'Dump and Bake' Method
Section 3: Turn Your Soup Into a Casserole
Section 4: Ways to Improve Your Leftovers Casserole
Section 5: Ideas For Leftover Casseroles
In this PLR bundle you're getting 67 pages of content that include articles and reports. You can make use of this content on your blogs, in your email autoresponder series or put the articles together and create an opt in for your audience.
But anyway you look at it these food articles will help increase your traffic because people LOVE food. I don't know about you, but when I get together with friends or family - food we've had or recipes we've cooked recently always seem to come up. Food is a universal topic and everyone loves a good meal.
Grab your Comfort Food PLR pack and start giving ideas to your audience today.
Done-For-You Comfort Food Content Bundle (Articles & Reports) – Get It All For $57!

After you purchase this bundle – you will get to immediately download all of your content!
All PLR Products that you purchase from me are non-refundable.
PLR Rights Terms:
Don't pass on PLR rights to anyone, so your customers only get personal use rights.
Do not put my name on it.
Wanna Share on Pinterest? Below is a PIN Image You Can Use?
​

GET MY DAILY PLR DEALS
(PLUS TIPS, TRICKS & TECHNIQUES TO USE PLR)
Tags: PLR Articles, plr report
Done-For-You Categories, Health PLR, Home & Garden PLRPosted in 0 comments