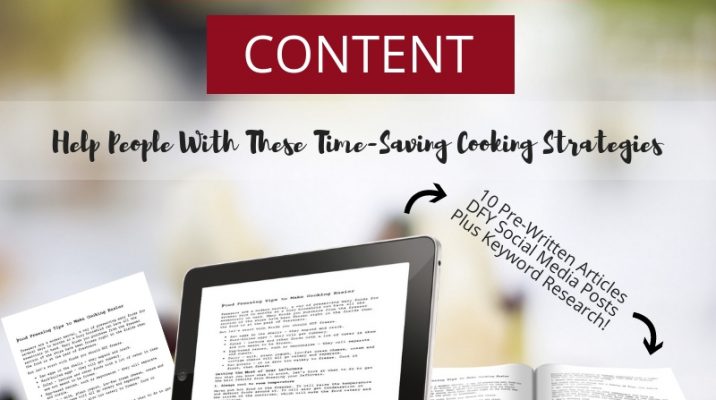 People are Starting To Stay Home To Eat More - Especially With Time Saving Cooking Strategies!
More and more people are starting to eat at home. They have everything they need - entertainment, shopping and even food delivery!
More people want to SAVE on their grocery bill and eat home cooked meals, so they are turning to different types of solutions such as batch cooking, freezer meals and using their leftovers. They don't want the same food every single day, but by using these types of cooking strategies they'll be able to buy and cook the food now and then use it again at a later time.
This PLR pack will give your audience ideas on different ways to cook their food such as meal planning, using the slow cooker, batch cooking and putting together meals ahead of time and freezing them.
The content you'll get in this PLR pack provides tons of informational value to your audience, but that isn't all! It also has profit potential with different types of products that you'll be able to recommend.
It can be used to promote items like:
Slow Cookers & Liners
Casserole Dishes
Air Fryers
Storage Containers for the Freezer
Hand Mixers
Cast Iron Frying Pan
All of these kitchen gadgets and tools make life easier for people, so they'll be looking to see how to make these new meals quickly.
You'll get 10 high-quality articles that you can use on your website or blog to appeal to different niches such as busy people, health and wellness or a lifestyle blog.
Done-For-You Home Cooking Content Bundle (Articles, Royalty Free Images, Keywords) – Get It All For $17!

Section 1 – 10 Articles
This section is where you can guide your reader's to sign up for the main opt-in report or let them know more details are available in a report that is for sale.
Home Cooking Topics
1. Food Freezing Tips to Make Cooking Easier(625 words)
2. Getting the Kids to Help with the Cooking (640 words)
3. Items You Always Want to Have in Your Pantry (659 words)
4. Kitchen Gadgets to Speed Up Your Cooking (653 words)
5. Quick and Healthy Breakfasts (623 words)
6. Quick Meal Ideas Using Leftover Meat (640 words)
7. Things to Batch Cook and Save Time (633 words)
8. Tips on Effective Meal Planning (631 words)
9. Tips for Cooking with a Slow Cooker (654 words)
10. Quick and Healthy Sandwich Ideas (619 words)
Section 2 – Social Media Blurbs
Engagement with your audience is important and that is why we've included 10 social media blurbs for you to use. You can use them to promote the report and get more subscribers or send people back to the blog posts.

The blurbs encourage people to click on the link and read the rest of the blog post.
Section 3 – Keyword Research
I've come up with 200 long tail keywords all related to decorating in the fall. You'll find some of these are what people like to call low-hanging fruit keywords while others have more searches.
But these are all high-targeted keywords that have the potential to easily get on the first page of search engines with. Search engine optimizing is important, so get a head start with this list.
BONUS: Section 4 – Royalty Free Images
​
Images are expensive to purchase, so I've found royalty free images that you can use with the articles or inside the report.
Done-For-You Home Cooking Content Bundle (Articles, Royalty Free Images, Keywords) – Get It All For $17!

After you purchase this bundle – you will get to immediately download all of your content!
All PLR Products that you purchase from me are non-refundable.
PLR Rights Terms:
Don't pass on PLR rights to anyone, so your customers only get personal use rights.
Do not put my name on it.
Please note – this is PLR that I have bought a special license to sell. I have added a lot of extra to the package to make it even better and more useful for you. But rest assured It is high-quality content. I provide it because I want to make sure my customers get the opportunity to purchase what they need when they need it. Make sure you don't own this already. I will always let you know if a pack is under special license or not.
GET MY DAILY PLR DEALS
(PLUS TIPS, TRICKS & TECHNIQUES TO USE PLR)
Tags: bonus royalty free images, DFY Keyword Research, DFY social media blurbs, PLR Articles
Done-For-You Categories, Home & Garden PLRPosted in 0 comments