How To Make The Most Out of The Procrastination Planner & Printables
People have suffered from procrastination since as early as Greek times. Why? Because it's easy to procrastinate. We can simply put off the task until later.
According to Joseph Ferrari, a professor of psychology, "around 20 percent of U.S. adults are chronic procrastinators. They delay doing things at home, work, school, and in relationships."
Procrastination is the action of delaying or postponing something to a later time. For example, you need to buy food but put off going to the store until tomorrow. Or you find yourself scrolling social media, filing paperwork, or rearranging your folders on your computer instead of finishing an important project that's due at work.
Many people don't realize they are chronic procrastinators. It's simply become a habit to put things off to do later. Other people procrastinate when they are afraid of doing something or are bored with the project.
As a coach, blogger, and entrepreneur you can help people recognize their procrastination habits and put a halt to them, so they can become more productive and avoid procrastination.
How?
With the Done-For-You Procrastination Planner & Printables
This has tons of great content that are going to help you create a product of incredible value for your audience.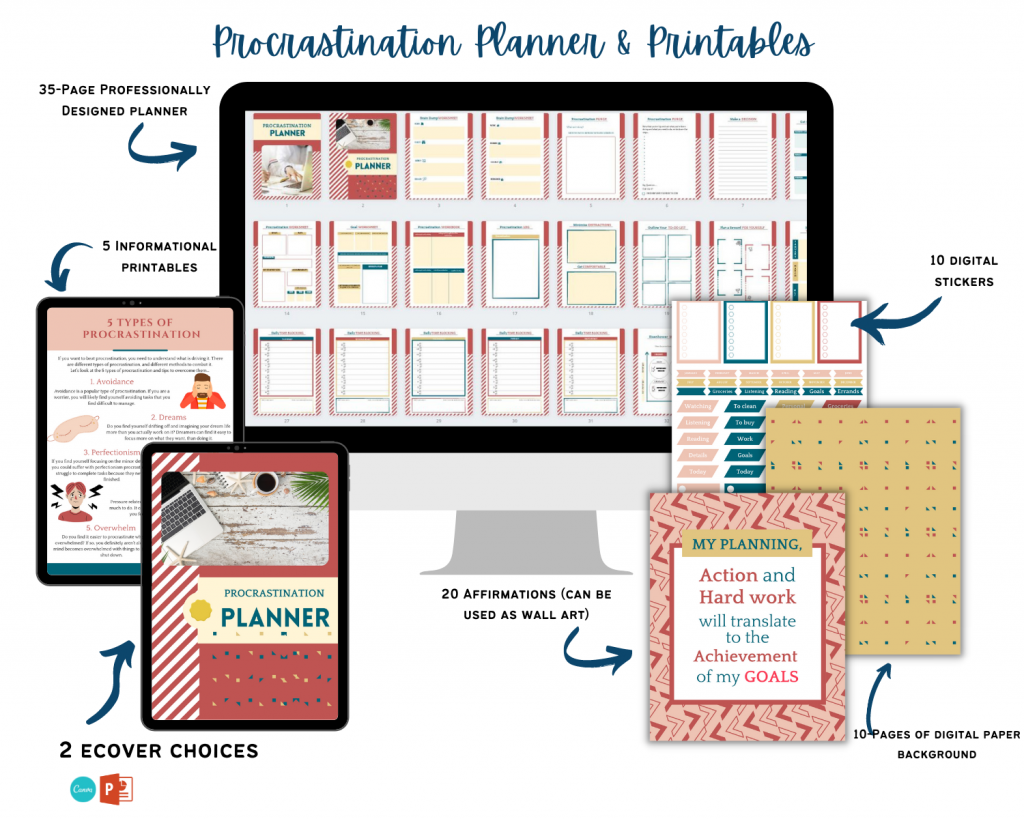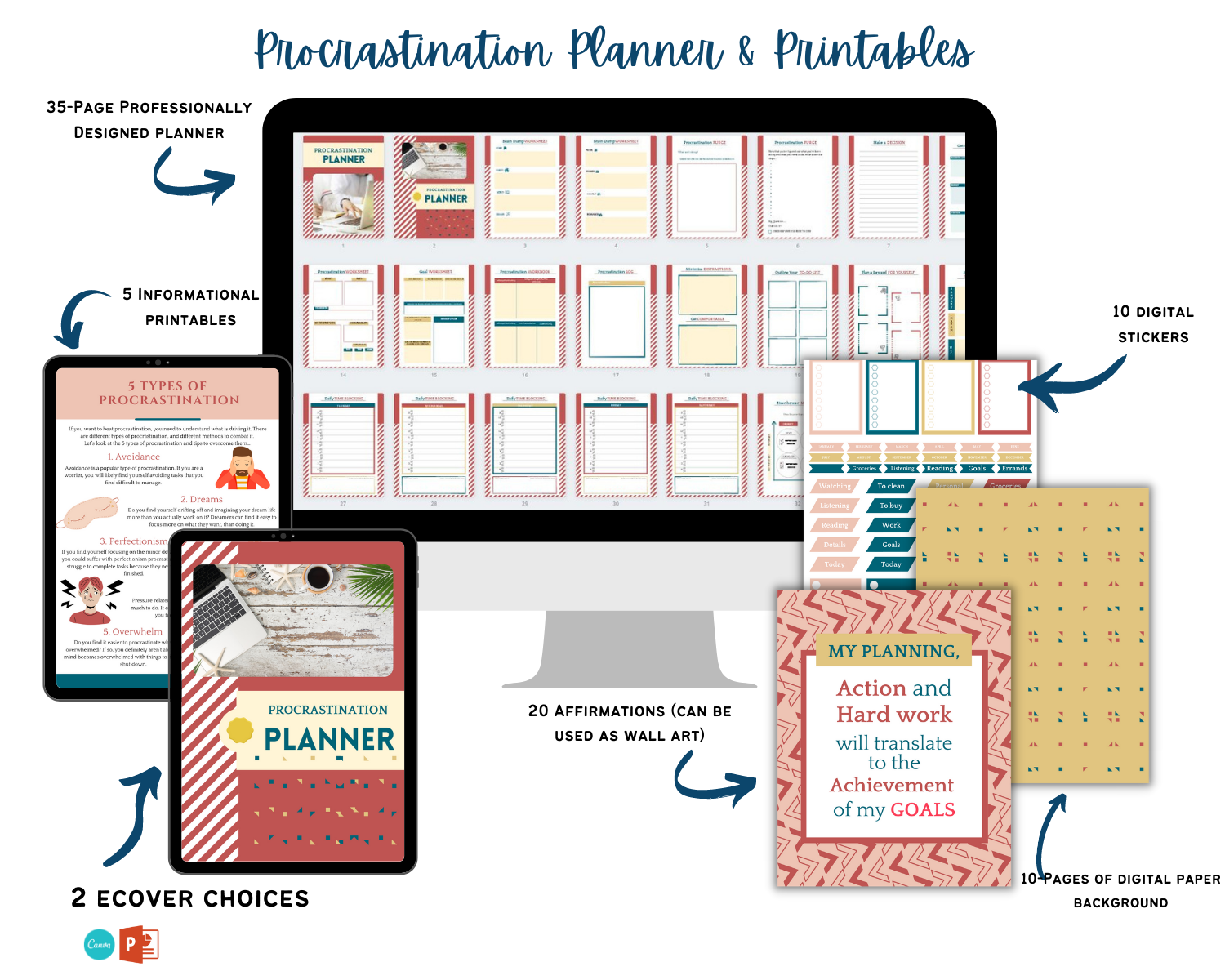 Check out what is included and how you can use them to make a profit in your business.

Here's what you'll get:

36-Page Done-For-You Planner
The planner has 36 different pages that your audience will be able to work through to figure out what they're procrastinating on, why they're doing it, and then create a plan to stop procrastinating and get it done.​

This has so many pages that you could break it up and offer two planners instead of just one.  You could go through the pages and see how they go together so that you'll know which ones to put in each planner.  

20 Canva Affirmation Templates
Next you'll get a set of twenty different affirmation templates.  Change the color to your branding, download as a PDF and include them with the digital planner.


Or you can use these as wall art and sell them in your shopping cart. Wall art like this is one of the top searched for type of product… at least when I was doing research last month it was. People want to be inspired. They can print these and post them all over their house or office.
Another way to use them inside the planner.  I'm not sure I would use all of them, but every five pages I'd add a full-page affirmation.  You do this by opening both of the Canva documents and then selecting all of the elements in the affirmations, create a new page in the planner, and then copy the elements in the planner.  Sometimes not all of them copy, so you can either leave it the way it copied over or keep copying and pasting until it looks exactly like the affirmation.


10 Digital Paper Backgrounds
​You can use these as part of the planner that they get to add extra value to the product or you can switch take one or more of these backgrounds and change the look and feel of this planner completely.

To do that you'll want to take a copy of the original one and then upload the background that you want. Start taking out the background that is currently there and replace it. This might take time because the planner is 36-pages, but it will be unique.


You could also create several different eCovers with the backgrounds to give your customers more options.

10 Digital Sticker Pages
Provide digital stickers that go with the planner or sell them separately on Etsy or in your store.
People love digital stickers and this one has tons that they can use.  You're getting 10 FULL pages of stickers.  You can sell them individually or with the planner and other parts of this product.​


5 Informative Printables 
The printables are to get people back to your site or shopping cart. They provide some valuable and informative content about the topic. You can use these like infographics and add them to Pinterest or a social media platform. You could also add them as blog posts to your site.

At the end, you could use a call to action to direct people to your planner that is for sale.


This entire pack of done-for-you content and low content products was beautifully designed and you'll be proud to put use it as your own.

==>Grab the Procrastination Planner & Printables to Help Your Audience Work Through Their Emotions Today
Don't forget to take a look at the ADD-ON offer for this product.  You're going to get all of the content that we used for the five printables, plus you'll get five completely different looking printables with the same content, but a different lookout.  This is going to give you a great option to share different versions on social media platforms and with your audience.  
Take a look at the ADD-ON printables:
With this planner, your audience will be able to dig deep into their subconscious and understands why they procrastinate and how they can stop those habits and be more productive.
~April
P.S. Grab the Done-For-You Procrastination Planner & Printables today, download it and then use it as your own to profit with the planner.
GET MY DAILY PLR DEALS
(PLUS TIPS, TRICKS & TECHNIQUES TO USE PLR)
How To Use PLR, PLR TipsPosted in 0 comments