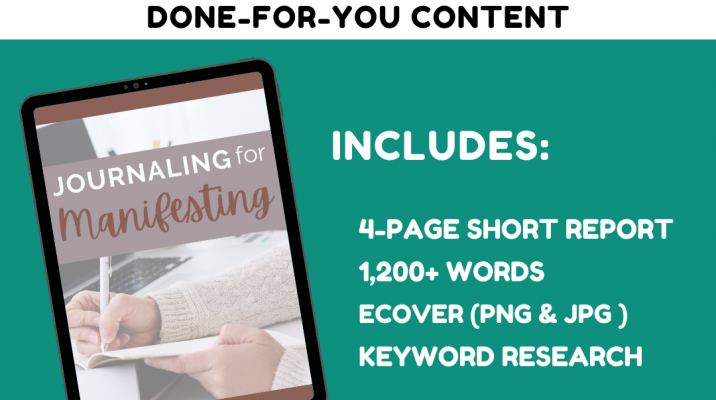 Journaling + Manifesting = Powerful Content Combination
Journaling is a HOT topic, but so is manifesting - when you combine the two you've got a winning topic
Use This Short Report as a Freebie, Add It To Your Site For a Pillar Post, Repurpose & Do Both!
Introducing the Journaling For Manifesting
Everything in your life, what you feel, what you see, what you eat and drink, the people you talk to, the pets you love, all have vibrations of energy. High vibrations attract more high vibrations, and low vibrations attract more low vibrations.
If you feel high vibrational energy, where you are happy, light, and go about your life knowing everything is working out, you are in alignment with the universe. Things in your life are going as they are meant to.
The universe helps to bring you what you desire by asking, showing gratitude, visualizing, and maintaining high vibrations and positive energy.
When you take positive action on something you are trying to manifest, you are increasing your vibration. It gives you this heightened energy because you know you are making positive change in your life toward your goals. When you set intentions based on what you are trying to attract, it first taps into your subconscious that this is what needs to be done and that is where journaling comes in.
This short report will help your audience align with the universe. By journaling they'll be able to set their intentions and write affirmations to increase their positive vibration.
Details Of The Report (Product)
3 Easy Steps To Use These Templates
Download. Personalize. Use As Your Own.


How this works....
Niche Starter Packs offers an affordable alternative to hiring your own team of writers and outsourcers for your content.
This saves you hours not having to create it yourself or find and hire a ghostwriter and graphic designer. Plus the time it takes you to training and get back what you want.
Download. Personalize. Use As Your Own.
PLR Rights:

[YES] Can be edited and modified in any way
[YES] Can be branded
[YES] Can put your name as the author
[YES] Can be used in a marketing materials for your business
[YES] May use the graphics on your site/blog
[YES] Can be translated to other languages
[YES] Can use the graphics to create and post videos on video sharing sites/blogs, etc.
[NO] Cannot claim copyright to the content since it is PLR
[NO] Cannot resell the packs
[NO] You may NOT sell or giveaway private label rights (non-transferable PLR)
[NO] Can be added to membership sites with resell and master resell rights
[NO] Cannot use my name as author
Thank you!
P.S. In this bundle you're getting a short report or ultimate blog post to increase your traffic and turn readers into subscribers.
P.P.S. This content provide an affordable way to quickly and easily get a blog post on your site.
Copyright 2021 Niche Starter Packs. All Rights Reserved.
GET MY DAILY PLR DEALS
(PLUS TIPS, TRICKS & TECHNIQUES TO USE PLR)
Done-For-You Content, Types Of Done-For-You ProductsPosted in 0 comments