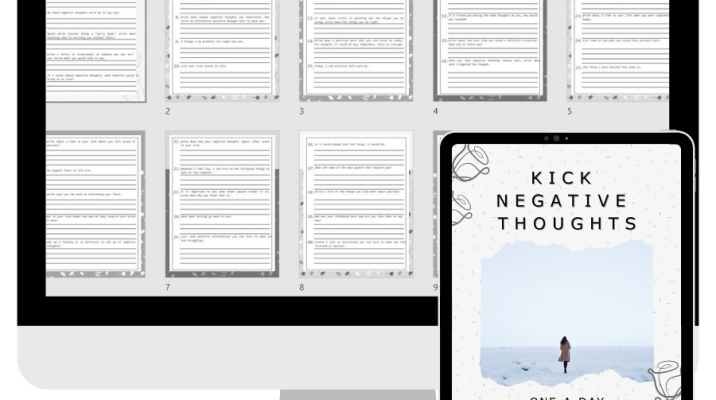 DFY JOURNAL WITH WRITING PROMPTS: KICK NEGATIVE THOUGHTS TO THE CURB
Kick Negative Thoughts To The Curb Journal With Writing Prompts & Blog Post Series (Commercial Use).
WITHOUT Putting In HOURS & HOURS of Work To Make It Happen
This Done-For-You Journal and Blog Series Bundle Includes:
One-A-Day Journal (Powerpoint & Canva)

10-Page Prompt Printable (Powerpoint & Canva)

50 Writing Prompts in Word Format

5 Blog Posts

Keyword Research on topic



This is the Journal You'll Need to Create Beautifully Designed One-A-Day Journals, Printables, or Blog Posts For Your Audience
Help people who talk to themselves in a negative way. They writing prompts are designed to guide them through their feelings and start thinking in a positive light.

Quickly and easily create beautiful journals, opt-ins and bonuses for your coaching, services or products.
Imagine doing that without spending hours doing all the work.
WHAT'S INCLUDED IN THE DONE-FOR-YOU JOURNAL?
This entire journal bundle was created with ease of use in mind. You can easily personalize, edit, brand, and change the colors throughout.
The Powerpoints have a specific color theme throughout, so that you can go into the design section and change the colors to match your brand.
The Journal has three different formats. This allows you to use them to repurpose the same content in multiple ways.
This has 31 writing prompts, 2 eCover options and 3 different page color layouts.
You'll get it in both Canva and Powerpoint formats in 8.5" X 11" and A4 sizes.
This has 50 writing prompts over 10-pages for you to use as a printable and 3 different page color layouts.
You'll get it in both Canva and Powerpoint formats in 8.5" X 11" and A4 sizes.
Writing Prompts in Word Format
This has 50 writing prompts in Word.
Easy to use format for a blog post, social media posts, or create your own product.
100% customizable – Add your valuable knowledge and then change colors, fonts and more to your branding
WHAT'S INCLUDED IN THE DONE-FOR-YOU BLOG SERIES?
The Blog Posts was created so that you could easily make a series for this topic. Use this on your site to bring traffic.
It was also designed so that you could easily combine them the blog posts into a report. This isn't always the case when you purchase PLR, but I believe in being able to repurpose your content and to make your life easier.
Take the blog posts and combine them into a freebie opt-in report or you could also make them a bonus to the journal you'll be selling.
Another way to use or repurpose this PLR is to take the blog posts and create a 5-day email series. Each email will send them to the sales page of the journal.
This has 5 Blog Posts in Word and Text format.
This image is some of the articles combined. You'll also get a format of them all combined. You can easily add an eCover, an author page, images, and a call to action.
Kick Negative Thoughts To The Curb Topic Titles:
5 Advantages of Positive Thinking (601 words)
2. Negative Thought Examples (606 words)
3. Positive Thinking Quotes & Affirmations (635 words)
4. 5 Ways to Stop Negative Thoughts (633 words)
5. Why Are Negative Thoughts So Powerful (629 words)
You don't have to spend hours trying to figure out what elements go where or what looks nice to create a beautiful product. Then feel like it is lacking in creativity and that you wasted your time.
With these Canva Templates you'll be able to:
Download The Best Format For You
You're getting three different options - pick one that works for you. Word, Powerpoint or Canva.
Easily add your branding colors to each of the templates. This will provide continuity to your readers and they'll be able to recognize your product quickly.
Mix and match the prompts that you need. Use the ones we've provided, add your own or combine the two for something unique.
Use The Finished Product As Your Own
When you're done branding, personalizing, and adding your own information you can use it as your own.
The done-for-you journal and formats that are inside this product are designed to make creating and sharing it as an opt-in, product, etc. with your audience faster than ever.
Grab the DFY Kick Negative Thoughts To The Curb Journal & Blog Post Series For Only $34.95
Download Immediately. Personalize For Your Business. Use As Your Own.
All PLR Products that you purchase from me are non-refundable.
PLR Rights Terms:
Don't pass on PLR rights to anyone, so your customers only get personal use rights.
Do not put my name on it.
Canva Template Rights:

[YES] Can be edited and modified in any way
[YES] Can be branded
[YES] Can put your name as the author
[YES] Can be used in a marketing materials for your business
[YES] May use the graphics on your site/blog
[YES] Can be translated to other languages
[YES] Can use the graphics to create and post videos on video sharing sites/blogs, etc.
[NO] Cannot claim copyright to the content since it is PLR
[NO] Cannot resell the packs
[NO] You may NOT sell or giveaway private label rights (non-transferable PLR)
[NO] Can be added to membership sites with resell and master resell rights
[NO] Cannot use my name as author
These Canva templates are for you to use in your own personal business. You can modify them and use them in products you sell for personal use rights to your audience. You cannot sell, giveaway or resell these Canva templates as templates.
Done-For-You Blog Series and Marketing Kits, Types Of Done-For-You ProductsPosted in 0 comments